Spotlight on Education
NAE Grand Challenges Summit
a Stimulating Forum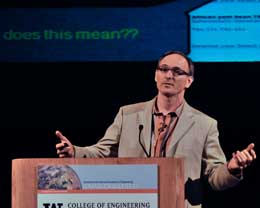 Alon Halevy, head of structured data management research at Google, discusses barriers to data analysis during the panel on Engineering the Tools of Scientific Discovery.
How can genetic therapies become a reality? Can we continue to send humans into space, or should we send only robots? How will we store and make sense of the flood of data generated by science? More than 500 engineers, scientists, policy makers, students, and others converged on Seattle May 2–3 for robust presentations and discussions on these questions and others.
They focused on the themes "engineer better medicines" and "engineer the tools of scientific discovery." The event was one of six regional forums held this year to consider how the National Academy of Engineering Grand Challenges will affect our lives and how best to address them.
Students, a key component of the summit, explored how these challenges will shape their careers and how their work will focus on finding solutions. The top three winners of the student poster competition will attend the national NAE Grand Challenges Summit this fall in Los Angeles.
Watch the sessions on UWTV.org.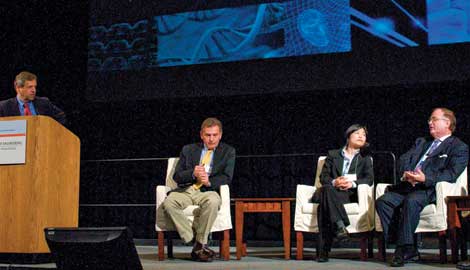 Members of the panel on Engineering Better Medicines (L to R) – Bruce Montgomery, senior vice president for respiratory therapeutics, Gilead Sciences, Inc.; Suzie Pun, Robert F. Rushmer Associate Professor in Bioengineering, University of Washington; Nicholas A. Peppas, chair of biomedical engineering and Fletcher Stuckey Pratt Chair, The University of Texas at Austin; and Lonnie Edelheit, retired senior vice president for research and development, General Electric Co.
---
More UW Engineering News Online

Deaf, Hard-of-hearing Students Test Sign Language by Cell Phone
UW engineers are developing the first device able to transmit American Sign Language over U.S. cellular networks.

A Strategy to Fix Broken Hearts
UW engineers and physicians have built a scaffold that supports the growth and integration of stem cell-derived cardiac muscle cells.
Are Graduating Students Ready for Professional Practice?
Enabling Engineering Student Success, a new publication by the NSF-funded Center for the Advancement of Engineering Education (CAEE), identifies key opportunities for improving how engineering undergraduates are prepared for professional practice.
"With the increasingly global need for engineers who are both technically and interpersonally competent, today's engineering students may be under-prepared," said Cindy Atman, CAEE director, lead author, and UW professor of human-centered design and engineering. "They may not recognize that getting engineering work done requires sound technical ideas that respond to real needs, and the ability to collaborate with a wide range of individuals."
The report describes findings from CAEE's Academic Pathways Study, a multi-year research effort involving more than 5,400 students at more than 20 institutions, and over 100 newly hired graduates. The report also offers questions to consider for faculty and others who support engineering education. The CAEE report is available for download from the center's website.
---
Molecular Engineering Building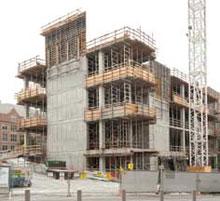 See our construction slide shows.