Mindful materials: Combining love of nature with an MSE degree
Chelsea Yates
Photos: University of Washington, Uphill Designs
Materials Science & Engineering alum Dan Sedlacek (MSMSE '14) combined his love of nature with his engineering studies to create Uphill Designs, a Seattle adventure goods company.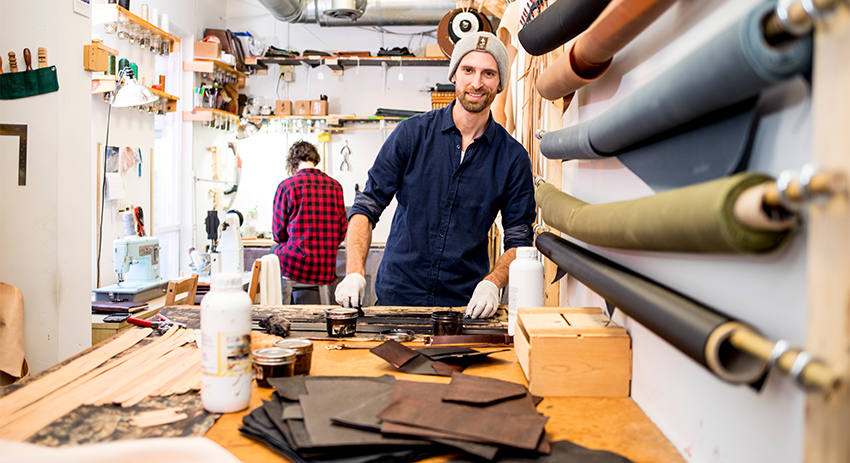 Grounded in the belief that adventure is at the root of living fully, Uphill Designs builds product and community for the modern adventurer. Their offerings include canvas bags, leather goods and bamboo trekking poles. Each piece is crafted from start to finish in their Fremont workshop.
Dan runs Uphill Designs with his partner and Bioengineering alumna, Mallory Monahan (MS '15) and with assistance from UW undergraduate Oliver Marczynski. Dan recently sat down with us to talk about their work and how his background in MSE provides the foundation for their products.
COE: Uphill Designs grew out of your experiences hiking the Pacific Crest Trail (PCT) and your studies in MSE. Tell us more about these influences.

DS: In 2013, I set out to fulfill a life-long dream and hike from Mexico to Canada along the Pacific Crest Trail. After growing up backpacking in Washington, I knew I had to change my approach if I was going to complete the journey, which totaled 2,665 miles. I needed to pack as lightly as possible but I could not find the exact gear I wanted in stores. So I ended up sewing my own backpack and tent.

From start to finish, the hike took me 101 days. There was a lot of deprivation on the trail, from 40-mile waterless stretches, to hunger pains, to days without talking to another person, and it gave me time to reflect on the gear on my back compared to all of the things we surround ourselves with in everyday life. I appreciated every piece of equipment as if it were an extension of myself, but the equipment I had made resonated much more than the store-bought pieces. For example, I'd invested in some pricey carbon-fiber trekking poles. Sure, they served their purpose, but I started thinking about how out-of-place they seemed on the trail. Then one day as I was hiking up Mt. Whitney, I encountered a guy on his way down who was just using two bamboo poles with duct tape on the ends as trekking poles — natural products in a natural environment. And something clicked...

Were you a MSE student at the time?

Not yet. I studied physics and English as an undergraduate in California and then worked in an oncology research lab at a Boston hospital. After completing the Pacific Crest Trail, I joined the first class of MSE's Applied Master's Program. When I think about how my life and business have evolved, I'm grateful I earned the master's degree.

When I started at the UW, I had natural and raw materials on my mind. The Applied Master's Program was flexible enough to allow me to create my own independent study to write up a business plan for my product idea of bamboo trekking poles. That's when Uphill Designs was born.

How did your MSE background help you develop trekking poles for Uphill Designs?

Most trekking poles are made out of aluminum or carbon fiber — strong, lightweight materials that don't bend. In the lab I performed "bend tests" on these materials and bamboo. I discovered that bamboo was not only lighter weight than carbon fiber and stronger than aluminum but that some kinds of bamboo will bend back to their original form.

Were there other resources at the UW that helped you develop Uphill Designs as a business?

I participated in some of the Buerk Center for Entrepreneurship's competitions. The one that was most beneficial was the Jones + Foster Accelerator, a structured program that helps early-stage student companies through their first six months. In addition to receiving mentoring, guidance and business plan support, Uphill Designs earned the program's $25,000 start-up grant.

I also took a class through the Bioengineering department on entrepreneurship and engineering. It focused on aligning engineering skills with business. It's also where I met my business partner, Mallory.

As you learned more about engineering and business, how did your goals for Uphill Designs change?

The business plan I had originally created shifted dramatically. My goal had been to develop bamboo trekking poles for mass-market audiences, but the more I worked with bamboo, I realized there wasn't a cost-effective, efficient way to mass-produce the poles since every piece of bamboo is unique. So I started moving toward a much different, smaller scale business approach: I saw us investing in materials and artisanship — embracing the handmade element of our work.

After Mallory joined me at Uphill Designs, we expanded the business to include waxed canvas bags and, most recently, leather bags, wallets and belts. Having two engineers on the team really helps us hone our production process and focus on the right pieces of machinery we need for the future growth.

What's the single thing you liked best about studying engineering at UW?

Professors like Kannan Krishnan and Jihui Yang in MSE and Matt O'Donnell in BioE – they set high expectations for students but then shared with us their time and expertise and the resources we needed to excel.

I also valued the MSE program's flexibility. When I was a student, the department didn't offer classes in entrepreneurship and engineering, which is why I studied through BioE. But MSE allowed me to do an independent study through which I created Uphill Designs' business plan. Since graduating, I have kept in touch with the department and provided feedback to help shape an entrepreneurship and commercialization seminar series. Last year I was a guest speaker for the seminar, which was incredibly rewarding.

What's next for Uphill Designs?

We're focusing on growth and business sustainability. We want to participate in more Pacific Northwest makers' markets and get our products into more physical retail shops. Our company thrives on rapid ideation, and we collaborate on custom pieces and continue to fill out our product offering. In the near future, we will open a mixed retail-industrial space where customers can come see our process and find the perfect piece for their adventure. This will also serve as the hub for our growing Uphill Adventures community, a group we've created and led since 2016 focused on free, monthly trips.

Above all, we hope to stay strategic and mindful. We believe in our gear, and I'm grateful to be doing something that I'm passionate about. But it's not easy. To run your own business, you need to be willing to make sacrifices — to put in 18 hour days when necessary, to work if you're sick, to live on a shoestring so your business can get by in tough times. You have to be okay with failing, because it will happen. It's a part of the journey to success, whether that's reaching a revenue milestone as a company or finishing the last mile on the hike of a lifetime.
Keep up with Dan and Uphill Designs at uphilldesigns.com.