Life on Mars?
Chelsea Yates
A&A alumna Ansley Barnard is one of six volunteers currently participating in a HI-SEAS Mars simulation mission in Hawaii.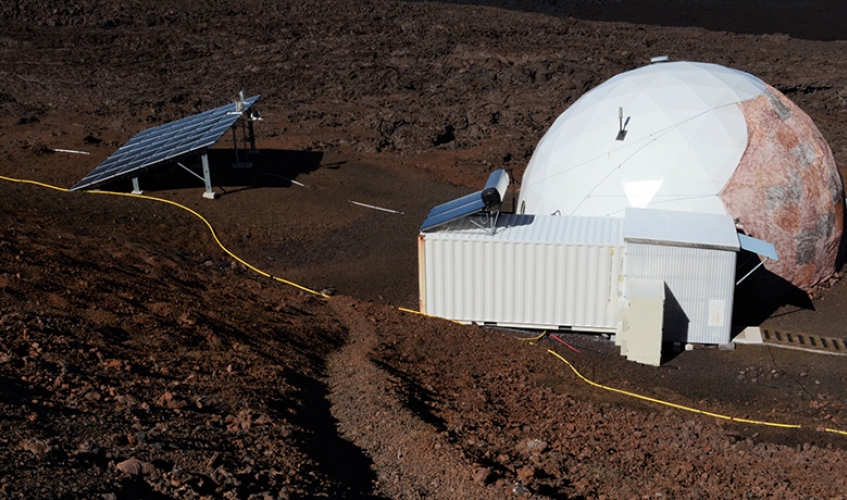 HI-SEAS habitat on Hawaii's Big Island.
Aeronautics & Astronautics alumna Ansley Barnard, BS '12, is one of six volunteers living in an isolated dome on the slopes of Mauna Loa on Hawaii's Big Island, where the geology mimics that of Mars. She's participating in a NASA-funded Mars simulation mission, known as the Hawaii Space Exploration Analog and Simulation project (HI-SEAS). Managed by the University of Hawaii at Manoa, HI-SEAS is designed to simulate an actual Red Planet exploration mission.
Selected from a pool of candidates who meet the requirements of NASA's Astronaut Program, Barnard and her crewmates are in the third month of their eight-month mission. They live and work in a 36-foot-wide geodesic dome, which includes a kitchen, laboratory, bathrooms, sleeping quarters, simulated airlock and work areas. The crew only leave their habitat when exploring the terrain in simulation spacesuits. Crewmembers communicate via Mission Support, though communication is delayed 20 minutes each way, as would be experienced on Mars when it is furthest from Earth.
The College of Engineering recently had the opportunity to correspond with Ansley about how her experiences in A&A helped prepare her for the mission.
COE: Tell us about your role on the mission.

A&A alumna Ansley Barnard, BS '12

AB: I am our mission's Engineering Officer in charge of optimizing power consumption, habitat systems and maintenance. This involves data collection and analysis through our habitat sensor network and managing maintenance schedules.

I'm also responsible for monitoring power usage and the weather forecast. Our primary power source is solar panels, so a cloudy day means less power for cooking, heating, and powering our research projects and computers.

What's an average day like?

Generally, we spend the day either working on collaborative research tasks or personal research projects. We eat together every night; it's good for crew morale. In the evenings, we often play games or watch movies together. On the weekends we do chores around the habitat and spend time on our personal projects or fun activities.

What inspired you to take part in this mission?

When I was 14 years old, I decided that I wanted to be an astronaut – even if the odds of being selected were small, it was a goal I wanted to work toward. Since graduating, I've hoped to participate in a simulation mission to test my skills and learn more about the role of an astronaut. I'm also interested in sustainable living and reducing my impact on the world, and there's a lot we can learn from space analogs about allocating limited resources. I was drawn to HI-SEAS because of the long duration and the scope of the isolation. My crew is acutely aware of being alone here on the slopes of Mauna Loa.

How did your studies in A&A prepare you for HI-SEAS?

Most of the work I'm doing at HI-SEAS is based on the same engineering principles taught in undergraduate courses. For my senior capstone project, I investigated an architecture to mine resources on the moon. I learned about trade studies and how to prioritize options in a complex system. I developed teamwork skills; we had to work together on a complicated problem for many months. This is exactly what my crew and I are doing now.

Were you involved in any UW student groups that helped hone skills you're using on the mission?

I was on the Formula Motorsports team (FSAE). FSAE pushes its members to excel and learn so much about engineering design and systems; at times it challenged me more than my classes! Working on our car set a lot in motion for me. It's why I developed an interest in racing aerodynamics and carbon composite structures. I learned how to use the equipment in the Machine Shop, which is very helpful as an engineer; if you understand how something is going to be manufactured, you'll be in a better position to design it. It also introduced me to internships and job opportunities; after graduating, I worked on advanced composite structures for NASA and The Boeing Company, as well as scale model wind tunnel testing for IndyCar.

At the UW, I also worked at the Kirsten Wind Tunnel (UWAL). A large portion of an astronaut's work boils down to operations skills. You have to be able to execute a plan, adjust to new information, and stay on good terms with your crew. Working in the UWAL environment prepared me well for HI-SEAS.

What's been your favorite part of the mission so far?

Ansley Barnard and crewmates explore the terrain.

Definitely getting to know my crewmates and learning how to work better with them. I also enjoy contributing to a NASA-funded research project. Knowing that I might one day have the opportunity to go into space, or will have helped someone else get there, is incredibly motivating and a huge honor.

Also, learning the ukulele has become one of my favorite things. A member of the last HI-SEAS crew left behind a ukulele, so I've been teaching myself to play it since the mission started. Music has always been a big part of my life, and it's been great to have access to an instrument here. Although I plan to continue playing the ukulele after mission is over, I intend to leave this one here for future crews.

What's been the biggest challenge so far?

Learning how to communicate over our delayed connection with Mission Support has been the most challenging. We have to be clear and complete in every transmission because we won't receive a response for at least 40 minutes. If something I say is ambiguous, it can result in miscommunication and lost time, which can be frustrating and set back our schedule.

What's next for you after the mission ends?

Honestly, I can't think much further than how nice it will feel to go swimming or walk barefoot over grass. And to eat a fresh avocado – I can't wait for that.

I'm not sure where I'll end up next, but I hope to apply the skills I'm developing at HI-SEAS to my future work. Thanks to my experience in structural engineering and motorsports, I feel like I have a diverse tool belt of engineering and science skills that I'm excited to use.
Keep up with Ansley via her mission blog and the HI-SEAS sMars mission at hi-seas.org.
Originally published March 28, 2017