By Chelsea Yates
Photos by Mark Stone / University of Washington
March 6, 2017
For 28 years, UW Formula Motorsports has brought together students to design, build and compete formula-style vehicles. Team members credit their culture of student leadership and mentorship as key to the team's stability and success.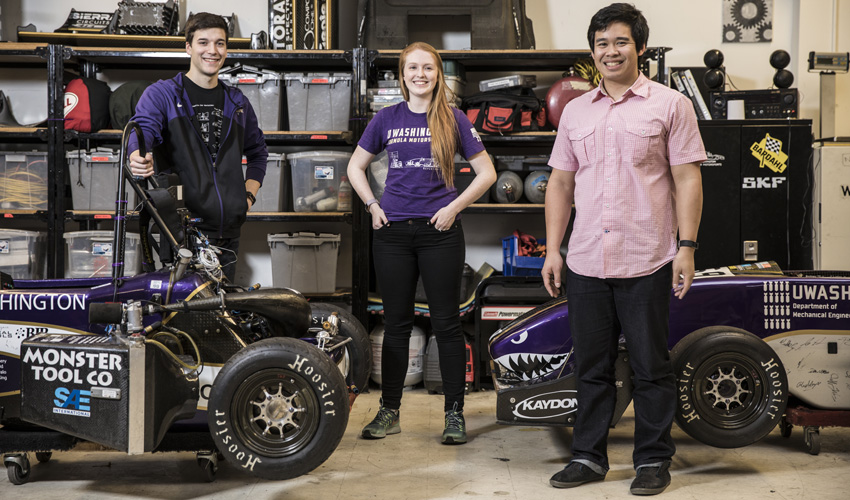 From left to right, FSAE student team members Nick D'Alo, Lexi Overstreet and Andrei Arevalo.
It's 4:00 a.m. on the Friday before fall finals week and ME senior Lexi Overstreet is heading to campus. A member of the UW Formula Motorsports student club (FSAE), she hopes to arrive at the team's workspace — known as the "pit" — before any of her teammates so she can set up holiday decorations and surprise everyone with presents. She reaches the pit to find the lights on, a few teammates already inside working on plans and parts. She is not surprised.
"It doesn't matter what time of day or night you stop by the pit, you'll always find people here," she says. "This place has become our home away from home."
FSAE comprises about 80 students from across the College of Engineering and other disciplines. Every year they design and build small, formula style vehicles from scratch to compete against other university teams in challenges organized by SAE International. Competition judges assess their vehicles on a variety of criteria, ranging from "static" elements (soundness of design and manufacturing costs) to "dynamic" performance (endurance, skidpad, acceleration and autocross racing).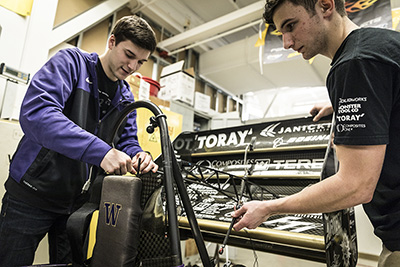 For this year's competitions, UW FSAE hopes to compete two vehicles: one combustion and the other electric. The club spent autumn quarter steeped in design mode, and now team members are beginning to create parts for their vehicles. They spend most of winter quarter building and assembling their vehicles so they can focus on testing and refinement in the spring.
For Overstreet, FSAE has been an integral part of her Husky experience. "Growing up, I loved building things, and I was curious about cars but had never had the chance to work on them," she says. Eager for the hands-on opportunities and challenges that FSAE promised, she joined the club on the second day of her first year at the UW.
She now serves as one of the team's leads, overseeing FSAE business and suspension performance (all students must serve on both an administrative and technical team). She is responsible for training and supervising five students. "I love being in a position to help guide the club and other students," she says. "Team mentoring is one of the best things about FSAE."
A culture of mentorship
Andrei Arevalo can attest to the value of team mentorship. Like Overstreet, he joined FSAE his first year as an undergraduate. Now an ME graduate student, he is the team's Teaching Assistant and is responsible for assessing student performance. He also serves as a liaison between the club, its faculty adviser and the ME department.
Arevalo first learned about FSAE at Engineering Discovery Days, which he attended in high school. "I'd had zero experience with cars, or even tools for that matter, but the vehicles just looked so cool," he says. He applied for the club as soon as he was accepted to the UW.
Now in its 28th year, FSAE is a registered student organization, housed in the ME department. Participating ME students may earn credit in upper-level engineering classes.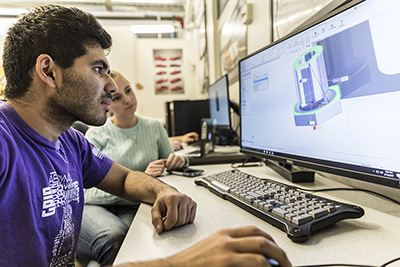 "Our team's longtime adviser, ME professor Ashley Emery, is encouraging and supportive but very hands-off, and that's created the culture of student mentorship we have today," Arevalo explains. "All of the club's efforts are student-led and executed: design, building, testing and driving, but also budget management, sponsorship solicitation, public relations and travel planning."
The team's overarching goal, he says, is to produce well-rounded engineers, so the club operates using a formal structure that mimics workflow commonly found in industry: three student directors oversee administrative and technical student leads, who teach and supervise the students on their subteams. Team members rely heavily on the equipment in ME's Machine Shop; with extra training, students may serve as shopmasters and instruct and supervise other students on machine use and safety.
"Every year, teammates graduate, so to ensure the long-term success of the club, it's important to invest in knowledge-transferring," Arevalo says. "If one of us fails, then we all fail, so we work really hard to help everyone succeed."
"ME and the club go hand-in-hand"
"I'm lucky to have found a way to align my passion with my degree," says ME junior Nick D'Alo. "ME and the club go hand-in-hand, and I can't imagine one without the other." D'Alo, who says that he was obsessed with cars as a kid, joined FSAE with some basic car maintenance experience, though he's quick to add that "it was nothing nearly as intensive or creative as what we do in the pit."
For him, FSAE provides the space to apply what he's learning in his engineering classes about design and manufacturing. "Sometimes you can only go so far in a classroom," he says. "Fortunately, we have all sorts of engineering student clubs where we can practice what we're learning about — FSAE, Hyperloop, Robotics, Engineers Without Borders, WOOF3-D, just to name a few."
Overstreet agrees. For her to grasp something, she says, she needs to experience it. In this way, time with the club and in the Machine Shop have been invaluable. Plus, she adds, there's another incentive to being a part of FSAE: the teammates.
"The club is my family," she says. "My teammates are my classmates and friends, but also my teachers and mentors."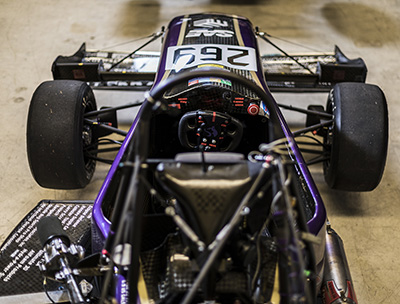 D'Alo cites the friendships he's made with his teammates as one of the best things about the club. "We have a saying: 'You come for the cars, but you stay for the people,'" he says. "It might sound silly, but it's true — we work on this amazing project together, we take most of our classes together, we graduate and then enter the job market together."
The bond extends past graduation. Former FSAE members often stay in touch with the club and share their experiences of entering the workforce. Some team members go on to work at places such as Blue Origin, Tesla and SpaceX, and many more accept positions at Boeing and other local companies. Over the years, many of these companies have also become team sponsors, helping to cover the costs of parts, manufacturing, registration fees and travel to competitions.
This support will be very important next year, as the team transitions to focusing their efforts solely on their electric car. "For many years, we've been leaders in the competition with our combustion car, but we really need to develop our skills in electric car technology," Arevalo explains. "The automotive industry is growing in this direction, so it's important that we do the same."
He also cites the industry's expansion into the arena of driverless cars — a new area of the SAE International competition as well. UW FSAE hopes to tackle this challenge in the future but acknowledges that doing so will take many additional resources: time, students, expertise and funds.
For now, the team has this summer's competitions to focus on. Most members agree that competition season is the highlight of the year.
"Whether it's stateside or international competition, I love seeing our vehicles lined up next to those from other schools and knowing all of the parts that are inside," says Overstreet. "I especially love being able to point to a part — particularly the more complicated parts — and saying, I made that."
For Arevalo, while FSAE has allowed him to hone technical engineering skills, he is most proud of the work ethic and leadership skills he has developed as the team's TA.
"I'm looking forward to translating these skills into my first engineering job after I finish my degree," he says.
FSAE will be competing regionally this June at Formula SAE West in Lincoln, Nebraska, and internationally in August at Formula Student Germany. Learn more and keep up with their progress at uwformula.com.