By Chelsea Yates
October 12, 2016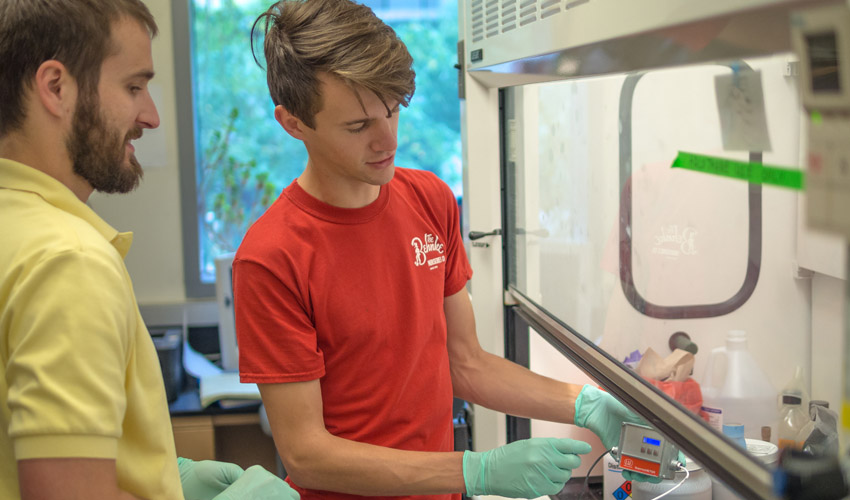 Eric Swanson and David Peeler, Bioengineers Without Borders team members and Bioengineering graduate students.
Imagine needing life-saving surgery but not having access to the anesthesia necessary for doctors to perform it. Sadly, this is an everyday reality for many individuals in low-resource settings across the globe, where crucial medical procedures are often not performed due to a lack of accessible anesthesia delivery. To overcome this challenge, a group of engineering students is working to create an affordable, portable anesthesia delivery device specifically for use in resource-poor regions that can help make surgeries possible and reduce unnecessary deaths.
This project is one of five currently being pursued by Bioengineers Without Borders (BWB), a UW student-led organization that develops low-cost, sustainable medical technologies while providing students with engineering design experience and professional development. Housed in the Department of Bioengineering (BioE), BWB began in 2009 and today consists of nearly 50 undergraduates and graduate students.
Anesthesia delivery: Overcoming barriers
BioE graduate student Eric Swanson is president of BWB. Along with fellow BioE graduate student David Peeler, Swanson has been leading the efforts to create the portable anesthesia device.
"Anesthesia delivery devices like those used in the U.S. are impractical for use in resource-poor clinical environments because they are costly, difficult to transport and require access to reliable power and oxygen sources," he explains.
General anesthesia—the type that allows patients to "sleep" during medical procedures—is delivered via a face mask through which a patient breathes in gases. In most circumstances, an anesthesia delivery machine includes a pressurized oxygen source and a plenum vaporizer that controls the gas flow and temperature through electronic control systems. Plenum vaporizers are commonly used in U.S. hospitals as they are considered safe and dependable.
However, in places where steady oxygen and power sources are not available, draw-over vaporizers are used instead. Simpler than their plenum counterparts, draw-over vaporizers do not require pressurized gases and can be easily transported, making them a more suitable option for delivering anesthesia in challenging environments — combat zones, remote areas and other high-risk, low-resource regions. They are not regulated by external temperature control components and, because of this, gas flow must be constantly monitored by a trained provider to maintain safe and plentiful dosage. This draw-over vaporizer model is what BWB is working to refine.
In many developing countries, many surgeries (if performed at all) take place in field clinics or district hospitals. These facilities often do not have the funding to invest in draw-over anesthesia machines, and although they may have access to donated equipment, Swanson says that it often comes with unintended frustrations.
"Donated devices from facilities in the U.S. or Europe generally require highly trained professionals to operate and maintain them," he explains. "Many resource-poor clinics don't have access to the supplies and expertise required to keep the machines in good working order."
Such devices simply haven't been designed for the setting, he says.
Another big challenge, Peeler adds, is having a reliable power source. "Devices designed for use in places that can afford to purchase and maintain them often anticipate a steady source of power, but in many parts of the world, that's not a guarantee," he says. "Imagine performing a surgery and, in the middle of it, the power goes out, and you can't count on a back-up generator to kick in. What then?"
Though portable anesthesia machines do exist already, they cost several thousand dollars per device. BWB's Anesthesia Device Team plans to offer a less expensive version. They're aiming for a device at one-tenth the cost of portable devices already on the market. Moreover, their device is being fabricated to control reservoir temperature and, therefore, anesthetic dosage in a variety of environmental conditions.
Collaborating across campus and communities
BWB's Anesthesia Device Team works closely with BioE associate professor Wendy Thomas and Anthony Roche, a UW Medicine professor of anesthesiology. When the team realized they needed lab space with a fume hood to develop their prototype, Thomas was key in helping them locate it — she offered up space in her own lab. She has since become a guiding mentor.
"I've always wanted to expand my work into global health," says Thomas, whose research focuses on molecular and cellular biomechanics and adhesive proteins. "I first connected with the team through lab space, then I helped advise them on a grant application they wanted to submit. The more I learned about their ideas and work, the more involved with them I wanted to be."
The team met Roche through the UW Department of Global Health. Through the multinational organization Global Partners in Anesthesia and Surgery, Roche has been working to increase surgical care in resource-poor settings, such as Uganda and Tanzania. He echoed the need for a device like the one the BWB team has been pursuing and eagerly signed on to support the students' efforts.
"Our project has benefited greatly by having a clinician on board," says Peeler. "We're able to connect with anesthesiologists locally and abroad, and their feedback is helping to guide our prototype design and fabrication."
In addition to UW faculty and anesthesiology specialists, the students are also working with the Global WACh-Coulter Foundation—a UW center that seeks to improve the health and well-being of women, children and adolescents—and PATH, a nonprofit organization committed to global health innovation.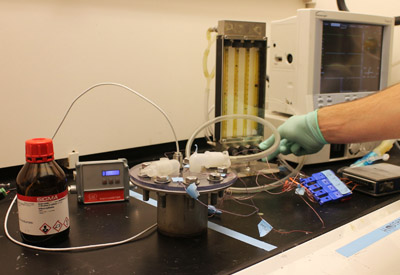 Prototype of the anesthetic vaporizer.
A $30,000 seed grant from the Global WACh-Coulter Foundation in 2015 allowed the BWB team to design a benchtop test circuit, including a prototype of a simplified anesthetic vaporizer. The test circuit simulated a draw-over vaporizer like those used during field surgery and allowed for the measurement of drug delivery concentration and the temperature drop that occurs within the vaporizer.
Last winter they received a $15,000 grant from PATH's Health Innovation Portfolio. The students have used the PATH grant to expand their work. They are also refining a 3-D computational model of an anesthetic vaporizer to account for the physics of convection, heat transfer and drug evaporation and delivery.
Next steps
Making anesthesia accessible to field clinicians and surgeons is just one small step in the greater, complex challenge of improving global health. "There are so many other large issues at play," says Peeler, "like the lack of qualified surgeons and surgery equipment where they're needed most."
But, Swanson says, instead of getting lost or discouraged in the complexities, the team tries to focus on the contributions it can make.
"One of the most rewarding parts of this work has been the support we've received from the various UW, global health and anesthesiology communities we've connected with," he says. "Not one person has discouraged us from pursuing this project, as they all understand the need for improving this medical technology."
This year, the BWB team will build on the work PATH started by surveying stakeholders and end-users in Uganda to better understand the programmatic and clinical feasibility of their vaporizer. They will also more thoroughly investigate the commercialization potential of the device and continue refining their prototype.
The goal, Swanson says, isn't to create a profitable business; instead the students want to refine their product and develop a smart, sustainable plan. They're eager to initiate more conversations with potential partners. Private support would allow the team to shepherd the device through the commercialization process and get it into the hands of the people who need it most.
"We're committed to help solve a problem, not just throw technology at it," says Peeler. "Our desire is that our device will make it possible for doctors and clinicians to save more lives across the globe."
Learn more at http://bwb-uw.weebly.com.