$70,000 Awarded in UW Business Plan Competition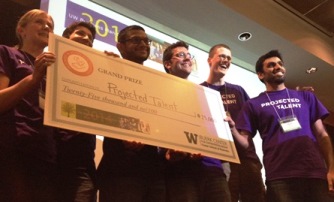 The Projected Talent team holds the grand prize check. Photo: Foster School of Business
May 23, 2014 - Student-led startups received a total of $70,000 last night at the UW Business Plan Competition awards ceremony. UW Engineering was well represented on teams winning from $25,000 to $2,500 in 12 awards.
UW Engineering students and graduates on the winning teams include:
Bilal Aijazi (MS '13, Computer Science & Engineering), a member of the Projected Talent team, winner of the $25,000 Grand Prize.
Carly Holstein and Gina Fridley (PhD students, Bioengineering), members of the Flu Finder team, winner of both the $10,000 Second Place Prize and $2,500 for Best Innovation Idea.
Michael Lombardo, Jess Little, and Rainie Nelson (undergraduates, Chemical Engineering), members of the Aurora Plasmonics team, which won $2,500 for Best Technology Idea.
Computer Science & Engineering students Aneesh Kulkarni (graduate) and Raj Makker (undergraduate), members of the Trestle team, which won $2,500 for Best Consumer Product Idea.
Chemical Engineering students Trevor Braun (PhD program) and Britton Stamper, Alison Keeney, Andrew Carlson (undergraduates), members of the IonoMetal Technologies team, which won $2500 for Best Cleantech Idea.
The competition, organized by the Buerk Center for Entrepreneurship at the UW's Foster School of Business, is in its 17th year.
For complete information, see $70,000 Awarded to Student-Led Startups on the UW Foster School of Business blog. See also the write-up in GeekWire.