When the Center for an Informed Public launched in December 2019, no one knew what lay ahead. Director Kate Starbird reflects on the center's first two years and where it's headed next.
"Misinformation can be weaponized. It has been weaponized to divide us and to weaken us," UW President Ana Mari Cauce said at the Center for an Informed Public (CIP)'s opening event on December 3, 2019. At the time, no one anticipated the uncertainty and turmoil the coming year would bring, or how prophetic Cauce's words would prove to be.
An interdisciplinary effort at the UW led by the Information School, the Department of Human Centered Design & Engineering and the School of Law, the CIP was established after a $5 million investment from the John S. and James L. Knight Foundation to develop a new field of research around technology's impact on democracy. Since its launch just two years ago, the center has had a front row seat to the spread of online mis- and disinformation about everything from the COVID-19 pandemic to the 2020 U.S. presidential election.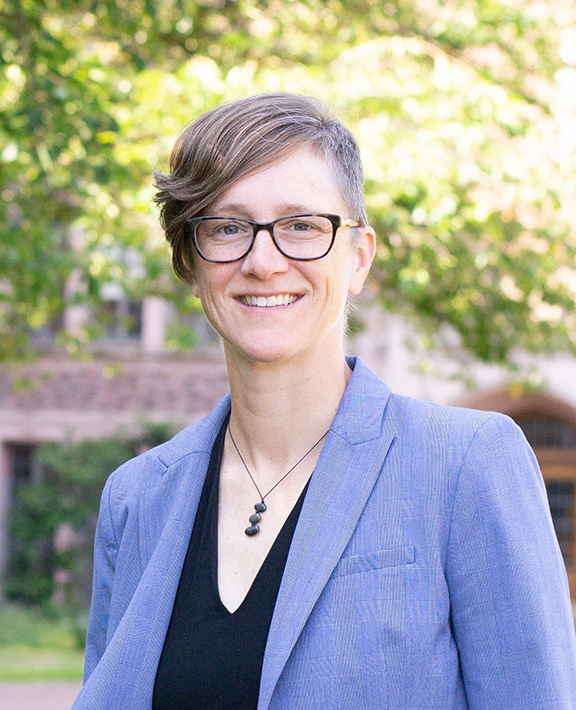 In September 2021, Human Centered Design & Engineering Associate Professor Kate Starbird began a two-year appointment as the CIP's director. The College of Engineering's Chelsea Yates recently spoke with her about the center's very busy first two years, what's coming up next, and how vital the CIP's mission and work is for the public good.
What does the CIP do, and what's your role as its director?
We're a multidisciplinary research center at the UW and our mission is to resist strategic misinformation, promote an informed society and strengthen democratic discourse. We do this through research, education, public engagement, and informing law and policy.
As director, I'm involved in the operational day-to-day activities and decision-making, as well as setting vision for the center and guiding the course. But it's really more like being a team captain than a coach. The CIP's other founding researchers — Ryan Calo in the School of Law and Jevin West, Chris Coward and Emma Spiro from the Information School — are very hands-on and have shared in the responsibilities from the start. It's an incredible group of colleagues to work with.
What are some of the projects that CIP has been involved in since it launched? Any notable achievements so far?
CIP researchers monitor and study how misinformation and disinformation are shared, spread and amplified online. Because we launched when we did, we were well positioned to address and respond to mis- and disinformation about the COVID-19 pandemic. Since its start, our researchers have been working to better understand how scientific expertise, data and communication affect the spread and correction of online misinformation about the pandemic. We were also able to leverage our expertise to study mis- and disinformation about the 2020 election. From August 2020, we partnered with three other organizations to form the Election Integrity Partnership, a nonpartisan research consortium. Together we worked to detect and weaken the impact of attempts to discourage people from voting or to delegitimize election results. Leading up to the election, we were even able to predict many of the false narratives that took shape on Election Day and afterward.
These are just two examples; we have many more projects in the works. A theme throughout all our research is impact — ensuring we're able to share our findings in timely and meaningful ways with the public. We focus on education and community outreach to help individuals understand how to be healthier information consumers — and information participants. And we're actively exploring how our research can best contribute to conversations around emerging legal frameworks and potential government regulation (of social media companies).
Who does the CIP work with?
Our network of partners is quickly expanding, which is very exciting. Building relationships and connecting with collaborators is definitely one of the most enjoyable parts of my job as CIP director. In addition to our growing network of faculty, students and postdocs at the UW, we work with researchers at other academic institutions as well as with librarians, K-12 educators, media organizations, professional associations, companies and non-profit organizations. A few local examples include KUOW Public Radio, Pacific Science Center, Microsoft, the Washington Library Association and AARP chapters.
In addition to collaboration, interdisciplinarity is at the core of the CIP's work. Why is this important?
Strategic misinformation is one of the grand challenges of our time, and it isn't a problem that will be solved in one lab or at one institution — or even one field. We couldn't do this work without being interdisciplinary. Fortunately, the UW and our major funders the Knight Foundation and the National Science Foundation not only support but encourage our interdisciplinary approach. As researchers, we don't feel resistance to crossing disciplinary boundaries, and we don't feel that we're competing with each other. Instead we can collectively focus on solving a complex, global problem.
What are you most looking forward to in the next two years, and what are some of the challenges that lay ahead?
I'm excited for the Center to reach more people. We've recently received funding awards that will propel our work forward. One of these is a NSF Rapid Response Grant which will support our mis- and disinformation research and allow us to build tools and collaborations for addressing the challenges leading up to the next U.S. presidential election. Another is a NSF Convergence award for exploring digital literacies with underserved communities.
I'm also looking forward to working together in-person again. Researching strategic misinformation can be tough – it's exhausting and at times disheartening. Our researchers' mental health is a top priority of the CIP. Unfortunately misinformation is a problem that's still growing; it can be hard to balance pride in our work with the acknowledgement that it's still out there. This is why having a support community is critical. We're able to look out for each other and remind each other that through our work we are making an impact.
Misinformation? Disinformation?
Kate Starbird explains these terms and more in a 2018 College of Engineering interview.
Originally published December 6, 2021