By Chelsea Yates
"We're working on something that will have a positive impact on people in our lifetime. Knowing that makes it all worth it." – Mackenzie Andrews, MSBioE '19, Nanodropper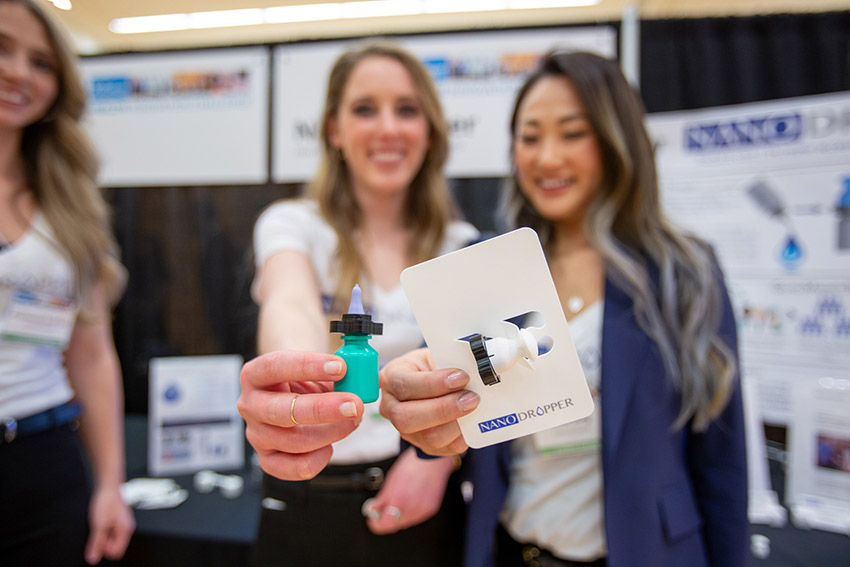 Next time you reach for eye drops or your prescription eye medication, consider this: nearly all eye droppers create droplets that are too big for your eye to absorb. Bigger drops means you go through medication faster, which means you buy more medication more often, which means the pharmaceutical companies producing your medication make more money.
Sound fair? Allisa Song, '15, didn't think so. After learning about this problem in 2017, the former biology and psychology student decided to intervene. She enlisted the help of two lab mates, then bioengineering (BioE) student Mackenzie Andrews and pharmacology graduate student Jennifer Steger. The three of them, along with Song's partner Elias Baker, who'd recently completed his mechanical engineering degree from Seattle University, got to work.
"There has to be a simple solution, we thought," remembers Andrews, who received her master's degree in BioE last spring. "Over-the-counter eye drops might not seem to cost too much, but glaucoma drugs — which people with glaucoma take daily to prevent blindness — can cost hundreds of dollars every month. Why should they pay for medication that's just being wasted?"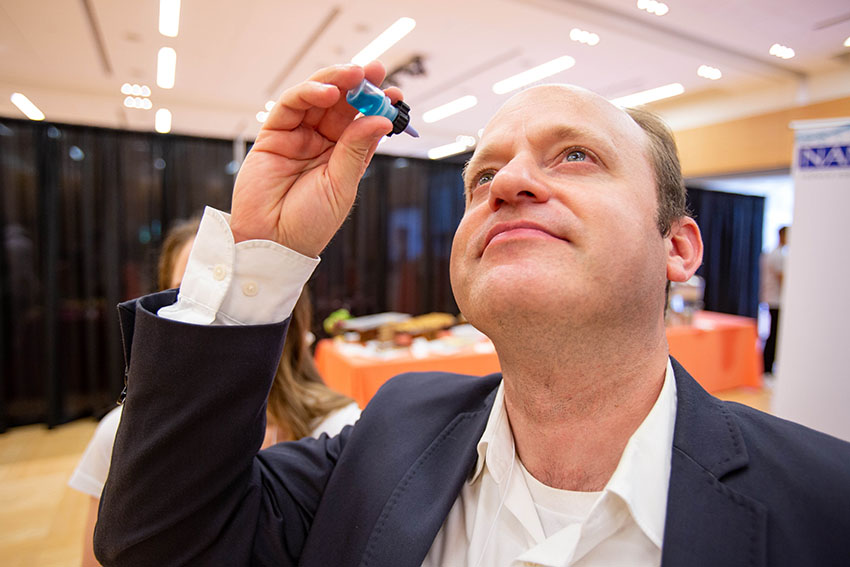 The team wasn't the first to take on this challenge, but what's made them unique has been their approach to problem-solving: Instead of designing a bottle and trying to convince drug companies to invest in it, they created a small device that screws on to bottles currently on the market and controls the size of the droplets produced. Though smaller — generally by at least a quarter of the original size — the controlled droplets are just as effective.
Known as Nanodropper, the two-inch long device can be used on nearly any eye dropper bottle. So, in addition to reducing waste from unnecessarily big droplets, Nanodropper will also reduce the cost of medication. The team says that, depending on their medications, Nanodropper should save consumers anywhere from $5 to $2,500 per medication annually.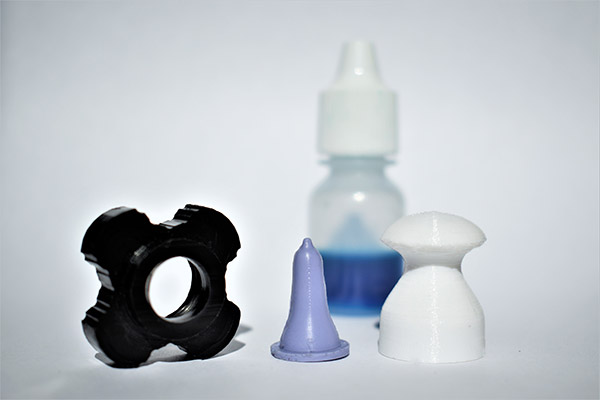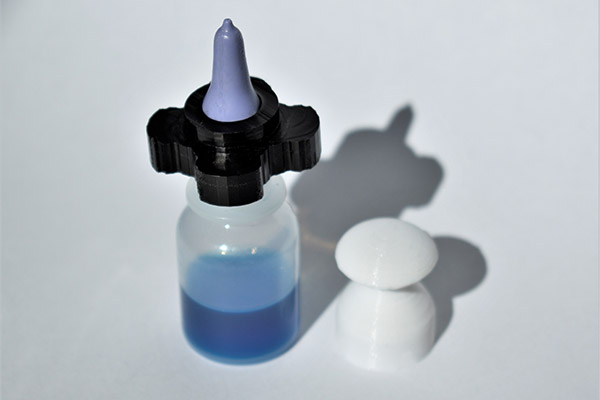 From idea to market
To move from design to production, the team applied to several innovation and entrepreneurship programs at the UW and beyond. In 2018, they took honorable mention in the UW Buerk Center for Entrepreneurship's Hollomon Health Innovation Challenge and won the best health care innovation award in the UW Business Plan Competition.
Then they took their device on the road, collecting more awards at each stop: first place at Johns Hopkins Student Healthcare Design Competition, second place at Future Founders U.Pitch Competition, and top prize at the Mayo Clinic's Walleye Tank science pitch competition. Back in Seattle, they continued building momentum in 2019 on the UW campus — this time taking first in the Holloman Health Innovation Challenge and at SEBA's Student Technology Showcase, among other competitions.
After raising more than $300,000 through investment, prize money and grants in less than two years, the team began planning for a startup to produce and market Nanodropper. Song had recently started medical school at the Mayo Clinic and Steger, a Ph.D. candidate, was not ready to walk away from her graduate program. In June, Andrews and Baker became the new company's first full-time employees, working closely with Song and Steger but assuming the day-to-day business management duties.
A positive impact
"Startup work is an amazing blend of academics, research and competition — all things I love," says Andrews. "At first, academics was my comfort zone, but the entrepreneurial piece forced me out of that. I learned how to ask for help and how to become comfortable saying 'I don't know' but I'll work with my partners to find out."
This summer the team moved into UW CoMotion's Startup Hall. They've registered Nanodropper with the Food & Drug Administration, and they're currently making plans for manufacturing and distribution. They want to roll out the device directly to eye care clinics as early as January 2020 (they already have 26 clinics in four countries that have signed up for pre-sale) and then to retail pharmacies as early as 2021. The team acknowledges they have a lot of work to do; one of the biggest challenges is setting product cost, which they hope to keep under $25.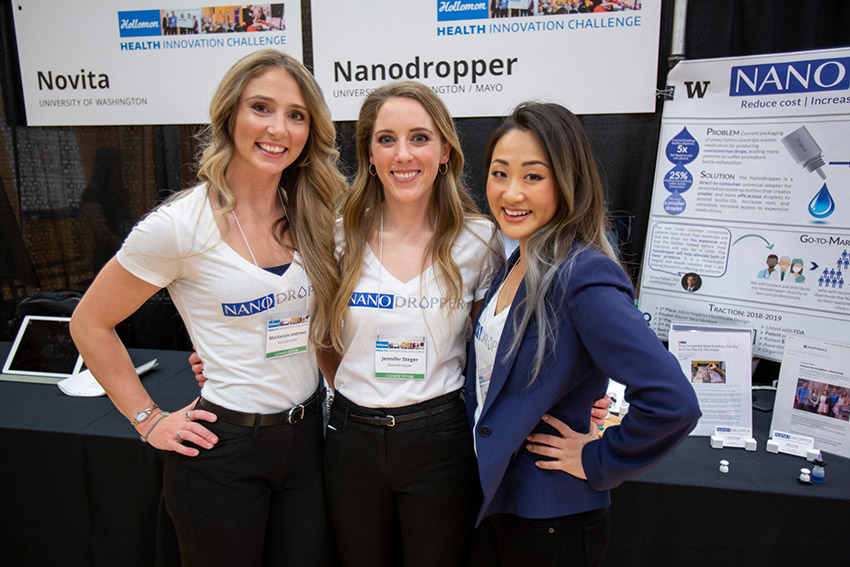 "Prescription eye medication is already expensive, and we want to keep the cost of Nanodropper as low as possible for consumers. After all, the device idea grew out of our desire to help people save money," Andrews explains.
For Steger, being involved in Nanodropper has opened new ways of thinking about life after graduate school.
"Traditionally, Ph.D. students in my field focus on an academic career or entering industry after earning their degrees, but Nanodropper has introduced me to another option: starting and building a company," she says. "A question that's always driven my research is: 'How do I make the biggest impact in the amount of time that's been given to me?' Nanodropper has provided me a way."
Andrews adds that, though the project has moved very quickly, the journey has been rewarding.
"We're working on something that will have a positive impact on people in our lifetime," she says. "Knowing that makes it all worth it."
Learn more
Visit Nanodropper to keep an eye on the team's progress.
Originally published August 26, 2019