By Chelsea Yates
Photos by Mark Stone / University of Washington
Image
His first year at the UW, Miguel Monserate decided to major in bioengineering. "My parents worked in health care, and I was curious about engineering, so bioengineering seemed like a good fit," he says.
But after getting into the program, he realized he didn't like biology and cellular engineering. He began to panic.
"I wished I'd learned more about bioengineering — and engineering in general — before committing to a major," he reflects. "I felt like it was too late to change my mind, and I worried I was going to be stuck in a field I didn't like."
Fortunately for Monserate, his worries subsided once he was introduced to bioelectronics and medical imaging. He discovered he Ioved applying electrical technologies to health care so he stuck with his major.
"Questioning your major when you've worked so hard to get into a program is a terrible feeling, and I knew I couldn't be the only student in that situation," he says. "I wanted to share my experience and make sure others felt more prepared and less alone."
This past year, the BioE senior became one of 50 engineering students who took part in the inaugural Engineering Peer Educator (EPE) program. The program is designed to help first-year Engineering Undeclared students transition into the community while providing upper-class students with leadership and mentorship opportunities. An EPE leads a class of about 24 first-year students on an introductory journey — exploring engineering disciplines and career pathways and building a support network along the way.
Establishing E-FIGs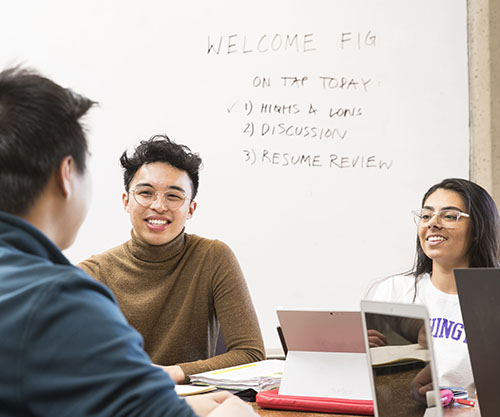 "This year, 950 engineering undeclared students came to campus through the inaugural Direct-to-College admission (DTC) process," says Shanai Lechtenberg, UW Engineering's Director of Advising & Student Engagement. "We wanted to set them up for success."
A key component was connecting new students with current engineering students. Lead academic adviser Lauren Fryhle had previously managed a small-scale peer mentor program and, based on its success, she and Lechtenberg saw an opportunity to expand it by developing the EPE program and Engineering First-Year Interest Groups (E-FIGs). The FIG program has a longstanding tradition of success at the UW, and by partnering closely with the UW's First-Year Programs office, the College of Engineering was able to build off of the original model to create a more tailored experience for engineering students.
"E-FIGs are designed to help students make more informed decisions when it comes time to declare their majors," Fryhle explains. "It's not uncommon for students to arrive on campus intending to study engineering, but having never heard of industrial engineering or human-centered design. Similarly, few incoming students are aware they can pursue health care through mechanical engineering or sustainability through chemical engineering."
This peer-to-peer engineering education model is an innovative way to build community, encourage leadership and help students understand the diversity that engineering offers.
"Peers are a powerful resource," says Fryhle. "With training, structure and support, peers can become some of the best educators for new students."
Sharing the student experience
Experienced students apply to become EPEs during winter quarter. Selections are made, and training begins in the spring for the weekly classes they will lead in the fall. During their classes, they facilitate discussions and manage lesson plans and grading. EPEs receive a $1,000 scholarship and academic credit for their work.
"It's a competitive process," says Lechtenberg. "We look for students across the College who are interested in leadership, communication and service, and who want to grow as individuals."
Being an EPE may seem like a big commitment for engineering undergraduates, but most of them, like Monserate, view it as a one-of-a-kind opportunity.
"As an EPE, I've worn so many hats — instructor, mentor, coach, advocate, adviser, friend," he says. "My time and project management skills are sharper, and I'm better at synthesizing information and thinking on my feet."
Monserate has especially appreciated the opportunity to support other students.
"EPEs are students, too, and even though we're a few years ahead, we still have homework, exams and projects. We're also attending career fairs and working on our resumes. So in a way, we're all sharing the engineering student experience," he says.
First-year student Pamel Kang was in Monserate's class. At first she was skeptical about the E-FIG but says that quickly changed.
"When I arrived on campus, I wanted to focus on my math and science classes," the Spokane native recalls. "But Miguel's class turned out to be a great experience. He was committed to creating a supportive community in our classroom, and I made some good friends because of it."
It also introduced her to different kinds of engineering.
"I want to work with biomaterials and am pretty sure I want to study bioengineering, but I'm now also interested in learning more about materials science as there's a lot of overlap," she says. "I didn't know that was an engineering field before the class."
Setting students up for success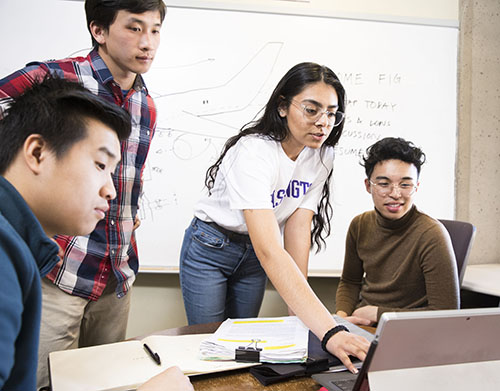 After graduating this June, Monserate will work at Philips Healthcare as an ultrasound engineer. He's quick to add that his EPE experience will follow him beyond the UW and plans to continue to make time to help others.
And Kang says that, while she's excited to focus on engineering research, she hasn't ruled out applying to be a peer educator.
"Thanks to my E-FIG, I'm now involved in many student organizations, and I'm excited to take part in some of the innovation challenges on campus," she says.
More than anything, she's grateful for the sense of community the program has given her.
"Engineering still feels competitive, but thanks to my E-FIG experience I know I'm not alone," she says.
Originally published April 29, 2019