Welcome Engineering Undeclared Majors

You're in!
As an Engineering Undeclared student at the UW, you're joining a community of innovators. Your status means that you're guaranteed placement into an engineering major if you meet satisfactory academic progress requirements and complete the foundational coursework.
We're excited to welcome you to the engineering community!
If you have additional questions about what it means to be an Engineering Undeclared student at the UW, see Direct to College Admission FAQs.
Your Engineering Peer Educators (EPEs) want to say hello and congratulate you on getting admitted directly into the College of Engineering! The EPEs are a diverse group of engineering students who have been in your shoes and are excited to welcome you to the pack. They look forward to helping you find your place here too! Go Dawgs!
Learn more about the EPEs »
What's next?
Accept your offer!
Visit the New Huskies page to accept your offer, pay the New Student Enrollment & Orientation Fee, and create and manage your UW profile.
Attend College of Engineering Admitted Student Preview Day
April 9, 2020
As an admitted Engineering Undeclared Husky, you and your family are invited to meet engineering faculty, advisers, and students and learn more about what it means to be part of the UW College of Engineering.
Request housing in the Engineering Living Learning Community (LLC)
The Engineering Living and Learning Community is an on-campus living space in Maple Hall that supports community, collaboration, and academic exploration for engineering students.
As a member of the Engineering Community you may participate in activities and events with UW Engineering staff and faculty, industry leaders, and alumni. Living close to many engineering students, you can easily form study groups and you'll have access to Area 01's Dabble Lab which features 3-D printers, a laser cutter, and art and design tools. Joining the Maple Hall Council and participating in leadership experiences are also ways to gain experience and build community.
Note that continuing engineering students and first-year DTC students receive priority for this community. Housing & Food Services (HFS) does not guarantee preferences.
How to request Engineering LLC
Read the Housing Application Guide.
Make your housing request during the priority 1 application (May 2-8).
Select the Engineering Community preference on your housing application.
If you apply by the housing priority 1 deadline and if spaces are available in the Engineering Community during your room selection appointment, you will be able to select a room in Maple Hall.
Sign up for UW Advising & Orientation sessions

At your Advising & Orientation (A&O) session this summer, you'll learn more about academic planning, the placement process in an engineering major, and how AP/IB, A levels, and running start credits may affect your schedule. More about A&O »
Your first year experience
In your first year (or two), you will complete foundation coursework in math, science, and UW general education courses. You will also have opportunities to explore the engineering disciplines and clarify which majors best suit your educational and professional goals before you request placement into an engineering major.
As an Engineering Undeclared student, you will be paired with an engineering adviser at Advising & Orientation in the summer. You will work with that adviser until you are placed into an engineering major, when you'll transition to working with a departmental adviser.
Engineering advisers partner with students to explore their interests, create an intentional academic plan, and connect to on-campus resources. Learn more about the Engineering Academic Advising team.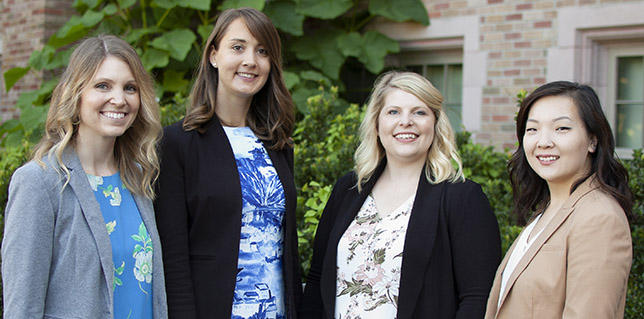 Engineering First-year Interest Groups (E-FIGs)
In autumn quarter, you will take an Engineering FIG that will feature an Engineering 101 course linked to a General Studies 199 course. ENGR 101 introduces Engineering Undeclared students to the range of majors and opportunities available in the College of Engineering. The linked General Studies 199 course is led by an Engineering Peer Educator. Your Engineering Peer Educator is an experienced UW engineering student who will support you in your transition to UW and your exploration of engineering during your first year.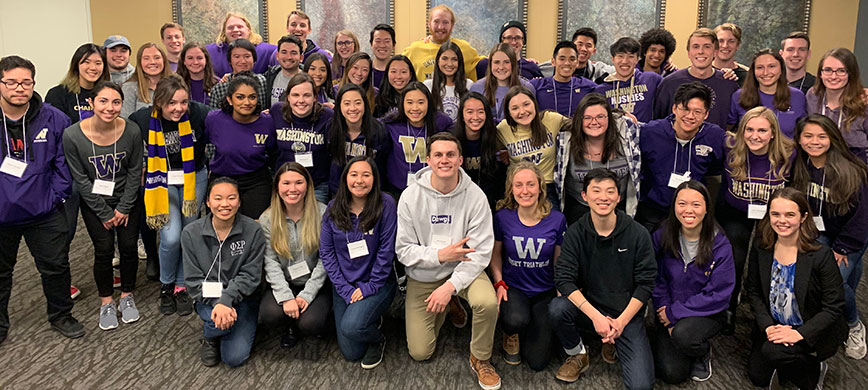 The 2019-2020 Engineering Peer Educators are excited to meet you!
Working toward placement in a major
As an Engineering Undeclared major, you are guaranteed placement into one of the engineering majors, as long as you meet satisfactory academic progress requirements and complete the foundational coursework. Note:
Once you've satisfactorily completed the foundational coursework, you can request placement into any engineering department. You may or may not be placed in your first choice major. Some departments in the College of Engineering receive more placement requests than they can accommodate.
You are not required to pursue placement into the major you selected on your freshman UW application.
More opportunities for exploration of engineering: