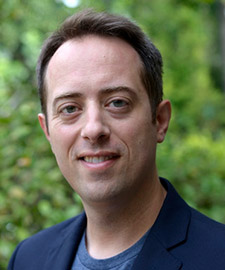 Research focus
DNA computing and molecular programming, synthetic biology, algorithm and data structure design, scientific software development
Education
Ph.D. Computer Science, University of British Columbia, 2013
M.S. Computing Science, Simon Fraser University, 2007
B.C.S. Computer Science, University of Windsor, 2005
Chris begins this fall as an assistant professor at the Allen School. He was most recently at Caltech as a senior postdoctoral research scholar developing the next generation of DNA-based logic circuits.
Chris' research focuses on using DNA and other substrates to program smart molecules that can sense their environment, perform robust and complex computations, and actuate a response at the nanoscale. He aims to build molecular processing architectures using DNA's natural interface with chemical and biological systems and use molecular computers as a new avenue to store and process information electronically to enhance smart medicine, materials and manufacturing.
He received the Banting Fellowship, Canada's top fellowship award, as well as received two NSF grants in support of molecular programming architectures and digital circuit computation.