Azadeh Yazdan-Shahmorad
Washington Research Foundation Innovation Assistant Professor of Neuroengineering,
Electrical Engineering and Bioengineering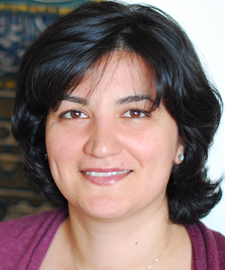 Ph.D. Biomedical Engineering, University of Michigan, Ann Arbor, 2011
M.S. Electrical Engineering, University of Tehran, Iran, 2003
B.S. Biomedical Engineering, Tehran Polytechnic (Amir-Kabir University of Technology, Tehran, Iran), 2001
Azadeh Yazdan-Shahmorad joins UW this fall as the Washington Research Foundation Innovation Assistant Professor of Neuroengineering in the departments of Bioengineering and Electrical Engineering.
Azadeh examines how neural technologies can inform brain mechanisms and plasticity after brain trauma, such as a stroke, in order to develop novel stimulation-based therapies for functional recovery. By implementing optogenetics in non-human primates and rats, she plans to advance neurorehabilitation in patients suffering from a broad range of neurological disorders.
Azadeh is the recipient of the 2014 IEEE Brain Grand Challenges Young Investigator Award as well as post-doctoral fellowships from the American Heart Association. Her research in targeted sensorimotor plasticity was recognized as a "hot topic" by the Society for Neuroscience in 2016.