Math Academy

High-achieving high school juniors from Washington State live on the Seattle UW campus for a four-week, intensive, summer session. Students engage in coursework created by UW math faculty and designed to develop the skills necessary to meet the high standards of college-level math and engineering.
Students also have enrichment opportunities to explore the range of career opportunities available to engineers through lab tours, research projects, site visits and networking events.
The College of Engineering Math Academy helps students develop the math and problem-solving skills necessary to succeed in engineering and exposes students to a variety of examples of engineering in practice. Open to all students from Washington state, the Math Academy especially targets underrepresented minorities in engineering including African American, Latino, Native American, Pacific Islander and female students.
Important dates for applying to Math Academy
January 2018
Algebra skills testing
Calculators are NOT allowed during the test.
Saturday test dates and registration to be announced
July 15 - August 10, 2018
2018 Math Academy session dates

Application dates and info to be provided.
About the Math Academy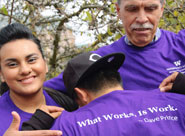 "UW Math Academy out to broaden engineering's appeal"
The Seattle Times' Jerry Large writes about Math Academy students and advisers and efforts to close the gap between high school and college math.
Times article » | Math Academy video »
As you can see from the sample schedule, each week is packed with learning, activities, meals and also some down-time in the dorm.
Parents: Learn more about expectations for student behavior and supervision at Math Academy in Parent FAQs.
Teachers and Staff: Download the Math Academy flyer and overview to share.
Who Can Attend Math Academy?
The Math Academy accepts current Washington state juniors with a minimum 3.0 GPA who will complete pre-calculus by the end of their junior year. While the program is open to all Washington juniors, including home-schooled students, we do target underrepresented minority students and women for program participation.
Skills Assessment
All students must take a proctored math assessment. Please remember that the skills assessment is just one element of the application and will be reviewed holistically with all other required materials.
Students are encouraged to take the test at the University of Washington College of Engineering (Seattle campus). On-campus 2018 testing will be in January. Exact dates and registration info to be announced.
Calculators are NOT allowed during the test.
Off-Campus Skills Assessments
Students who are unable to travel to Seattle for the assessment are required to find a teacher or school official to proctor the test.
What Are the Costs for the Math Academy?
The Math Academy program is free for student participants. This opportunity is made possible thanks to the University of Washington College of Engineering, and the generous contributions of our corporate and individual donors.
Applying to Math Academy
Application due dates for 2018 are to be announced.
If possible, please compile all required materials into one mailing (including teacher recommendations and school forms). If materials will be arriving separately, please make sure that all documents include the applicant's name and date of birth.
Math Academy Alumni
Resources for alumni of the Math Academy program »
Math Academy slide show