Wilson Ceramic Laboratory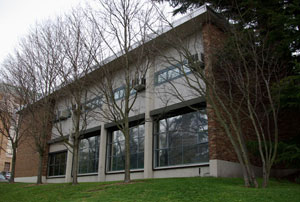 Location: See map.
Departments: Civil & Environmental Engineering, Materials Science & Engineering
This building, designed by Paul Thiry, was constructed in 1946. It was bid for $136,161 for engineering students pursuing mining studies. The facility, originally called the Kiln Building, housed three kilns built by the U.S. Bureau of Mines. Students used the kilns to perform standard tests of high refractories prepared from northwest mining materials. These tests benefited private companies without financial resources to do their own testing.