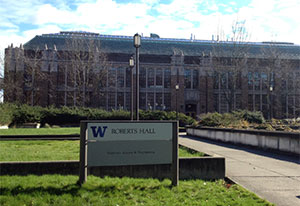 Location: See map.
Departments: Materials Science & Engineering
Roberts Hall, designed by Bebb & Gould, was built in 1921 for $128,000. This impressive building housed the College of Mines. It was known as Mines Hall until 1947 when it was renamed for Milnor Roberts, Dean of the School of Mines from 1901-1947. The original Mines Hall was built in 1901 for use as the UW power house, but the Mechanical Engineering laboratory began using its space in 1905. Mines Hall was relocated in 1909 to the site where Suzzallo Library is now situated. Fire destroyed it in 1924.
An addition to the building, constructed from plans by McClure and Adkison, was built in 1927 for $142,000. A renovation, designed by Duarte Bryant, was completed for $3.8 million in 1988. The one-story addition was constructed to the northwest of Roberts Hall. It contained 14,000 gross square feet and was designed as an L-shaped, earth-sheltered facility and is now called Mueller Hall.