New engineering building to house nanoengineering research
The College of Engineering at the University of Washington (UW) is a recognized research leader in the development of new energy and health technologies. To advance these areas of engineering, we must provide appropriate educational and research infrastructure for new technologies and instrumentation that measure and manipulate at the nanoscale. This will advance research in multiple departments, including mechanical engineering, materials science and engineering, chemical engineering, and bioengineering.
Nanoengineering & proximity of Sound Transit rail
A building for nanoengineering research and teaching requires a quiet site with low vibrations and electromagnetic interference (EMI). The majority of the College of Engineering buildings are located close to the new Sound Transit rail line and the UW station at Husky Stadium (see aerial view).
While the installation of light rail near campus is of great overall benefit for students, faculty, staff and visitors, there are ramifications for our ability to perform nanoengineering research. Construction and eventual operation of the rail line will significantly limit the cutting-edge work conducted in current college buildings.  To mitigate this impact, UW and Sound Transit successfully negotiated a 43-million-dollar agreement that relocates sensitive teaching and research activities "out of harm's way."
Relocation provides a long-term solution that will allow the college to maintain and grow these significant areas of research in a new building.  The new building will be adjacent to the Molecular Engineering and Sciences building, or MolES (see map).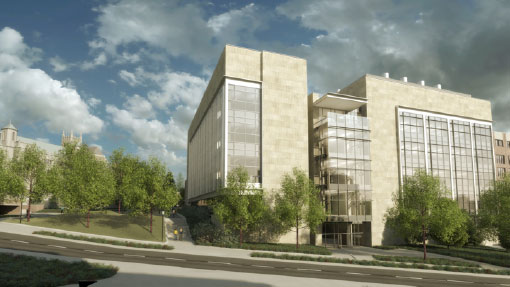 Artist's rendering of the new Nanoengineering & Sciences Building
Reasons for selecting the new building site
The site is located in the science core of the UW campus, which is "quiet" in terms of vibration and EMI.
The assignable square footage (ASF) of research space in the new building is approximately the same as the required ASF for current and projected growth in nanoengineering research activities.
The ground floor will accommodate the vibration-sensitive instrumentation and integrate with the Molecular Analysis Facility in MolES.
The first floor will house classroom and teaching spaces to complement the research activities in MolES, leading to increased collaboration in research and teaching.
The Nanoengineering & Sciences Building will provide approximately 43,000 ASF for current and future research in this important field and 8,300 ASF of learning space to continue the tradition of excellence in education at the UW.