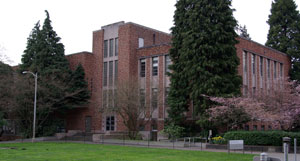 Location: See map.
Departments: Civil & Environmental Engineering
Called the Civil Engineering Building until September 28, 1946, More Hall was built in 1946 for an estimated $100,000. Hastened by WWII's engineering needs, the design for the Civil Engineering Department was developed by Bebb & Jones. It expressed the modern architectural philosophy of function over form and incorporated lighting from large windows to convey the feeling of spaciousness.
The Structural Research Lab in More Hall, designed by John Paul Jones Architect, was completed in 1948 for $945,000. The lab was located adjacent to the Northern Pacific Railroad so a spur track could carry materials directly into the room. One of the first items delivered by rail was a 2.5 million pound compression testing machine. Its testing capacities outperformed any other test bed in the Pacific Northwest and was used by Washington manufacturers of aircraft, steel, lumber and light metals in the post WWII years to test their products. In addition, the machine could replicate earthquake-like shock waves that enabled students to study how to incorporate seismic factors into their civil engineering design.
During 1972-75 More Hall was remodeled from plans by the architectural firm Kolb and Stansfield. During 1993-96 an $800,000 remodel of the infrastructure of More Hall occurred. Structural and geotechnical research laboratories were remodeled to accommodate new equipment and to improve the use of the existing space.