Molecular Engineering & Sciences Building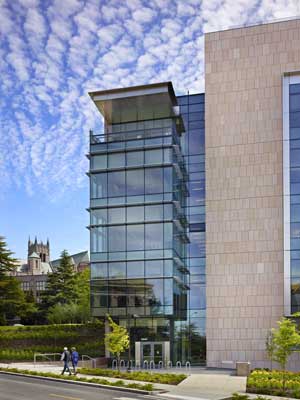 The Molecular Engineering & Sciences building, home to the Molecular Engineering & Sciences Institute, Molecular Analysis Facility, and Clean Energy Institute, is a 90,300-square-foot space near the center of campus. The building features state-of-the-art labs, innovative common spaces that encourage collaboration, and cutting-edge green features.
Groundbreaking took place on October 9, 2009. The building was designed by Zimmer Gunsul Frasca Architects and officially opened September 2012.
The building embodies the interdisciplinary nature of molecular engineering. Each of the $77 million building's four floors consists of a large, open laboratory and an office area. These labs are shared by three to five PIs, their students, postdocs and lab technicians. All lab elements—benches, shelving, even instruments—are reconfigurable as needs and researchers change. The basement features the largest vibration-free laboratory on the West Coast, along with instruments that minimize electromagnetic interference.
The project was certified as LEED Gold by the U.S. Green Building Council in April 2013. For more information, see the building's LEED Scorecard.