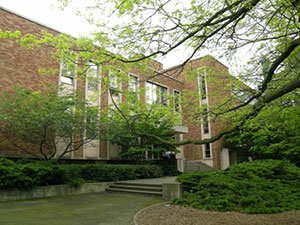 Location: See map.
Departments: Mechanical Engineering, Industrial and Systems Engineering
The 97,600 square foot Mechanical Engineering Building replaced Old Engineering Hall, which was demolished in 1957. Referred to simply as the MEB, the highly awaited new building was designed by Carlson, Eley & Grevstad. It was completed in 1959 for approximately $1,562,922. The facility was organized around two unusually large labs: thermo-dynamics and mechanical design. Over time, cracking developed in the walls and floors where students performed stress analysis experiments. Student comment to this was: "Well, that's the breaks."
In 1960 room B012 housed a computer mainframe.