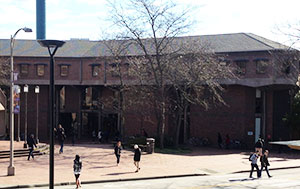 Location: See map.
Departments: Dean's Office
Built in 1965 by Bassetti & Company, Loew Hall was designed in Italian Neo-Liberty style and constructed from brick. The building was connected by an underground walkway to the Engineering Library. This joint project was constructed for approximately $3 million.
Loew Hall also serves as the center of operations for the Dean's Office of the College of Engineering, Student Academic Services (SAS) and the Office of Inclusive Excellence (OiE).