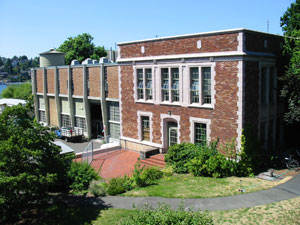 Location: See map.
Departments: Civil & Environmental Engineering, Mechanical Engineering, Aeronautics & Astronautics
Designed in subdued Gothic style by Bebb & Gould, Harris Hydraulics Lab was built in 1920 for $62,692. It boasted the best hydraulics research facilities of any university in the United States.
Water and water pressure were originally provided by Geyser Basin, an acre of free water surface 100 feet above the lab floor. (Geyser Basin is now known as Frosh Pond and features Drumheller Fountain.) Water was conveyed in pipes from the basin to the lab and up through a railing on the edge of the mezzanine balcony, eventually draining to Lake Washington. The laboratory creates the same hydrostatic pressure today from a vertical water tank inside the building.
An addition was designed by Liddle & Jones and built in 1960 for $304,607.