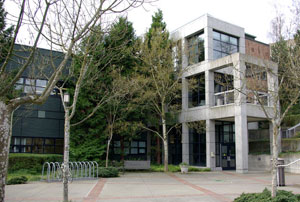 Location: See map.
Centers/departments: UW NNIN Washington Nanofabrication Facility, Mechanical Engineering
Fluke Hall, built in 1988, is shared by CoE and UW CoMotion to house the Washington Nanofabrication Facility, the Human Photonics Laboratory, and CoMotion Labs, and CoMotion Makerspace
Designed to foster and commercialize research of benefit to Washington state companies. the building was named after John M. Fluke, Sr. of the Fluke Manufacturing Company. The 73,000 square foot facility was designed by NBBJ and built by Sellen Construction Company for a cost of $15,800,000. NBBJ's exterior design tied the traditions of the past to the high tech endeavors of the future. The facility's west wing consists of brickwork and roof elements that conform with the traditional campus. The east wing reflects the industrial purpose of the building. The wing is clad in materials such as corrugated metal panels and stainless steel fasteners. An open concrete circulation spine joins the two wings.