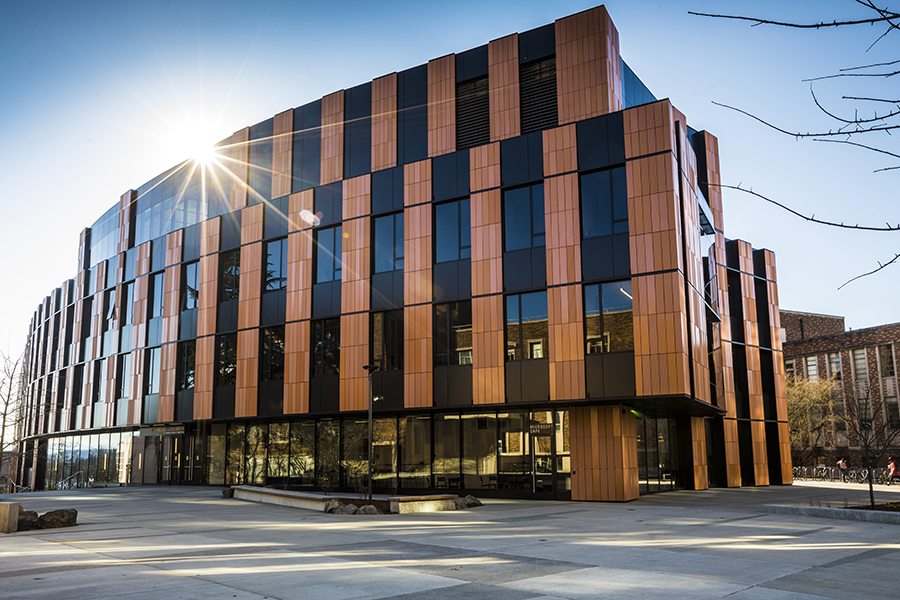 Location: Display map of Paul G. Allen Center location and note outlined construction area across Stevens Way.
Departments: Paul G. Allen School of Computer Science & Engineering
The Bill & Melinda Gates Center for Computer Science & Engineering (Gates Center) contains classroom, office, and collaborative spaces, expanded research labs, a 250-seat auditorium, and a flexible event space. The facility enabled the Paul G. Allen School of Computer Science & Engineering to double its annual degree production. Adjacent to the existing Paul G. Allen Center for Computer Science & Engineering (Allen Center), the two buildings provide an integrated education and research experience for the Allen School. The Gates Center includes a sophisticated maker space, an undergraduate commons that will serve as a "home away from home" for students enrolled in the major, a wet lab for leading-edge research in molecular information systems, a 3,000 square foot robotics lab, workrooms for the interdisciplinary computer animation capstone, and interview rooms where industry representatives can meet with students.
The 135,000 square foot building, designed by Seattle's LMN Architects, broke ground in January 2017 and opened January 2019. The facility is funded through a public-private partnership including contributions from the Washington State Legislature plus corporate and individual donors. The building was named in honor of Bill and Melinda Gates through gifts from Microsoft Corp. and a group of local business and philanthropic leaders who were longtime friends and colleagues of the couple. The Gates Center helps cement the Allen School's leadership role in innovation and education and facilitates collaboration among students, faculty, staff and visitors, including regional and global stakeholders.