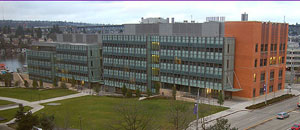 Location: See map.
Departments: Bioengineering
Ground-breaking for the new Bioengineering-Genome Sciences building was held on August 12, 2003. On March 8, 2006, former U.S. President Jimmy Carter gave the keynote speech for the new building's dedication ceremony, most of which was held during a fierce spring storm in a tent on the building's grounds. Microsoft co-founder Bill Gates spoke as well. In spite of these illustrious celebrants, the real hero of the day was Dr. William H. Foege, for whom the building is named.
Foege is perhaps best known as the man who led the war against smallpox, which resulted in the disease's total eradication in 1975. He worked for the U. S. Centers for Disease Control and became director in 1977, then served as executive director of The Carter Center from 1986 to 1992. The Center addresses global issues of democracy, human rights, disease, hunger, and conflict. Foege continues now as a Center fellow and as executive director of the Task Force for Child Survival, which he helped form to promote immunization and health worldwide. Carter called him "the best coalition-builder" he's ever seen.
The building cost $150 million and has 265,000 square feet (123,000 dedicated to Bioengineering), including offices, research laboratories, and support facilities. A $70 million gift from the Bill & Melinda Gates Foundation, announced as the largest single private donation to an institution of higher education in the Northwest, made it possible for the UW to begin construction of the building. Of that gift, $60 million was for building construction, with the rest used for collaborative global health programs related to genome sciences. Additional funding includes $12 million from the federal government, $10 million from the Whitaker Foundation, and gifts from other private sources.
Anshen and Allen of Los Angeles designed the building. The general contractor and construction manager is Hoffman Construction.
See also