By Chelsea Yates
Photos courtesy of HuskyADAPT and Nikita Taparia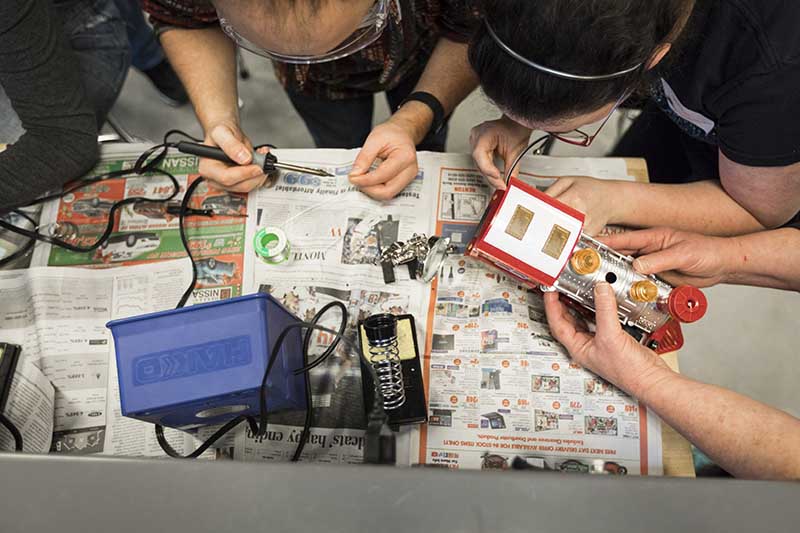 In its first year, HuskyADAPT has trained more than 300 students and community members in toy adaptation.
When Molly Mollica relocated to Seattle in 2016 for graduate school, she was surprised to learn that there wasn't a single registered toy library in Washington state. In Ohio — where she'd moved from — there were more than 40.
"Toy libraries provide play experiences for children and families, especially for kids with disabilities," the bioengineering Ph.D. student explains. "Not all toys are accessible to all kids, depending on their abilities — for example, a child with spinal muscular atrophy may not be able to reach or push small buttons on electronic toys."
In fact, many children with disabilities often cannot access toys as they were originally designed. This inability to interact with a toy means that the child cannot gain the developmental benefits of play, such as learning cause and effect, developing motor skills and increasing independence.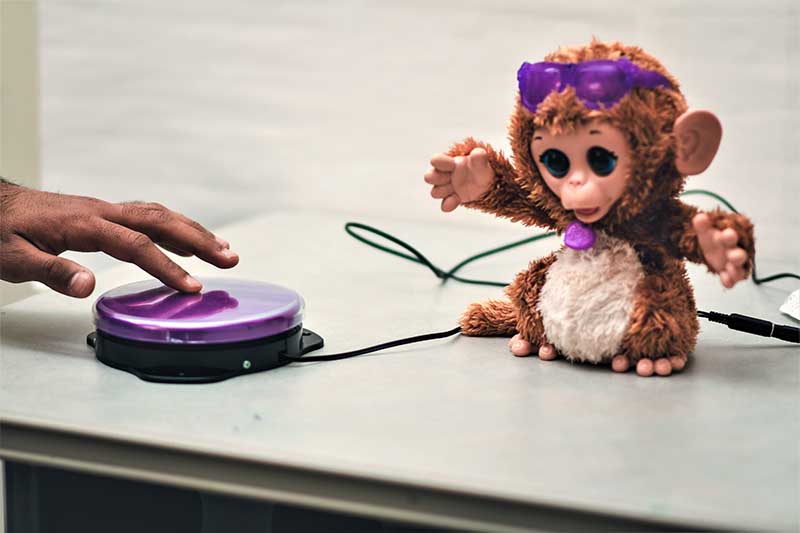 Electronic toys can be adapted to meet a child's needs. For example, if a child is not able to reach or push a toy's small buttons, a larger button may be added to offer more accessibility and interaction.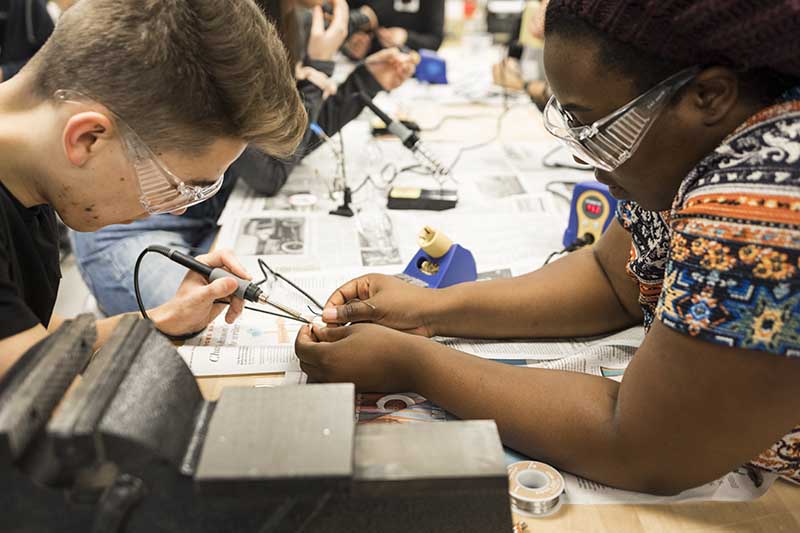 By equipping others with accessible design knowledge and the skills to adapt toys, HuskyADAPT makes it possible for more kids and families to access toys that best fit their needs.
Some manufacturers offer modified versions of toys; however, they generally cost much more than original models. As an undergraduate at Ohio State University, Mollica learned that she could apply basic engineering and circuitry skills to adapt toys for local libraries at a fraction of the cost.
Brianna Goodwin, MSME '18, had a similar experience. While an undergraduate at Oregon State University, she got involved with Go Baby Go, a program that modifies battery-operated ride-on cars for young children to meet their unique mobility needs.
"Go Baby Go didn't have a presence on the UW campus when I arrived to pursue my master's degree in mechanical engineering (ME), and I wanted to change that," she says.
Not long after beginning their graduate programs, Goodwin and Mollica met each other. They also connected with ME associate professor Kat Steele, whose research is situated at the intersections of universal design, accessibility and inclusive community building.
"With assistive technology and accessible design, there's a lot of room for fresh ideas and innovation, so it's a great space for student energy," Steele says.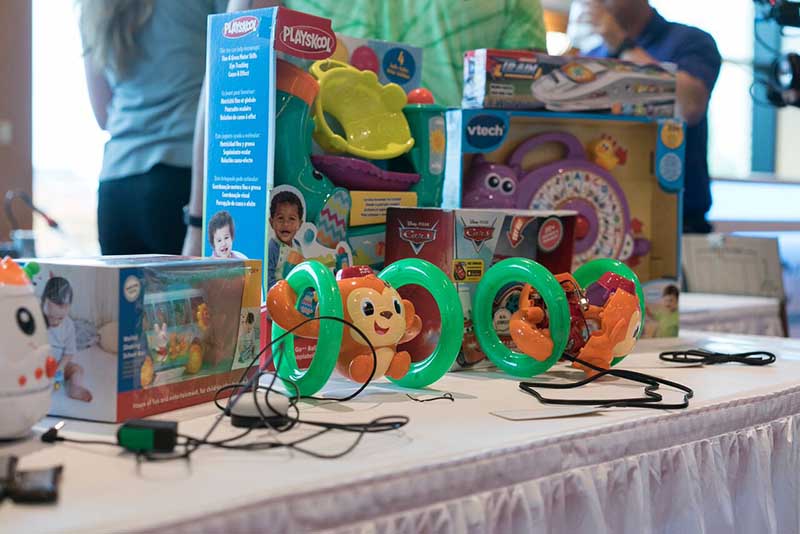 Most electronic toys can be adapted for a fraction of the cost of purchasing modified versions from the manufacturer.
Steele, Goodwin and Mollica contacted other researchers, educators and clinicians, including Human Centered Design & Engineering lecturer Dianne Hendricks; Anat Caspi, who directs the Taskar Center for Accessible Technology in the Paul G. Allen School of Computer Science & Engineering; Heather Feldner, a pediatric physical therapist and assistant professor in UW Rehabilitation Medicine; and Shawn Israel, a pediatric physical therapist and instructor in UW Rehabilitation Medicine. Feldner and Israel were beginning to develop a local Go Baby Go chapter, so the timing was ideal. The faculty knew students who were interested in accessible design, and soon a campus network began to form around accessible play technology.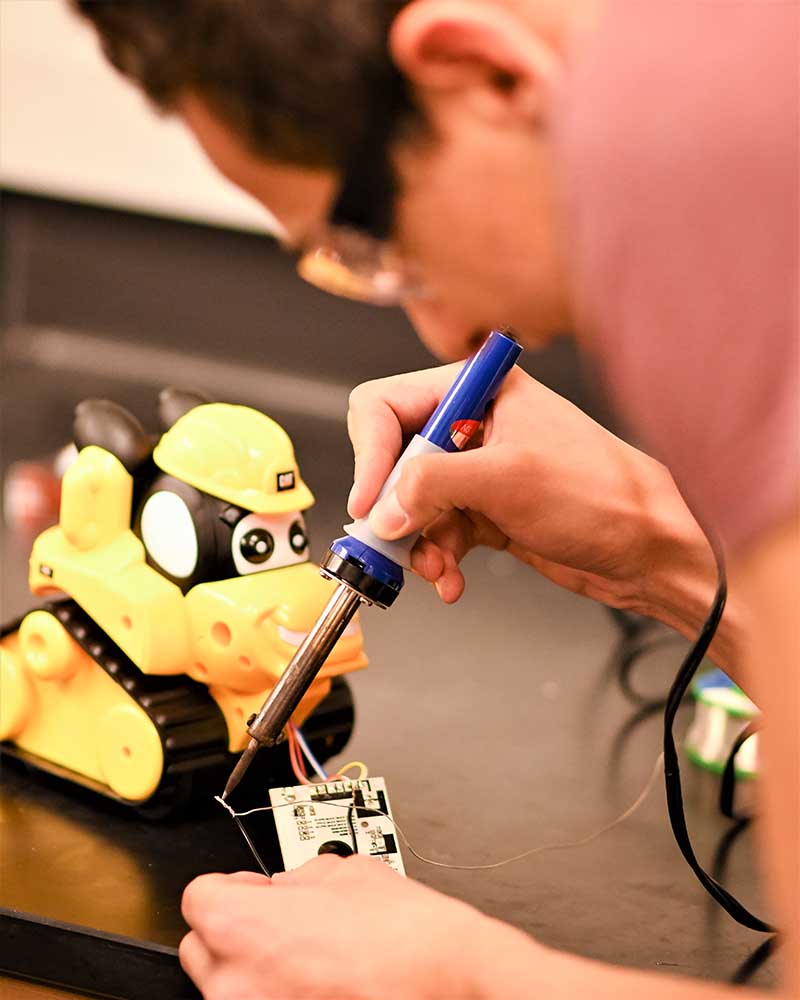 Toy adaptation offers students an opportunity to explore concepts such as universal design and reverse engineering and sharpen their skills in circuitry and soldering.
Adapting toys and building community
"With a few simple instructions, modifying an electronic toy is surprisingly simple process with a lot of positive impact and educational benefits," Mollica explains. "To adapt a toy, you open it and assess its circuitry, then you solder a headphone jack in parallel with the original activation switch, which allows you to activate the toy by pushing a large button or whatever sort of activation option works for the child using it."
Mollica began working with Caspi to organize regular toy adaptation workshops on campus. Interest in them grew quickly, so to cover the costs, she and the team applied for and received Husky Seed Fund and AccessEngineering grants.
While she focused growing the momentum around the workshops, Goodwin worked with Steele and other faculty to outline a plan to develop a student organization, which they named HuskyADAPT (short for Accessible Design & Play Technology).
They focused the new club's efforts into three project areas: 1) toy adaptations, 2) Go Baby Go modified cars and 3) individualized design projects, some of which integrated with a VIP course that Steele leads.
"Professor Steele's lab has become a hub for individuals in the Puget Sound community who want or need assisted living devices and innovations," says Goodwin. "She compiles project ideas and transforms them into student-led research and design projects. The club then gives students a structure and supportive community through which to pursue them."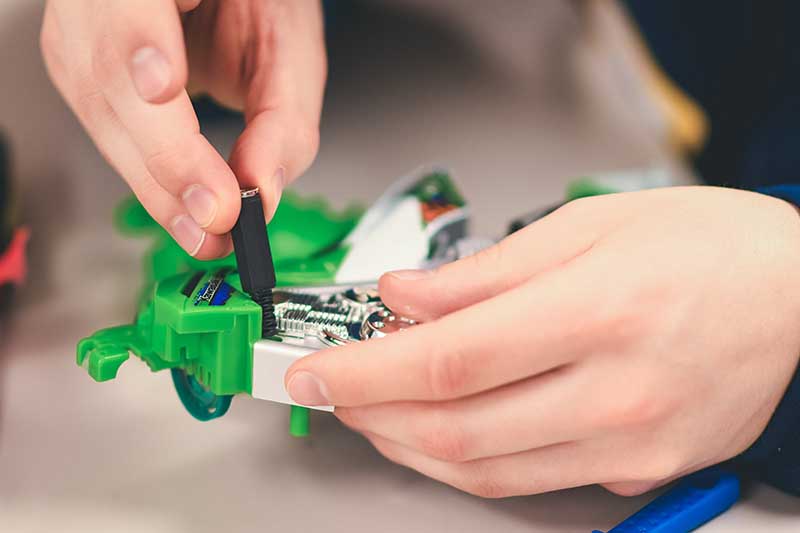 To adapt a toy, a headphone jack is attached parallel to the original activation switch, allowing for a large button or other alternative activation mechanism to be plugged in to the toy.
Advancing accessible design
Now in its second year, HuskyADAPT has trained hundreds of students and community members in toy adaptation. Students from across campus regularly participate in the club's events and meetings.
"The interdisciplinarity of HuskyADAPT is exciting," says Goodwin. "I can't think of many project-based student organizations that bring together engineering students with future physical and occupational therapists and educators."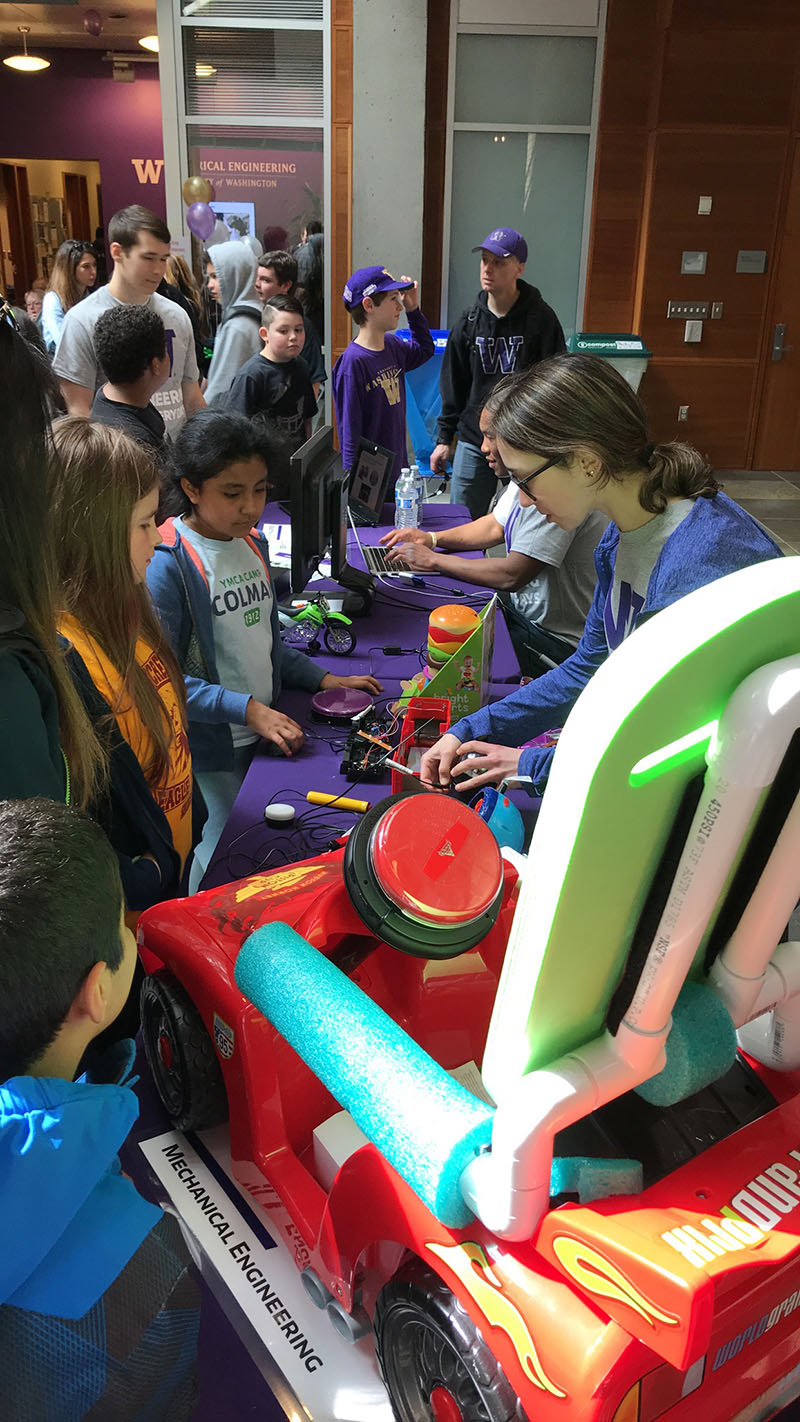 Club members share a Go Baby Go modified car and other adapted toys at Engineering Discovery Days.
The club has also been collaborating with students from Inglemoor High School in Kenmore, Washington, to adapt ride-on cars for local preschoolers with disabilities. During winter quarter, HuskyADAPT students worked with Inglemoor's engineering and design technology instructor Michael Wierusz, BSME '99, to create a Go Baby Go design project for one of his senior classes. Club members visited Inglemoor twice a week to teach accessible design and mentor students.
"At the end of the project, the high schoolers visited a local preschool to see first-hand how the cars helped children be more independent and have an increased ability to explore," Goodwin says.
HuskyADAPT's reach continues to grow. In partnership with the Taskar Center and local nonprofit Provail, the club recently won a philanthropically funded grant from Ford Motor Company that will help them create something Mollica has hoped for since her first days on campus: a lending library of adapted toys and switches for children with diverse abilities in the Pacific Northwest.
Looking ahead, club members hope to deepen and expand their connections with community partners. They're also eager to establish relationships with local businesses.
"By equipping others with the accessible design knowledge and the skills to adapt and adjust toys, HuskyADAPT is making it possible for more kids and families in the Seattle area to access toys that best fit their needs," says Mollica.
But it doesn't stop there.
"The club also provides students with valuable skills they will take into their careers," adds Steele. "If we can train engineering students in accessible and inclusive design today, we can help create a more diverse and prepared engineering workforce for tomorrow."
Originally published May 14, 2018