Engineering student teams win big at 2016 UW Innovation Challenges!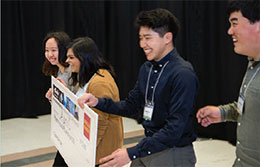 Engineering students swept the eighth annual Alaska Airlines Environmental Innovation Challenge (EIC) and placed highly in the inaugural Health Innovation Challenge (HIC). Held in March, these events provided interdisciplinary student teams the opportunity to solve pressing issues affecting the environment and in healthcare.
Teams pitched their innovations, demonstrated their prototypes and fielded questions. They were judged on four criteria: the problem they set out to solve, their pitch, the prototype demonstration and their ability to articulate the potential for impact.
At the EIC, UW teams won first, second and third place, as well as the clean energy prize. They included students from civil and environmental engineering, mechanical engineering and chemical engineering:
$15,000 grand prize: AgriC, a technology that produces chitin-based biodegradable plastics for agricultural mulch and also functions as a fertilizer after decomposing.
$10,000 second place prize and $5,000 clean energy prize: Ionic Windows, which provides low-cost, high-performance membranes for grid-scale energy storage technologies.
$5,000 third place prize: ETA1, a device that converts wasted heat energy from car engines into electrical energy which, in turn, increases fuel economy.
UW teams led by bioengineering and computer science and engineering students won second and third place at the HIC:
$5,000 second place prize: miPS Labs, which allows individuals to preserve their youngest cells today to repair and regenerate their bodies in the future.
$2,500 third place prize: Multimodal Health, a project using advanced data science and engaging software to quantify rehab, extending advanced treatment from the clinic to the home.
Both challenges were hosted by the UW Foster School of Business's Buerk Center for Entrepreneurship.