June 6, 2016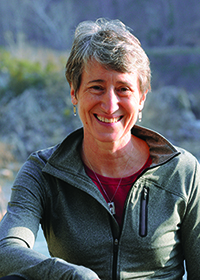 U.S. Secretary of the Interior and mechanical engineering alumna Sally Jewell, '78 BS, will be the featured speaker at the UW's Commencement exercises on Saturday, June 11.
Jewell was sworn in on April 12, 2013, as the 51st Secretary of the Interior, leading an agency with more than 70,000 employees. Prior to her Interior appointment, Jewell served as president and CEO of REI, having been named to that position in 2005 after five years as the company's chief operating officer. She is also a former member of the UW Board of Regents, serving in various capacities from 2001 to 2013.
This year Jewell was also acknowledged by the UW with the Alumna Summa Laude Dignata (ASLD) award. The highest award the UW and the UW Alumni Association can bestow upon a graduate, it is presented annually to a former student whose achievements have earned her or him national or international acclaim.
"Sally Jewell epitomizes what we hope for our graduates each year—that they will leave the University and embark upon a career that will change lives and change the world," UW President Ana Mari Cauce said. "She has excelled at everything she has done, and the fact that she is one of our own makes it even more special."