Crafting a dream: An engineer's passion for brewing
By Chelsea Yates
July 25, 2016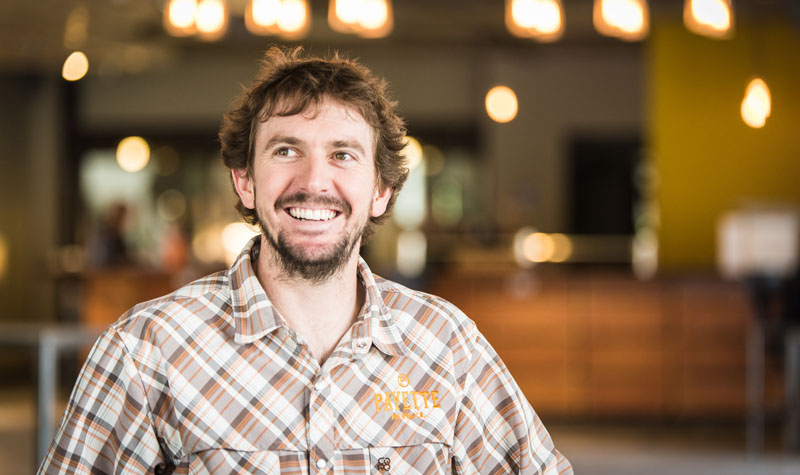 Mike Francis, UW alumnus and Payette Brewing founder. Photo credit: Huck/Drake Cooper
When Mike Francis graduated from the UW in 2006 with a degree in industrial and systems engineering, he embarked on two seemingly unrelated paths: one, as an industrial engineer with The Boeing Company, and the other as a home brewing hobbyist.
Fortunately for beer lovers from Idaho to Washington, these two paths converged: After more than two years at Boeing, enrollment in a master brewer program, an apprenticeship at one of Seattle's most well-known breweries and a return to his home state of Idaho, Mike established Payette Brewing Company in Boise in 2010.
Now one of the Northwest's up and coming breweries, Payette opened a second production facility in Boise this spring. With its 60-barrel batch brewing system, the new $4.5 million facility allows for the production of nearly 100,000 barrels per year.
The College of Engineering recently talked with Mike about how he's applied his industrial engineering degree to developing his brewery business.
COE: How did you get interested in brewing beer?
MF: During my junior year at the UW, I studied abroad in Ireland. That's when I first became interested in the beer-making process. After returning to Seattle (and turning 21), I started to appreciate craft brews and got into the local beer-making scene. I began to home brew, too. I bought my materials and ingredients from Bob's Homebrew Supply in Wedgwood. By this time, I was working as an industrial engineer at Boeing, so brewing was something that I did in my free time.
My Boeing job was great, and I was grateful for it—I mean, having a full-time position with a company like Boeing straight out of college wasn't something to pass up—but the more I worked, the more I thought about brewing. I loved home brewing and wanted to learn more about the craft. I started dreaming about making my own beer and running my own brewery. I decided that I needed to take a chance and follow my passion.
COE: Tell us about your transition from working at Boeing to pursuing brewing full-time. Was it a tough decision to switch professional tracks?
MF: The decision to leave my engineering job to pursue beer was easy for me to make but difficult for some of my friends and family to understand. I felt like it was a good time to give it a try—I had my degree from the UW and more than two years of work experience at Boeing by then. I also had very few things tying me to Seattle—no family there, no property, and so on. So I thought, why not go to brewery school? If it doesn't work out, I still had a great degree and a solid resume to fall back on.
The day after my last day at Boeing, I left Seattle to start a master brewer program at the Siebel Institute in Chicago. At the time, a lot of people told me that I was wasting my degree and that I was throwing away a successful career. Honestly, I feel like I use the skills I gained in industrial engineering more now than ever. The more the brewery grows, the more I rely on them.
COE: How so?
MF: Well, the brewery is really a manufacturing environment—instead of airplanes or health care or tech devices, our product is beer. Time efficiency, cost effectiveness, supply chain and lean management systems—they are all in continuous play in both our day-to-day operations and higher-level, long-term planning. I bet if I pulled out my old textbooks, I could point to specific topics and lessons that I am actively involved in daily.
In fact, we just opened a second facility in Boise a few months ago. I was involved at every stage of planning – the entire process reminded me so much of school! I remember thinking that it could have easily been a project for one of my industrial engineering classes.
COE: Speaking of, are there any specific engineering classes that were particularly influential? And for that matter, what drew you to industrial engineering in the first place?
MF: When I decided to major in industrial engineering, I don't think I fully understood its broadness and reach. But I'm so glad I studied it. I especially liked the way I was able to blend engineering and business studies through it, and the courses I took in operations management were my favorites.
I was never really interested in engineering products, but I was fascinated with the idea of engineering production: Instead of building things, I liked the challenge of building ways to build things. And I'm fortunate that this is exactly what I get to do in running the brewery.
COE: Why did you decide to attend the UW?

MF: I grew up in Boise and, as a teen, wanted nothing more than to go to college out of state. I wanted a big school in a big city. A big football team was important, too. UW offered all of that, plus a great engineering program. Not only did I get a stellar education, but being in Seattle proved to be an unexpected benefit as well. It was—still is—home to an amazing craft brew scene that I could eventually immerse myself in and learn from. After I finished brewery school in Chicago, I returned to Seattle for a while to apprentice at Schooner Exact.
But Boise called me back. You know how they say you have to leave a place to find out how much you really think of it as home? That was definitely the case with me. The more I brewed, the more I realized how much I wanted to open a brewery in Boise. Once the time was right, I moved back and did it.
COE: Where did the brewery name come from?
MF: I started thinking about my favorite things about Idaho. The Payette River tops the list. I grew up on that river and have always felt tied to it, so it seemed only right to name the brewery after it.
It also has a broader regional appeal. The name "Payette" can be found on landmarks and geographical features throughout the state. For folks familiar with the area, I hope when they hear the name Payette, it reminds them of someplace wonderful in Idaho, like the connection I have with the river.
COE: Having positive community impact seems to be an important part of Payette Brewery's business and growth plans. In what ways does the brewery give back?
MF: We have the Payette Forward program, where every Monday we host Kegs4Kause, during which we donate half the proceeds from our beer sales to a local non-profit. And annually, we brew a beer called the Payette Forward IPA; 100 percent of the proceeds from its sales are donated to a local charity.
COE: Today Payette is Idaho's largest brewery and is growing rapidly. You just opened another facility and are now distributing out of state. What's next?
MF: We want to concentrate on growing our brand both here in Idaho and into markets across the western region of the U.S. Just this winter we started distributing to Seattle. That was a huge milestone for me. Being able to share Payette beer throughout Seattle is something I've been looking forward to since the day I moved back to Boise.
Payette offers six year-round beers, including Payette Pale Ale, Mutton Buster Brown, North Fork Lager and Rustler IPA. Look for them across Seattle, and learn more at payettebrewing.com.