June 19, 2016
Congrats to the 2015-16 UW Formula Motorsports Team on its second place win at this year's Formula SAE competition! The team traveled to Lincoln, Nebraska, to participate in this year's stateside challenge, which took place June 15-18 and hosted more than 100 teams. Competition was close: First and second place were separated by a mere .5 points in their final scores, out of 1,000 points total.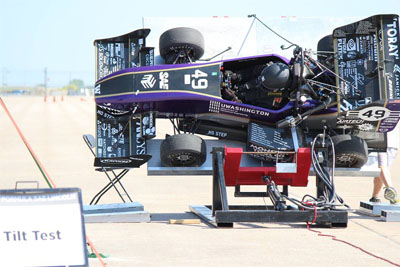 UW Formula car undergoing a tilt test.
A student design competition organized by SAE International (formerly Society of Automotive Engineers), Formula SAE competitions challenge teams of undergraduate and graduate students to design and compete small, formula style, competition vehicles.
Teams typically spend eight to twelve months designing, building and preparing their vehicles before the challenge. Competitors may race two different cars: one combustion and one electric. There were a total of 80 combustion teams and 28 electric teams in this year's competition.
This is the 27th year that a UW team has participated in the challenge. While the 2015-16 UW team developed both combustion and electric vehicles, they only raced the combustion car this year as they continue to refine plans on their electric car.
UW Formula Motorsports is housed in the Mechanical Engineering department and is made up of more than 70 students from across the College of Engineering, as well as other disciplines. Participating students may earn credit in two upper-level engineering classes.
The overall project is funded through donations and corporate sponsorships, which cover the costs of parts, manufacturing, registration fees and travel to competitions. In addition to winning 2nd place in the overall competition, UW also placed in the following categories:
Business: 3rd place
Design: 3rd place
Acceleration: 14th place
Skidpad: 2nd place
AutoX: 8th place
Endurance: 3rd place
In August, the team heads to Hockenheim, Germany, to compete in the Formula Student Germany International Design Competition.
Learn more about the team and how to get involved at uwformula.com.