By Chelsea Yates
The College's Industry Capstone Program pairs students with companies, nonprofits and government organizations to tackle real-world engineering challenges.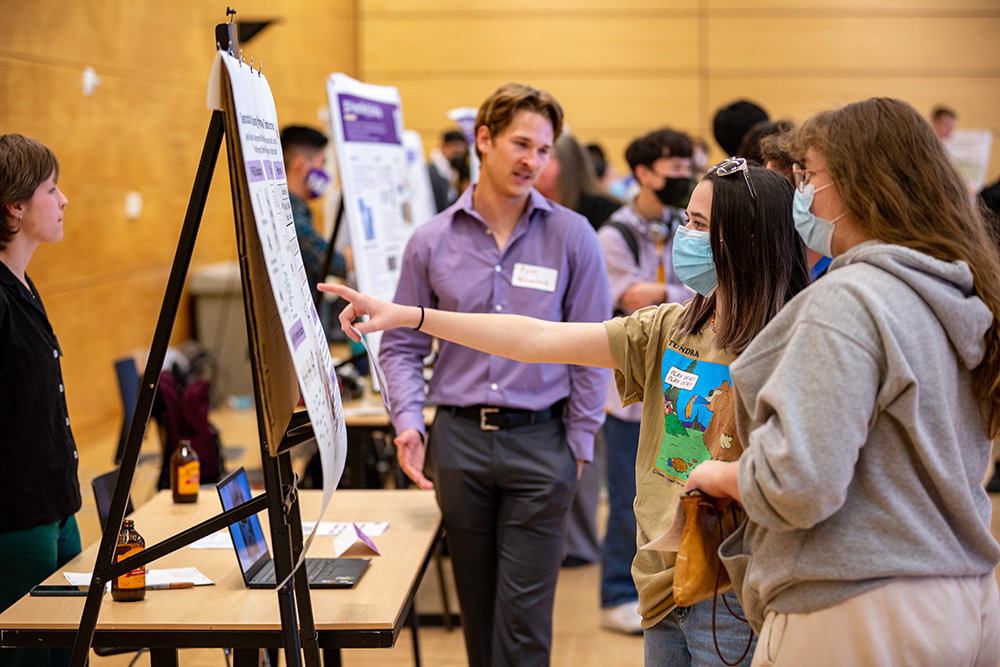 Helping county governments improve records management. Partnering with an aerospace company to remove debris in space. Advancing energy-efficient wireless systems and sustainability with Amazon. These are just a few of the projects that engineering students work on through the College of Engineering's Industry Capstone Program.
Launched in 2017, the program matches students with companies, nonprofits and government organizations to tackle timely engineering problems. Many projects exemplify the College's commitment to engineering excellence for the public good — that engineering education prepares students to help shape a healthier and better world.
"It's a win-win for everyone involved," says Jill Kaatz, who directs the program. "Organizations that sponsor projects get to work with creative engineering students and faculty, who can provide a fresh look at a challenge. It can also be a great way to build brand recognition with up-and-coming engineers. Students benefit by working side-by-side with industry representatives on real-world problems. It's like on-the-job experience in the classroom."
Industry capstone project timeline
Project proposals due from organizations
Projects presented to students
Mentor/adviser orientation and team kickoff
Project work and weekly team meetings with mentors
Final capstone showcase events
College leaders worked closely with industry partners to develop the program. "We heard from College Advisory Board members and industry partners who were eager to engage more directly with students," says David Iyall, the College's associate dean of advancement.
Prior to this program, partnership opportunities for organizations consisted mostly of sponsored research, which often requires a significant investment. The Industry Capstone Program gives organizations a manageable and accessible way to tap into the College's strengths — at a fraction of the cost.
Industry partners have ranged from well-known, established companies to startups, nonprofits and government organizations. Last year, the program hosted 95 projects supported by 62 sponsors, with more than 400 participating students.
Program directors are excited for these numbers to grow. While they're interested in receiving more project proposals, they say that some project types work better than others.
"Projects that would be appropriate for entry-level engineers are generally a good fit, as are those that reflect real but not mission-critical problems for your organization," Kaatz says.
Here we highlight three recent projects: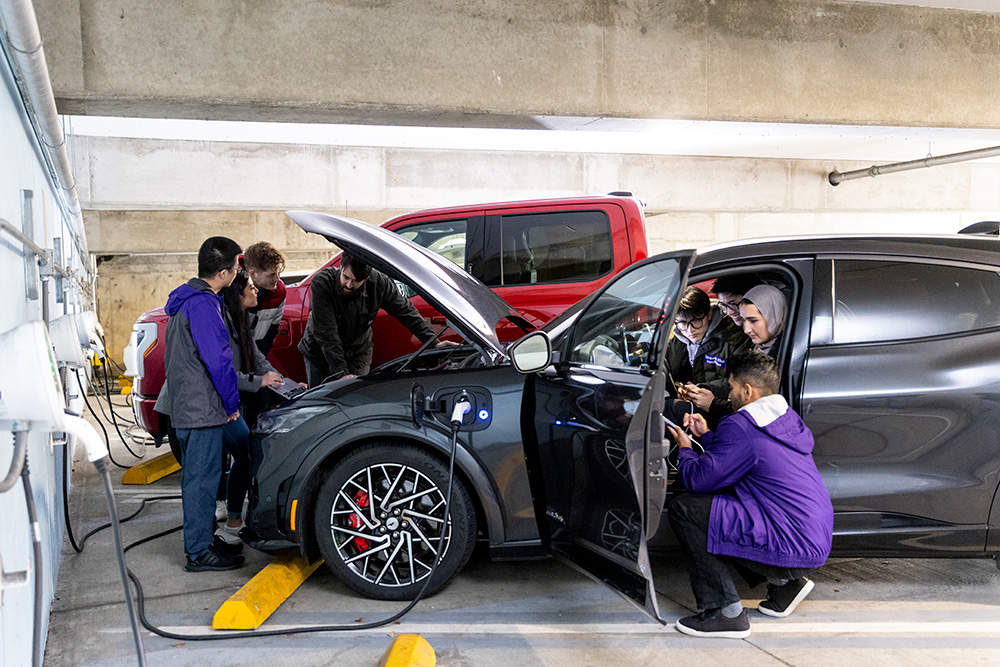 A jolt of new energy: Improving the electric vehicle charging experience
A partnership with the Ford Motor Company and Envorso
Faculty adviser: David Laning, affiliate professor of electrical and computer engineering
A big hurdle to getting more electric vehicles (EVs) on the road is access to public charging networks. Currently most EV drivers charge their vehicles at home and use their EVs for in-town driving only. The lack of fast, reliable charging stations on highways is a frequent concern, as is running out of power with nowhere to charge.
Today there are only about 50,000 EV charging station locations nationwide, compared to 150,000 gasoline station locations. To reduce dependency on gas- and diesel-powered vehicles and to meet climate policy goals, more charging locations are needed along with infrastructure changes.
This year, the Ford Motor Company and business consulting firm Envorso have enlisted the help of UW students to create the ideal EV charging experience. The team has been working with a 2023 Mach E GT to explore a range of issues related to charging. This year's team is focused on one aspect of the challenge; the long-term goal is to develop an end-to-end plan for the charging experience of tomorrow — from modeling in-vehicle hardware and software enhancements that will improve battery capacity and range to making recommendations for grid integration and infrastructure updates.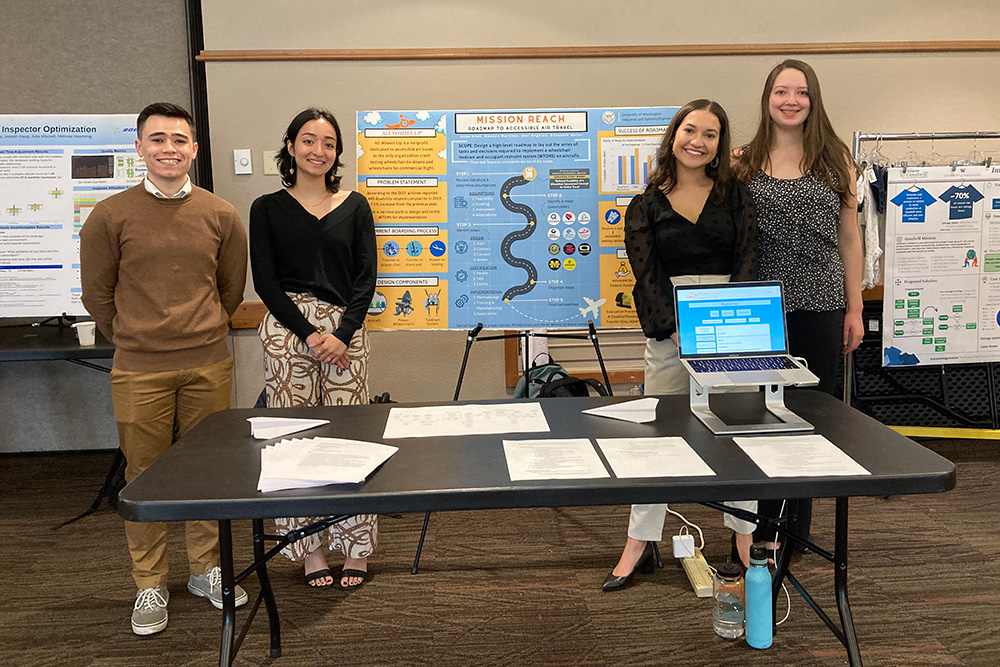 A wheelchair spot: Roadmap to accessible air travel
A partnership with All Wheels Up, Inc.
Faculty adviser: Patty Buchanan, assistant teaching professor of industrial and systems engineering
There aren't spots for wheelchairs on airplanes today. According to All Wheels Up, a nonprofit dedicated to making air travel accessible, many wheelchair users avoid air travel due to inaccessibilty. Those who do must check their wheelchairs, use transfer wheelchairs in the airport and be wheeled by wheelchair agents onto airplanes. At the flight's end, they must wait for other passengers to deboard and for wheelchair agents to retrieve another transfer wheelchair until they're reunited with their own. That wait can be nerve-wracking: the nonprofit reports that wheelchairs are frequently damaged during transport.
All Wheels Up wants to make it possible for people to travel on planes in their own electric wheelchairs, similar to how people travel on buses. Yet moving from idea to implementation is no easy feat. Currently there aren't standards for crash-testing wheelchairs, nor are there FAA guidelines for wheelchairs and securement. There's also the challenge of getting buy-in from numerous stakeholders, including wheelchair users, airline companies, airports, advocacy groups, manufacturers and the FAA.
To outline a plan, All Wheels Up enlisted the help of engineering students, who developed an easy-to-understand guide on how to move from where we're at today — no standards or spots for wheelchairs on planes — to research and development, certification and, ultimately, implementation. The guide is being used to inform conversations with the FAA and lawmakers.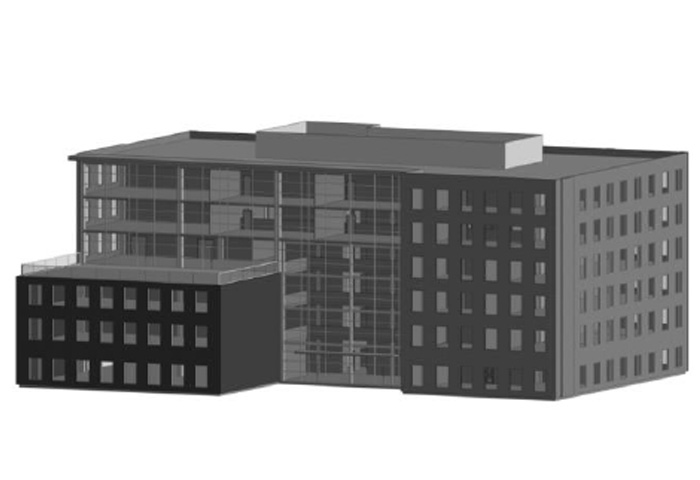 Fife City Hall: Evacuation structure and planning
A partnership with the City of Fife, Washington
Faculty adviser: Mike Motley, associate professor of civil and environmental engineering
Fife, Washington, lies in the Puyallup River valley which has, over geological time, been subject to lahars and tsunamis. There's a risk that these events could occur again, particularly in the case of a major earthquake in the Cascadia Subduction Zone, which could trigger both a tsunami and a lahar. In that case, the tsunami might hit Fife ten to fifteen minutes after the earthquake and the lahar less than an hour after that. Despite these risks, Fife's proximity to the Port of Tacoma and Interstate 5 has led to substantial development of the city, which is now home to approximately 11,000 residents.
For this project, the City of Fife partnered with engineering students on programming and preliminary design of a new City Hall building and sitework, which included a vertical evacuation structure for potential lahar and tsunami events. This would allow people to evacuate above the level of tsunami inundation. The team prepared conceptual plans and documents for buildings to house City Hall, police and court functions, as well as to serve as vertical evacuation structures that could protect occupants in the event of a lahar.
Originally published April 4, 2023