September 28, 2022
On Tuesday, September 28 2022, Dean Nancy Allbritton shared the following announcement with the College of Engineering community: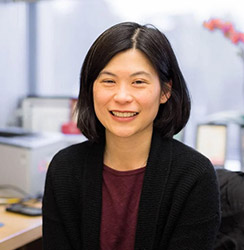 I am pleased to announce the appointment of Suzie Hwang Pun, Washington Research Professor of Bioengineering, as the Director of the Molecular Engineering & Sciences Institute, effective July 1, 2023. The current Director, Pat Stayton, will continue to serve until Suzie's appointment begins.
Suzie brings a depth of academic leadership and industry experience and a vision for the future of MolES that will serve the Institute and the UW well. In addition to holding the WRF Professorship in Bioengineering, Suzie is an Adjunct Professor of Chemical Engineering, and an Associate Director of the Resuscitation Engineering Science Unit (RESCU) at the UW. She is a fellow of the U.S. National Academy of Inventors (NAI) and American Institute of Medical and Biological Engineering (AIMBE), and has been recognized with MIT Technology Review's "Top Young Innovators" designation, the Presidential Early Career Award for Scientists and Engineers, and as an AAAS-Lemelson Invention Ambassador. She was also recognized with the UW's Marsha Landolt Distinguished Graduate Mentor Award for her dedicated mentoring of students. She currently serves as an Associate Editor for ACS Biomaterials Science and Engineering. Suzie also served as the co-chair of the College's strategic plan steering committee in 2020-21.
Suzie received her B.S. in Chemical Engineering from Stanford University and her Ph.D. in Chemical Engineering from the California Institute of Technology. She also worked as a senior scientist at Insert Therapeutics/Calando Pharmaceuticals developing polymeric drug delivery systems before joining the Department of Bioengineering. Her current research focuses on biomaterial applications in drug delivery and gene and cell therapy.
As Director, Suzie will provide leadership and foster excellence in teaching, research and service, building upon existing strengths in MolES. She will lead the Institute in fulfilling its strategic vision by working with faculty, staff, administration, and students.
I would like to thank the search committee, Matt O'Donnell (chair), Eleftheria Roumeli, James Carothers, Xiaodong Xu, Daniel Gamelin, and Amanda McCracken-Roberts, with support from Rachel Talney, for their great work in engaging the MolES community in the search for the next director.
I would also like to recognize Pat for his many years of service as Director of MolES. Since the institute's launch in 2011, Pat has provided invaluable leadership in navigating the emerging discipline of molecular engineering. During his tenure, the Institute established a first-of-its-kind Ph.D. program in molecular engineering and expanded the Molecular Analysis Facility on the ground floor. I am very grateful that he will stay on for another year to work closely with Suzie to ensure a smooth leadership transition.