The College's new Associate Dean of Diversity, Equity & Inclusion shares what drew her to the role and offers advice on what we all can do to support DEI efforts.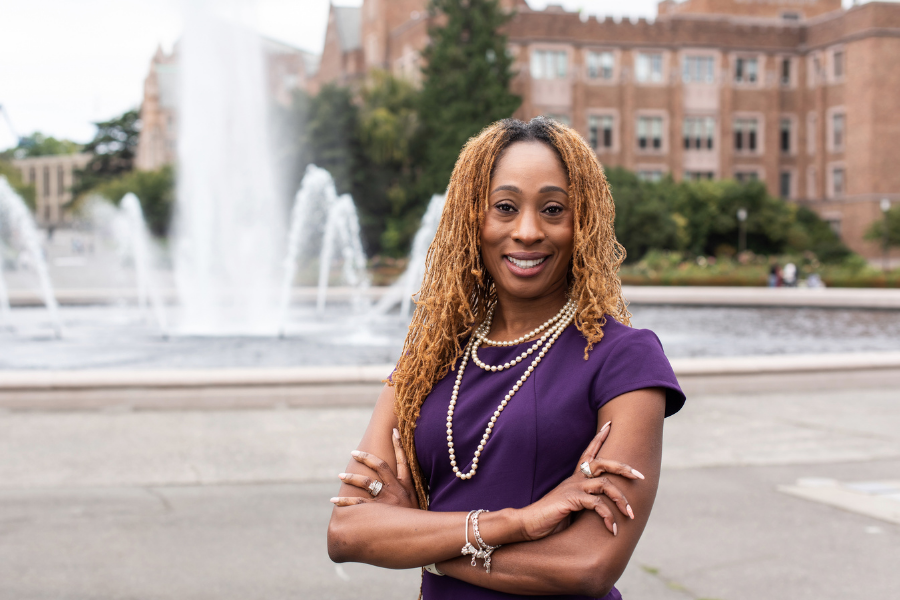 As Associate Dean of Diversity, Equity & Inclusion (DEI), Karen Thomas-Brown leads the College's ongoing efforts to be an accessible, welcoming and inclusive community. She joined the UW in May from the University of Michigan-Dearborn, where she was a professor in the College of Education, Health & Human Services.
Thomas-Brown decided to devote herself to normalizing higher education spaces for marginalized groups after moving to the U.S. in 2006. "I grew up in a monocultural society in Jamaica where, in my experience, the notion of race wasn't a determinate like it is in other places," she says. "I discovered I was Black upon moving to the U.S. — and by that I mean I became aware that my Blackness would be used by others to define my identity." 
About Karen
Thomas-Brown
Karen Thomas-Brown holds a Ph.D. in geography from the University of West Indies and certificates in DEI, change management and leadership from Cornell University. Throughout her career, she has combined research and teaching with advocacy, shaping DEI policies and practices in education. Beyond academia, she has directed a diversity and inclusion consultancy, worked extensively with community partners and agencies committed to making education accessible to all, and led corporate conversations on race in America.
Thomas-Brown was required to teach a graduate level course on multiculturalism during her first year as an assistant professor — an experience she says completely changed her trajectory. "I knew little about multiculturalism, so I dove into the research. It was the hardest, most exhilarating time of my life," she says. "I began to understand racism and inequity as structural, systemic issues and became acutely aware of how those issues exist in higher education. I taught, researched and worked with DEI programs and policy for many years, and I learned that while this work is critical, it alone won't change systems. That's why I applied for this job at the UW — to help facilitate bigger change."
The College of Engineering's Chelsea Yates recently spoke with Thomas-Brown about what we all can do to deepen our understanding of and support for DEI. For those interested in expanding their DEI awareness, Thomas-Brown offers the following advice:
Know the difference between "diversity," "equity," and "inclusion."
Though they're often presented collectively as "DEI," these terms each have their own meanings. To me, diversity means embracing and honoring a wide array of differences. It's more than representing difference; it's about celebrating and supporting it. I define equity as fairness; it's meeting students where they need to be met. Inclusion simply means belonging: when a student walks into a classroom, do they feel like they belong in it and that they will be valued?
It's important to recognize that diversity can exist in spaces that are not equitable or inclusive. For example, a company might make hiring underrepresented groups a priority, but that doesn't necessarily mean those groups will feel welcomed or supported. Though they're intertwined, each of these terms requires its own attention and action.
Acknowledge that, no matter who you are, how you see people is othering (we all do it). But be aware that you do it, and challenge the conclusions you draw.
Our brains are constantly processing information, and we have only our own perceptions to build from, so of course we're going to draw quick conclusions. But it's important to develop self-awareness. Consider the assumptions you draw about people, and learn to recognize microaggressions — those that you unintentionally communicate and those communicated by others. We all make mistakes sometimes. Give yourself and others grace when they happen, but use them as opportunities to learn and grow.
Learn to confront fear, and don't avoid difficult conversations.
I believe that everyone deserves to speak. This doesn't mean people have the right to yell, hurt or deliberately marginalize others, but we have to have difficult conversations because if we choose to work only with those who think like us or agree with us, then we're not growing.
DEI work is not easy. But it's work that matters. Engineers can play such a major role in this space. Science and engineering impact all aspects of people's lives, and there's great opportunity for the UW Engineering community to lead by example. It's important to get comfortable with discomfort, to recognize the ways that engineering has reinforced oppression throughout history, to ask questions of our work, to prepare ourselves for tough conversations when they arise, and to help people who don't think DEI applies to them understand how and why it does. This work has already been happening across the College and the UW for a while now. It's one of the reasons I was drawn to this job, and I'm thrilled to now be a part of it.
Examine how your resources are allocated.
I'm not referring to just financial resources. Your time and energy are resources. Who do you choose to spend time with? Who do you recommend for jobs and internships? Who do you invite to networking events? Who do you mentor, and how do you talk about them in professional settings? Our personal and social resources carry a lot of weight, so if you're committed to advancing DEI, consider how you allocate your resources.
Have people in your life who will empower you and give you constructive feedback.
I started working in DEI in 2008. Although I taught, wrote papers and did outreach, I was reluctant to call myself a DEI expert. I was a professor of geography and of education, and though I knew my passion had evolved into the DEI space, I wouldn't let go of my identity as a professor. Until a good friend told me she was tired of me not being true to myself. She told me I needed to embrace my changed identity and allow myself to do what I loved.
That's what I needed — someone to hold me accountable and keep me honest, to challenge me but also lift me up. We all need someone to do this for us, especially as we grow our efforts in DEI.
Continually ask yourself big questions and recognize that programs alone won't fix DEI issues; what's needed is systemic change.
Programs are important, but they can be like a bandage on a big wound: they're not going to correct the root problem. So when it comes to DEI, ask yourself: What do I do currently? Who is it for? What can I or do I need to do differently? What support will I need to make changes? What support can I offer? What are the policies or practices that shape my experiences? Do they facilitate social justice? If not, what can I do to make a change?
These are tough questions, and the answers aren't always easy to confront. But when we do so honestly, we have a place to start our work. And we're not alone. My door is open, and I know that others are, too.
Diversity, Equity & Inclusion
The College of Engineering is committed to building an inclusive and equitable environment for learning, research, service and outreach.
Originally published October 25, 2021