October 28, 2020
On Friday October 23 2020, Vice Dean of College of Engineering Jihui Yang and Vice Dean of School of Medicine John Slattery shared the following announcement with the College of Engineering community:
College of Engineering Faculty and Staff,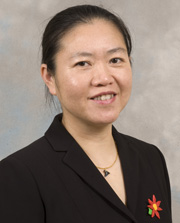 It is with great enthusiasm that we write to announce a partnership between the School of Medicine (SOM) and the College of Engineering (COE) through the appointment of Professor Tueng Shen to a new joint position, Associate Dean for Medical Technology Innovation, effective November 1, 2020.
Deepening the relationship between the SOM and COE is important to both schools. While COE and SOM have a long history of collaboration, this position will expand the development and pursuit of groundbreaking interdisciplinary initiatives to improve human health. In this new role Professor Shen will provide support for existing programs and catalyze new collaborative efforts between faculty and trainees of SOM and COE. She will leverage UW's expertise in state-of-the-art clinical practice and cutting-edge engineering to facilitate new technology innovations that transform patient care. Professor Shen will engage other institutional leaders to ensure that innovative efforts will build long-term value for UW and she will lead outreach to industry, non-profits and other community organizations to advocate and promote UW and its faculty and students.
Professor Shen is uniquely qualified to assume this role as both a physician and an engineer. She is an expert in refractive surgery, medical and surgical management of corneal disorders, and cataract surgery. She received her Ph.D. in Medical Engineering and Medical Physics (MEMP) from MIT and her M.D. from Harvard Medical School. Professor Shen builds bridges between engineers and physicians to facilitate the translation of innovative engineering technology into creative clinical solutions to treat global blindness, particularly by leveraging technological advancements in polymer sciences, microelectronics and modern imaging techniques. Professor Shen is the inaugural holder of the Graham and Brenda Siddall endowed professorship in Cornea Research in the Department of Ophthalmology, is Medical Director of the UW Medicine Eye Institute and holds adjunct appointments in Bioengineering and Global Health. Professor Shen established the first artificial cornea program in the Northwest at the UW, and turned it into one of the world's premier centers for the implantation of artificial cornea. Her long-term collaborations with the College of Engineering have also provided a valuable interdisciplinary training environment for the next generation of physicians and engineers to jointly reshape the future of health care. Professor Shen's research is supported by grants from NIH, NSF, and Research to Prevent Blindness (RPB), Lions Foundation, Coulter Translational Research Fund as well as the Washington Research Foundation. Professor Shen is a fellow of The American Institute for Medical and Biological Engineering (AIMBE). She serves on the College of Engineering's Steering Committee for the strategic planning initiative and is co-chair of the subcommittee on partnerships with Professor Mari Ostendorf.
We are pulling together a small committee from COE and SOM to help layout short term strategy and vision for this new collaboration. We're very excited that this is coming together and look forward to partnering with Professor Shen in this important endeavor. We hope you'll join us in congratulating Professor Shen and in supporting this partnership.
Jihui Yang
Vice Dean for Research and Faculty Affairs
College of Engineering
John Slattery
Vice Dean for Research and Graduate Education
School of Medicine