By Chelsea Yates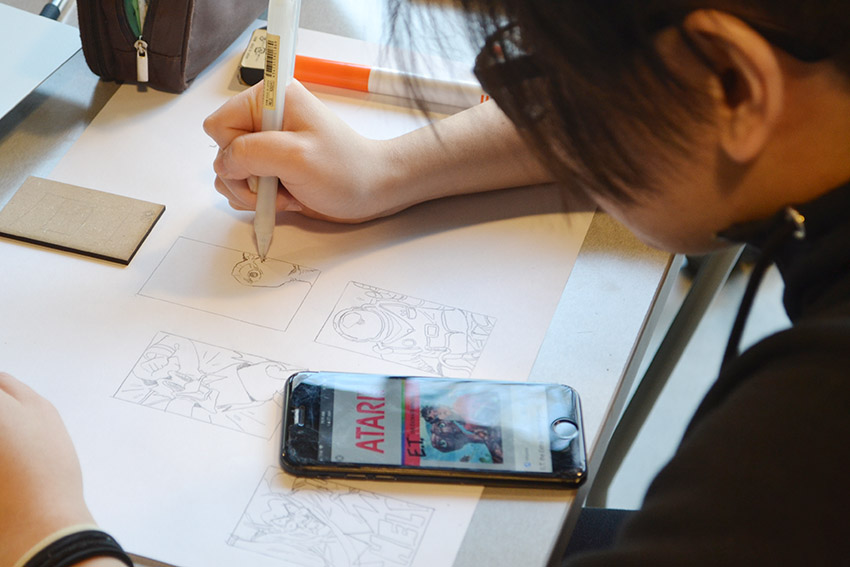 "Projects like Atari Women can help spark conversations and encourage people to question underlying assumptions." – HCDE student Khadijah Jordan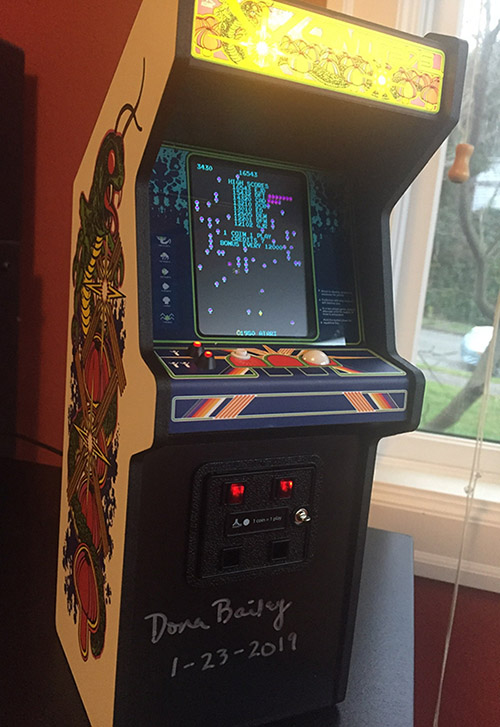 Dona Bailey entered college at age 16 and was introduced to computer programming and statistical analysis through her major, psychology. In her mathematics master's program, she learned SARS and Fortran programming and, after graduating, went to work for General Motors. In 1980, Bailey encountered her first arcade video game, Space Invaders. Within three months, she'd quit her job, moved to Sunnyvale, California, and started working as a programmer at an innovative company, Atari, where she was tasked with creating a video game for the company's coin-op division. She set to work on what would become one of Atari's most commercially successful arcade games, Centipede.
In the 1970s and early 1980s, women like Bailey were making significant contributions to the growing tech and video game industries. Yet by the mid-1980s, the percentage of tech jobs held by women began to rapidly decline. This was especially true in gaming; by the end of the decade, women represented just 3% of the sector's workforce.
In addition to being cut from the work, women's achievements fell into the shadows. In many cases, they were erased entirely from the industry's history. But a team of researchers led by Pernille Bjørn, a computer science professor visiting the UW from University of Copenhagen, and HCDE associate professor Daniela Rosner have been working to change that. Their project, Atari Women, focuses on unearthing and celebrating the stories of women who helped shape Atari's early days and — by extension — the computer gaming industry at large.
"By recognizing women's contributions, we hope to change broader societal perceptions of who pioneered computer science and engineering fields and who 'belongs' in tech today," says Bjørn.
Shifting narratives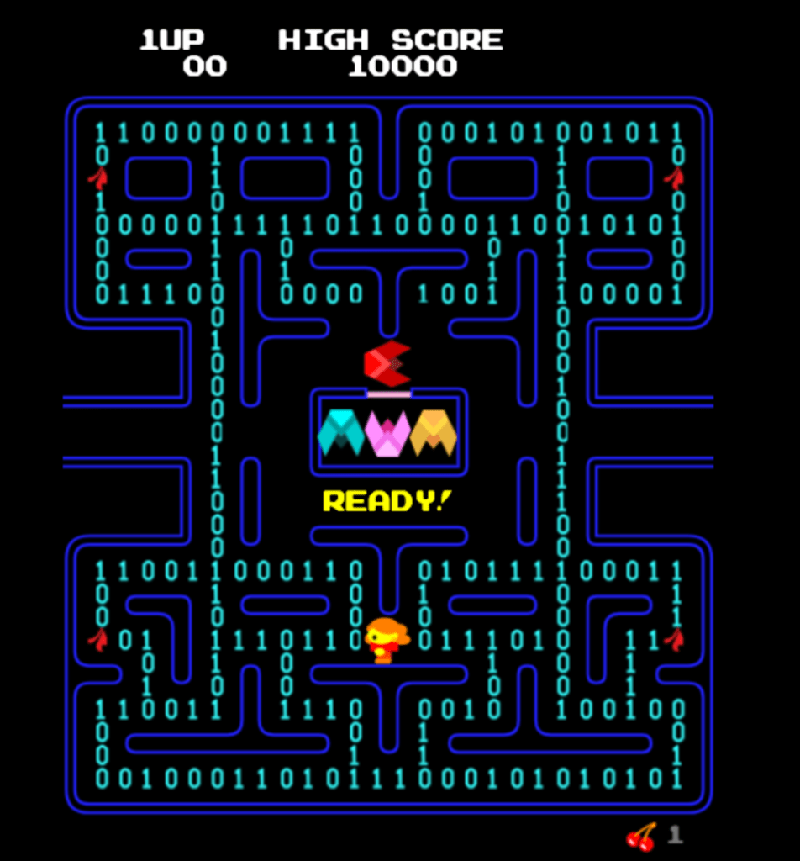 It's estimated that nearly half of today's gamers are women, yet the computer gaming industry is still heavily dominated by men. So what happened in the 1980s to cause such a dramatic shift?
In one word: marketing.
According to Rosner, one of the most prominent theories has to do with the way that personal computers and home gaming consoles like the Atari 2600 were advertised. "As video games moved into the home, who did we see in the commercials? Boys," she says.
A similar message began to appear in popular films. Movies such as Real Genius, TRON, Weird Science and War Games, showed boys — not girls — as coding whizzes. "This is when the rise of the 'male genius hacker narrative' really set in, solidifying a new cultural perception: computers and gaming were for boys, not girls," Rosner adds.
As that idea took hold, it not only shaped the future, but it also cast a heavy shadow on the past. The more society regarded tech as men's territory, the more women's contributions were eclipsed.
So, to reintroduce them into computer gaming history, Rosner and Bjørn identified and interviewed women who made important contributions to Atari games in the 1970s and 80s. Along with programmers, they sought women who worked as designers, artists and manufacturers.
"There's this 'brilliant mind' myth that coding is a solo endeavor, but in reality, tech is much more collaborative," Rosner explains. "What's a video game without the music? You need someone to compose a compelling soundtrack just like you need someone to build game cartridges and get them into stores."
Some of the women interviewed include pioneering software engineers like Carla Meninsky and Suki Lee; musician Patricia Goodson, who created the original music for Pac-Man Jr., Desert Falcon and Food Fight; and the first e-sport champion Rebecca Heineman.
"When she was 15, Rebecca taught herself how to program by reverse engineering and memorizing the instruction set for Atari 2600," Bjørn says. "She won the Atari 2600 National Space Invaders Championship in 1980 at age 17 and later went to work as a game developer. To date she's created more than 275 games."
Creating visibility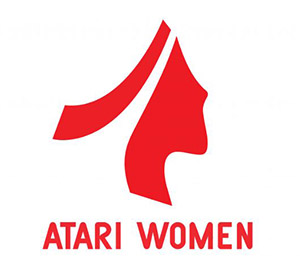 Last winter, Rosner and Bjørn led a directed research group for HCDE students to create a digital presence for the Atari Women's stories. Students developed a website, designed project branding by reimagining the Atari logo and worked with the professors to remix the classic game Pac-Man. In their version, which can be played here, a woman developer collects binary code to create her own video game while fighting bugs. The music — made by Patricia Goodson — is from Pac-Man Jr, and in the cut scenes Dona Bailey's voice can be heard sharing stories about her experiences at Atari.
"These women are the unsung heroes of gaming," says Cara Pangelinan, an HCDE and English major and Atari Women project member.
For her, Atari Women isn't just about history; it's about the future.
"If we want young women to imagine themselves working in computer gaming, it's important that they learn about women who've shaped it," she says.
During a week-long directed research group over spring break students designed interactive works based on the Atari Women's stories.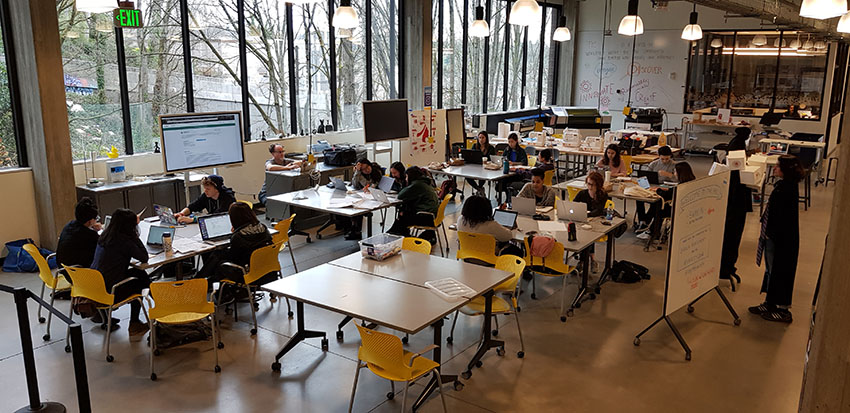 "We combined a new screen technology — electrochromic display — with traditional materials to create visual artifacts," explains HCDE and art major Khadijah Jordan, whose final project was inspired by Dona Bailey's Centipede.
Jordan says that, in addition to boosting her technical and prototyping skills, the experience reinforced the importance of questioning dominant narratives.
"I've always loved playing old school video games, and it never occurred to me that women were involved in their creation, or even that their stories were missing," she says. "I think this happens a lot in tech. Projects like Atari Women can help spark conversations and encourage people to question underlying assumptions."
In March, the team debuted their research at Emerald City Comic Con, where they led a panel discussion on representation and technology with women game developers, and in May at the Living Computer Museum, where audience members interacted with the students' artifacts. Currently they are leading a summer-long edit-a-thon to improve information about the Atari Women on Wikipedia. They've also been receiving invitations from companies such as Microsoft, Google and Sony to give talks and facilitate workshops.
"Our hope is that this work not only changes perception, but that it also changes practice, so being invited into tech companies to have these conversations is very promising," says Bjørn.
And even though changing societal perceptions and diversifying industry may not happen overnight, the team is already seeing the impact of their research.
"After our Comic Con presentation, a woman who'd been in the audience approached us. She had tears in her eyes as she thanked us for doing this work and sharing these stories," Pangelinan recalls. "I don't think I'll ever forget that moment."
Visit Atari Women to read more stories, learn about upcoming events and see if you can help connect the researchers with additional Atari Women. You can also join the Wikipedia edit-a-thon, organized in collaboration with Wikipedia Women in Red.
Originally published July 15, 2019