Sandy Marvinney
November 3, 2017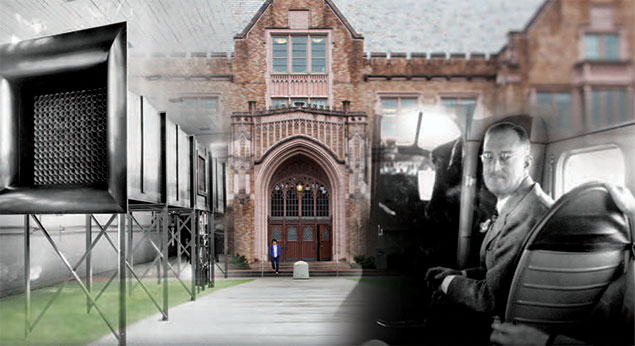 After nearly a century developing airplanes, through tremendous industry growth and technology advances, some things seem immutable. Boeing leaders are visionaries and risk takers, test pilots are bold, and engineers take pride in designing the best aircraft heading into the skies.
Another immutable is the intertwined history of The Boeing Company and the University of Washington. In 1916, with a first plane barely off the drawing boards, William E. Boeing hired two new engineering graduates, Clairmont Egtvedt and Philip Johnson. Both rose to top management, the first in a line of UW alumni who helped build a global industry.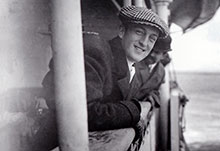 In 1917 Bill Boeing made a personal gift of $6,000 to the UW to construct a wind tunnel to test plane models. In return, the university committed to offer aeronautics courses to train engineers for work at his fledgling company. This act of generosity and foresight was the first courtship gesture in a long relationship now honored through the naming of the department.
Our salute to William E. Boeing begins with a bit of local lore. In a headline news event in August 1954, test pilot Tex Johnston put the Boeing Dash-80 prototype for the 707 passenger jet into two dramatic, slow, and unauthorized barrel rolls over the Seafair crowd on Lake Washington. Boeing president William Allen asked an industry guest for one of his heart pills at that moment, and called Johnston into his office the next day for a stern reprimand.
Bill Boeing's own heart probably fluttered in June 1916 during testing of the first plane he and a friend designed. The test pilot was late arriving at Lake Union, so an impatient Boeing hopped into the plane and took it for a brief flight skimming over the water. Over the next few days, under Boeing's orders, the pilot taxied the plane around the lake to test the controls. Tiring of little hops, he gunned the engine, lifted the craft into the sky and flew over the city to Lake Washington. A stunned Bill Boeing rushed to the lake and chastised the pilot: "Don't ever do that again unless I authorize it!" … followed quickly by "How was it?"
A month later Boeing incorporated the Pacific Aerospace and Manufacturing Company. His son, William E. Boeing, Jr., recalls his father as a visionary who didn't just dream about flying, but early on foresaw the huge potential for commercial aviation and set high standards and goals for his enterprise.
"He knew the hallmark of a good engineer was to never do anything less than perfectly, and also never discount any novel idea, but try it out," Boeing said.
Bill Junior's first flight at age 5 was a buzzing over the family home in one of the rugged Boeing Model 40-series planes that won the 1927 U.S. Postal Service contract to carry mail from Chicago to San Francisco. A small compartment for two people turned it into the company's first plane for paying passengers, in addition to mail.
"The Model 40 was the company's foundation for commercial success," said Boeing Jr. "Egtvedt and Johnson did a tremendous job overseeing design and manufacturing; they built 24 planes in only six months, which was an almost impossible feat for that time."
Education and Research Collaboration
UW aeronautics courses began in 1917, taught by civil, mechanical, or electrical engineering faculty members. In 1928 a $290,000 grant from the Guggenheim Foundation to construct an aeronautics building gave the fledgling program a big boost. Bill Boeing Sr. exerted considerable influence to help secure that grant and again donated personal funds. The aeronautics department was officially established in July 1929 with four faculty members, and the Daniel J. Guggenheim Aeronautics Hall opened its doors to students in April 1930.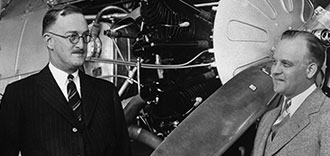 Growth of the department's research and The Boeing Company's need for larger test facilities prompted construction of the Kirsten Wind Tunnel, completed in 1936 with federal and state funding and a loan from the company. Boeing has tested nearly every new design in this wind tunnel, establishing it as a world-class facility, and still uses it to test 767 Air Force tanker designs.
"UW Engineering graduates have played key roles in developing every major model of Boeing passenger jetliners, from the 707 through 787, and others held leadership positions in the defense and aerospace units," said Professor Jim Hermanson, chair of A&A. "Every year about a third of our A&A graduates go to work at Boeing."
Professor Adam Bruckner, department chair from 1998 to 2010, cites several certificate training programs as among the great success stories of the UW–Boeing collaboration. In 2006 Boeing provided a $500,000 gift to launch the Global Integrated Systems Engineering Program (GISE), which trains industry engineers and UW graduate students to manage complex projects in a global context.
Certificate programs in aircraft composite materials and manufacturing and in structural analysis and design have been jointly sponsored since 2004 by UW Engineering and the Boeing Learning, Training and Development group. More than 1,000 Boeing employees have been trained in evening courses at the Everett plant.
"These composite courses were the first such training programs in the nation. They have been hugely successful and have won national awards from industry and engineering education associations," Bruckner said.
Boeing has long provided scholarships and fellowships to students in engineering and other UW programs, and since 1986, Boeing has funded seven professorships and endowed two chairs in engineering departments.
Boeing also has invested research funds into the areas of alternative propulsion and composite structures. One prominent example is the Center of Excellence for Advanced Materials in Transport Aircraft Structures, part of a national academic-industry consortium established in 2003 with funding from the FAA.
Department of Aeronautics & Astronautics Milestones
1917: Bill Boeing donates funds to the UW to build a wind tunnel
1917: First course in airplane structures taught by the civil engineering department
1918: The UW Boeing Wind Tunnel opens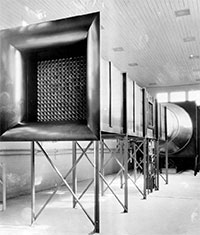 1929: The Department of Aeronautical Engineering officially opened its doors
1930: Dedication of the Daniel J. Guggenheim Aeronautics Hall
1930: The UW awards the first five Bachelor of Science in Aeronautical Engineering degrees
1936: A second, much larger wind tunnel is completed, and later named for Professor Fred Kirsten
1937: Rose Lunn, graduates top of her class, and is the first female awarded the aeronautical engineering degree
1946: The Master of Aeronautical Engineering degree is first offered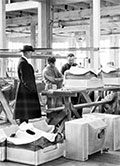 1959: The Ph.D. degree is first offered
1962: The department adds "Astronautics" to its name
1969: The Aerospace Research Laboratory building opens
2002: The first female faculty member, Kristi Morgansen, joins the department.
2012: The department is named for William E. Boeing
Boeing Commercial Airplanes Milestones
1919: The Boeing Airplane Co. B-1 mail plane, the first Boeing-designed commercial aircraft, makes its first flight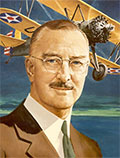 1939:
The Boeing Model 314 Clipper is approved by the Civil Aeronautics Authority for commercial service by Pan American Airways
1957: The first production Boeing Model 707-120 jet rolls out at Renton
1967: The Model 737 makes its first flight
1970: The Boeing 747 makes its first commercial flight from New York to London for Pan American
1988: The first Boeing 767-300ER (extended range) is delivered to American Airlines
1994: The Boeing 777 twinjet rolls out

2009:
The 787 Dreamliner makes its first flight from Paine Field in Everett
Special thanks to The Boeing Company for use of historical photographs.
A "Seal" on the Relationship
Today, more than 9,700 UW alumni work throughout The Boeing Company. Hermanson is already seeing a buzz of excitement about the prestige conveyed by the Boeing name, and the increased potential to attract top-flight faculty and students. A&A leaders are continuing discussions with upper-level Boeing officials to explore ways to grow research collaborations and education programs and training.
"We are thrilled to carry the name of William E. Boeing, and honor his legacy to our department and to the industry," said Hermanson. "It puts a formal seal on a long, close relationship and empowers a bright future for the A&A department, the UW, and our partnership with The Boeing Company."
Todd Zarfos (MSEE '90), vice president of engineering for Boeing Commercial Aviation Services, serves as Boeing's executive focal to the UW and on the UW Engineering Visiting Committee. He noted that the company has endowed chairs and professorships at other universities, but only UW A&A bears the name of the founder.
"Bill Boeing was the Bill Gates of his generation and his visionary spirit pervades our company's culture," he said. "His relationship with the UW was special, and the naming reflects both a natural synergy and Boeing's confidence in the university in our back yard. Our mutual goal is to help build a world-class department. It's a triple win — for Boeing, our workforce, and the UW."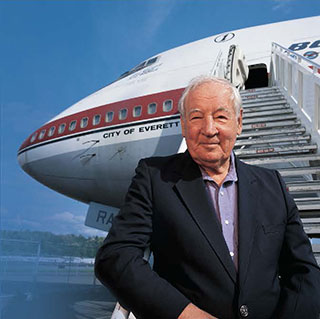 Education Fund Honors Joseph F. Sutter
"Father of the 747"
Just as the 747 is iconic, so is one of UW Engineering's most accomplished and beloved alumni, Joe Sutter. In his honor, a permanent fund will support undergraduate scholarships, senior design projects, and K-12 engineering outreach in the William E. Boeing Department of Aeronautics & Astronautics.