Story by Chelsea Yates
Photos courtesy of the UW DO-IT Center
AccessEngineering is laying the groundwork for engineering programs to better serve more diverse student bodies – at the UW and beyond.
Image
UW students exchange ideas on how to make makerspaces more accessible to people with disabilities. Photo by Dennis Wise/University of Washington
A few days into her first programming class at the UW, Hannah Werbel knew she'd found a match. "It was a space in which I could be creative and analytical — two ways of thinking that really reflect how I operate," she says. "I was thrilled to discover that they converged in computer programming."
Now a junior majoring in computer science and engineering, Werbel divides her time between staying on top of her coursework, working in a robotics lab on campus, participating in the UW Society for Women Engineers, and practicing her piccolo, which she plays in the Husky Marching Band. She also serves as president of the Washington Association of Blind Students and is actively involved with the UW DO-IT Center, an organization that supports students with disabilities nationwide through programs such as AccessEngineering.
"Thanks to AccessEngineering and other DO-IT programs, I don't feel like I'm pursuing my education alone, or that I have to figure out how to overcome obstacles that others don't have to by myself," says Werbel, who is legally blind. "AccessEngineering is an incredible community of people committed to creating an education experience that's accessible to people of all abilities right from the start, instead of figuring out how to make accommodations after-the-fact or on an 'as-needed' basis."
Launched in 2014, AccessEngineering supports the development of a diverse, well-prepared workforce of engineering graduates and faculty by increasing the participation of people with disabilities. It's also working to improve engineering education by integrating disability-related and universal design content into engineering courses. The program is funded by the National Science Foundation.
Accessibility and universal design
"We were inspired by DO-IT and the Allen School's long-running AccessComputing program, which encourages and supports people with disabilities in computing programs and careers," says mechanical engineering assistant professor Kat Steele. "We wanted to extend similar ideas and resources to the broader engineering community."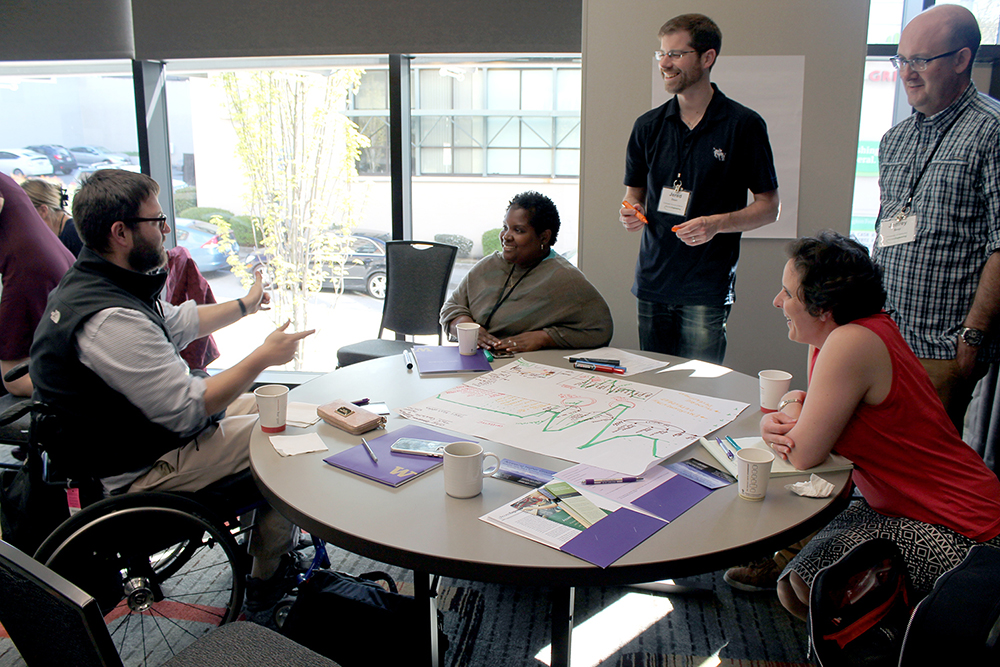 Participants in AccessEngineering's annual Capacity Building Institute discuss how integrating disability-related and universal design content into engineering courses improves engineering education overall.
Steele is co-PI of AccessEngineering at the UW. Maya Cakmak, an assistant professor in the Paul G. Allen School of Computer Science & Engineering, is also a co-PI. Sheryl Burgstahler, director of UW-IT's Access Technology and the DO-IT Center, is PI of AccessEngineering.
They see AccessEngineering as a resource for universities nationwide, especially since ABET — the criteria for accrediting engineering programs — was recently revised to include accessibility. The program helps train faculty from across the country in universal design — designing devices, curriculum or environments that work for the widest possible array of people. Annually it hosts a Capacity Building Institute at the UW, and it provides mini-grants to help faculty and students incorporate universal design and accessibility principles into their courses and research.
AccessEngineering's website houses dozens of materials, including checklists and guidelines for making engineering labs, departments, instruction, projects and computer labs inclusive of people with disabilities. Many of those recommendations — such as large print labels, adjustable-height desks, clutter-free workspaces, non-slip mats and clear lines of sight for demonstrations and presentations—end up benefiting everyone.
"Universal design is something we want to instill in engineers from Day One, and it doesn't just pertain to disability," says Cakmak.
Activities and engagement at the UW
Last year AccessEngineering brought together more than a dozen UW faculty, staff and students to develop curriculum that incorporates universal design and inclusivity into engineering classrooms. And the previous year, the program partnered with UW CoMotion to review and develop guidelines for accessible makerspaces.
"Makerspaces are continuing to grow on university campuses, and we wanted to provide some best practices so that as these new spaces are being created they can be accessible to as many students as possible," says Steele.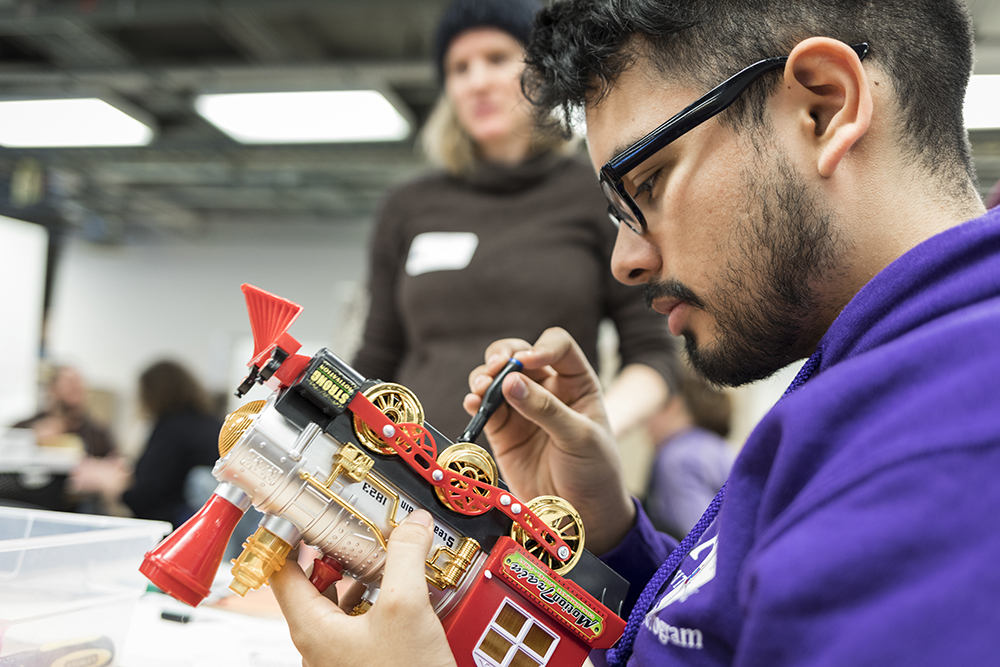 Students learn how to reconfigure toys to make them more accessible for children with disabilities at a holiday toy hack event on campus.
Werbel was one of the students who provided feedback and assessment on everything from signage and layout to equipment and organization.
"For example, you know those bright yellow outlets that commonly hang from the ceilings in makerspaces and labs? They've been designed to keep cords off the floor and prevent tripping hazards, which is great, but for me they're often at just the right height to be hazardous," she explains. "Even though they're right in front of my face, I still can't see them because of difficulty with depth perception. And a cane doesn't pick them up because they're not on the ground."
Knowing that her perspective may help shape the way institutions design makerspaces and allow for a more inclusive user experience has been very rewarding, she says.
AccessEngineering supports other accessibility activities on the UW campus as well. One of these is HuskyADAPT, a collaboration between Bioengineering, Mechanical Engineering and the Allen School that provides students with the opportunity to create accessible and affordable assistive technology through annual toy hacks and other outreach events.
AccessEngineering also intersects with DO-IT Scholars, a program that helps prepare high school students with disabilities for college and careers. Cakmak, who works in the field of human-robot interaction, leads a weeklong summer camp during which high schoolers design, build and test assistive robots.
"It's my favorite week of the year, that's for sure," she says. "Students with disabilities are excellent problem-solvers, because they have to solve problems all the time in their daily lives, and it's very inspiring to see what they come up with at camp."
Accessibility beyond campus
Ultimately, the AccessEngineering leadership team hopes that the program will assist the UW and other universities in graduating more diverse and prepared engineers. The team has been concentrating efforts on raising awareness and building relationships with local companies and industry partners.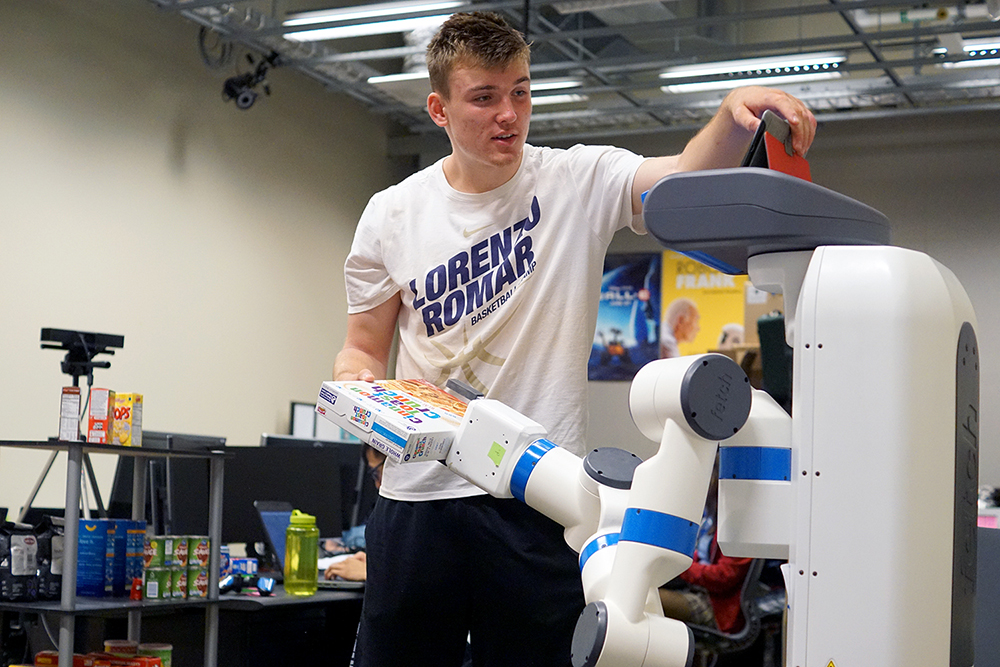 High school students design, build and test assistive robots during a weeklong robotics camp through the DO-IT Scholars summer program.
"Companies like Boeing, Microsoft and Adobe have been great partners, and we're very eager to grow more relationships across industry," says Steele. "The more we can work with industry professionals and provide resources to help them create and support pathways for people with disabilities in their professional spaces, the more diversity we will have in the field."
And just as universal design principles benefit everyone, so, too, does diversity.
"Engineers are problem-solvers, and because everyone comes to that process with different life experiences and priorities, the more diversity we have in engineering the more problems we'll be able to solve," she adds.
Learn more about the DO-IT Center, which is celebrating its 25th anniversary this year, and how to get involved with AccessEngineering or AccessComputing.
Originally published November 1, 2017