Building for the future
Learn about our plans for a new Interdisciplinary Engineering Building.
Engineers are key to developing solutions to society's challenges. With a strategic vision to deliver inclusive engineering excellence for the public good, the College of Engineering – which has nearly doubled degree output over the past decade – is preparing our students for the engineering careers of the future.
However, despite creatively leveraging existing space across campus, our student-focused facilities footprint has not grown comparably, leading to a space shortage, and the College continues to turn away large numbers of qualified students because we simply don't have the space to accommodate them. And not only are we lacking enough space, but we lack the right kinds of space for today's interdisciplinary, collaborative engineering education.
As the ways we teach and conduct research evolve in response to changing industry needs, our spaces must also evolve and expand. With your help, we can provide the learning and research facilities that best support future engineers.
To support this vision, the College is constructing a new, Interdisciplinary Engineering Building (IEB) to provide an academic home for all undergraduate engineering students. The state has approved design and construction funding of $50 million; now, we seek to match these funds with private philanthropic investments to meet the estimated project cost of $90 million.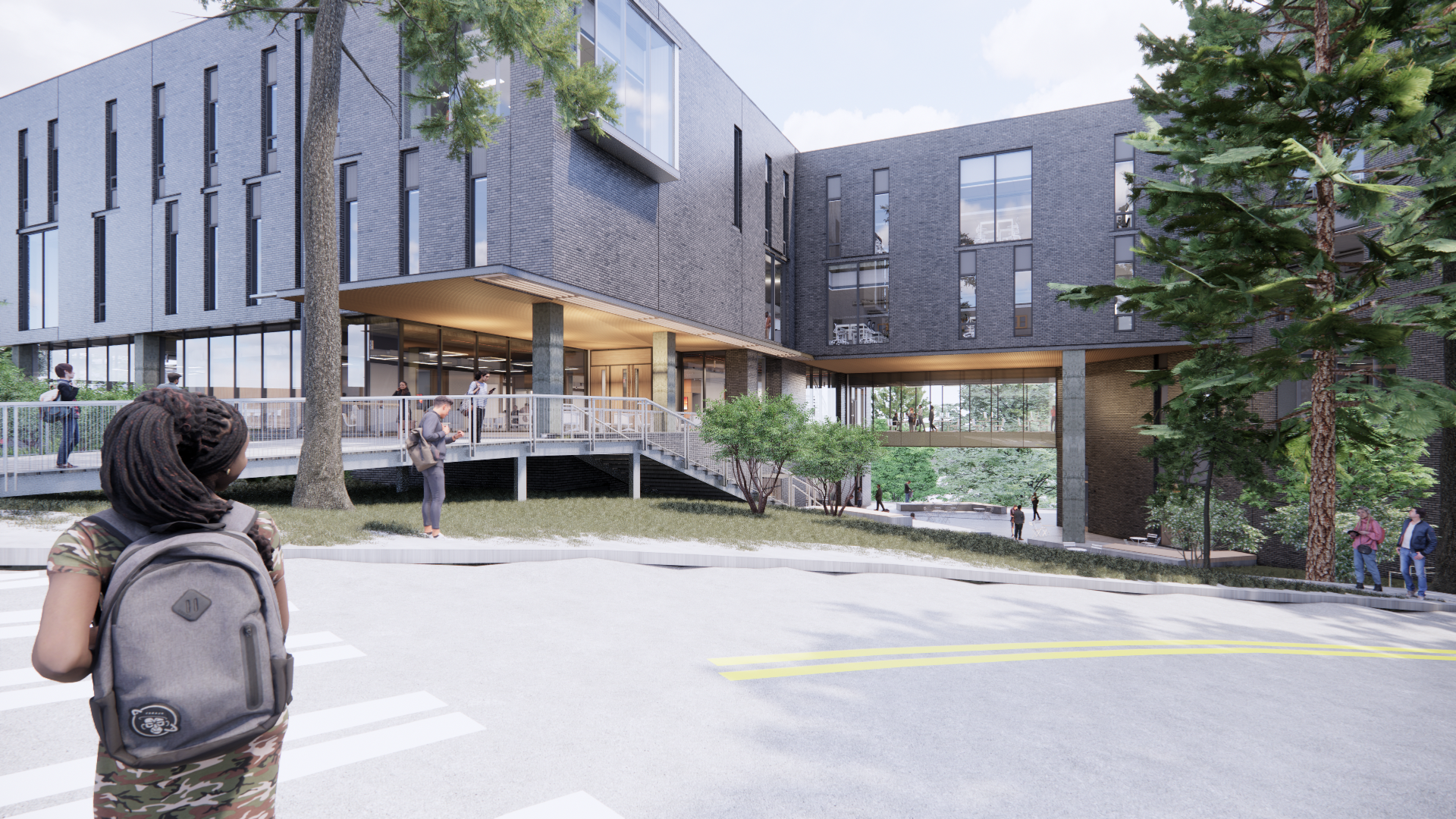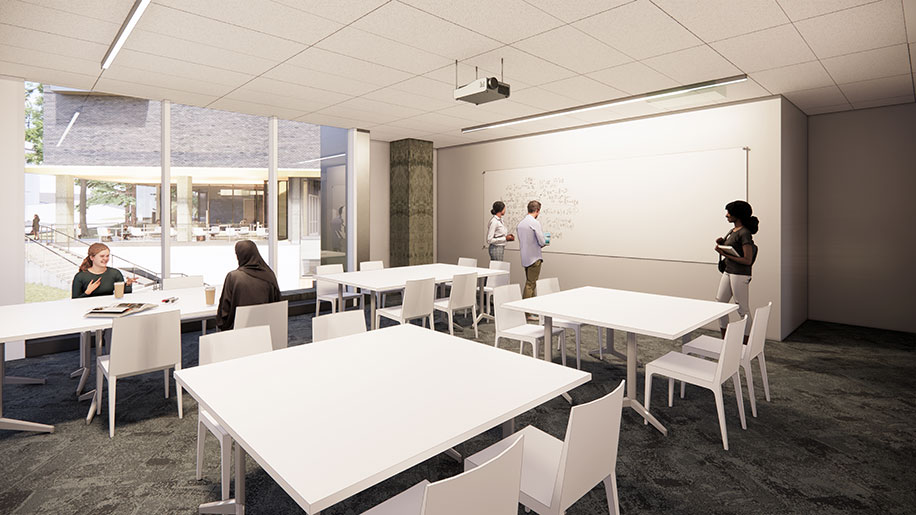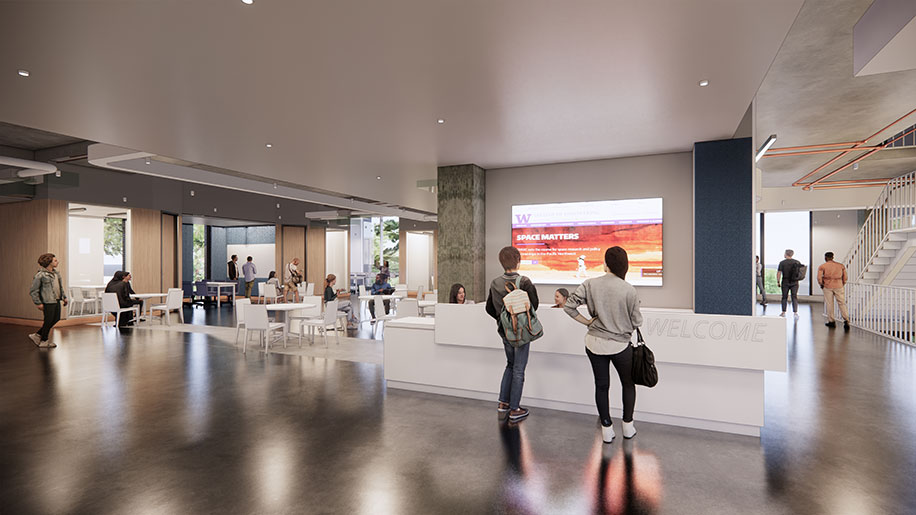 Space limitations and the need for growth
Looking ahead, demand from both industry and prospective students for engineering programming and degrees will continue to outpace capacity, despite state-funded College growth.
Lack of engineering degree capacity denies our state's students access to high-impact career opportunities. At the same time, a shortage of available local talent hinders local companies and public works, negatively affecting regional prosperity. Insufficient engineering talent is the number one challenge for innovation-based companies in our state, which threatens our long-term success and global competitiveness.
To meet our students' needs, and to fuel the state's economy, the UW must educate more engineering students, and more space is needed for us to do so — specifically, space that enables collaborative, project-based learning.
The IEB will advance engineering education by
enabling us to grant more engineering degrees
providing a home for cross-disciplinary courses
encouraging interactions that spark new ideas
developing students' talents in premier learning spaces
introducing students to a range of engineering pathways
facilitating discovery in state-of-the-art labs and office space
The IEB will add more space for students
flexible classrooms
curriculum lab space
open project space for hands-on learning
gathering spaces for students to study and collaborate
research lab space for faculty and student teams
offices for student support staff
Help us build the IEB
Your gift supports new construction of the IEB and the renovation and modification of existing engineering facilities. With your help, we can provide Washington's leading engineering education and develop outstanding engineers and ideas that change the world.
Give Now
A home for engineers of the future
By providing the learning environment and program space that students need to prepare for their careers, the IEB will relieve pressure on departmental facilities across the College. Dedicated space for industry-sponsored capstone projects will strengthen connections between the UW and industry and open doors for career opportunities for graduating students. The new building will also house programming for diversity, equity and inclusion.
In addition, the College's new AI Education Institute will be headquartered in the IEB. The institute will transform
research and education in fundamental artificial intelligence (AI) and machine learning (ML), enabling the College to provide a first-class engineering education while advancing cutting-edge research.
Our goal is not only to expand, but to become more inclusive, collaborative, innovative and adaptable, with programs supported by facilities rivaling or exceeding those of our peer institutions.
Building a solution
Thanks to the following partners and colleagues:
Contractor: Hensel Phelps
Architect: KieranTimberlake
IEB Planning Committee:
Alberto Aliseda, ME
Pedro Arduino, CoE/CEE (Chair)
Soraya Bailey, BioE
Paul Beame, CSE
Jeff Berman, CEE
Archis Ghate, ISE
Michael Glidden, CoE
Grace Kariuki, ECE
Fumio Ohuchi, MSE
Kojay Pan, CoE (ex-officio)
Nadya Peek, HCDE
Brian Polagye, ME
Lilo Pozzo, ChemE/MSE
Dan Ratner, CoE/BioE (ex-officio)
Marco Salviato, AA
Uri Shumlak, AA
Lynne Spencer, CoE
Deirdre Sumida, CoE
IEB update
Design for the new Interdisciplinary Engineering Building — which will promote a new level of collaboration and hands-on learning — has included an unprecedented number of student voices to focus on access and inclusivity.