Assistant Professor, Human Centered Design & Engineering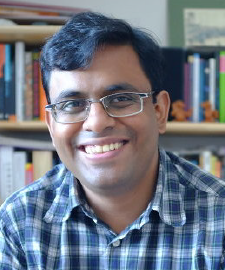 Research focus
Constructionism, data literacy, digital media and learning, human-computer interaction
Education
Ph.D. Media Arts and Sciences, Massachusetts Institute of Technology, 2016
S.M. Media Arts and Sciences, Massachusetts Institute of Technology, 2012
B.Tech. Computer Science and Engineering, West Bengal University of Technology, India, 2008
Sayamindu Dasgupta will join the Department of Human Centered Design & Engineering this winter. His work in digital literacy aims to study the technical and social conditions with which young people learn with and about data.
Dasgupta designs visual programming languages that allow children to build their own data analysis tools by dragging and dropping blocks that represent programming primitives. Dasgupta plans to explore how learning communities centered around programming and data analysis can support diversity, equity and inclusion.
His research has received recognition at several human-computer interaction conferences including CHI, CSCW, VL/HCC, and IDC. In 2014, Dasgupta was selected as a member of the Forbes' 30 under 30 list for education.