Assistant Professor, Paul G. Allen School for Computer Science & Engineering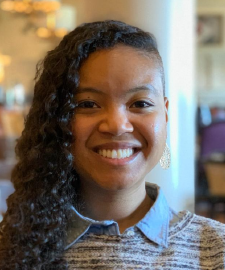 Research focus
Data management, human-computer interaction
Education
Ph.D. Computer Science, Massachusetts Institute of Technology, 2017
M.S. Computer Science, Massachusetts Institute of Technology, 2013
B.S. Computer Engineering, University of Washington, 2011
Leilani Battle returns to the Allen School this fall as an assistant professor. She works in the field of databases to combine machine learning, human-computer interaction and visualization to integrate large-scale data processing with interactive interfaces.
Battle designs systems that can more accurately reason about analysts' data exploration goals, infer relevant interaction patterns and deploy behavior-driven optimizations to more efficiently explore massive datasets. As a Ph.D. student, she developed ForeCache, a tool designed to help researchers browse large datasets with improved efficiency and data prediction.
Battle has received funding awards from Adobe, VMWare, and the NSF; an ORAU Ralph E. Powe Junior Faculty Enhancement Award; and was selected as one of the MIT Technology Review's Innovators Under 35 in 2020.