Simge Küçükyavuz
Associate Professor, Industrial Systems & Engineering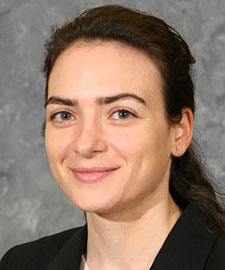 Ph.D. Industrial Engineering and Operations Research, UC Berkeley, 2004
M.S. Industrial Engineering, UC Berkeley, 2000
B.S. Industrial Engineering, Middle East Technical University, Turkey, 1998
Simge Küçükyavuz comes from The Ohio State University where she was an associate professor in the integrated systems engineering department. She previously held academic and research positions at the University of Arizona and Hewlett-Packard Laboratories.
Simge designs algorithms that enable sectors with large-scale data systems, such as logistics, energy and telecommunications, to deliver high performance in fluctuating and uncertain environments, and develops optimization tools that respond to existing and emerging problems in the design and operation of networked systems that require high reliability and low risk.
Her work is supported by multiple grants from the National Science Foundation, including the 2011 CAREER Award. She is the co-winner of the 2015 INFORMS Computing Society Prize. She serves on the editorial boards of several journals, including Computational Optimization and Applications, Networks, and Journal of Global Optimization.