Nirnimesh Kumar
Assistant Professor, Civil & Environmental Engineering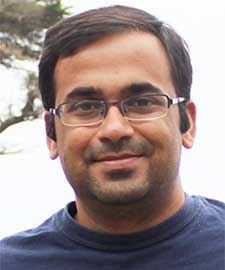 Ph.D. Marine Science, University of South Carolina, 2013
M.S. Geological Sciences, University of South Carolina, 2010
B.Tech. Ocean Engineering and Naval Architecture, 2007
Nirnimesh Kumar begins this fall as an assistant professor in Civil & Environmental Engineering. He was previously a postdoctoral scholar at the Scripps Institution of Oceanography at UC San Diego and a research assistant at the University of South Carolina.
Nirnimesh is a coastal physical oceanographer who employs numerical ocean models and observations to study wave propagation, ocean circulation and sediment transport in the coastal ocean. His field research employs acoustic, conductivity and temperature sensors and high-frequency radars to measure circulation properties in the dynamic outer-shelf to surf zone. During a recent NSF-funded project, Nirnimesh lead modeling studies to study injection of a large section of coastal water with non-toxic florescent pink dye to track pollutants and other contaminants across the United States-Mexico border, with the goal of developing models to dilute pollution and predict water quality.
Nirnimesh has been cited more than 150 times for his work in ocean sciences modeling and continues to be a reviewer for publications like Coastal Engineering, Ocean Modeling, and the Journal of Geophysical Research.