Sergey Levine
Assistant Professor, Computer Science & Engineering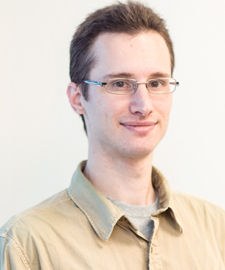 Ph.D. Computer Science, Stanford University, 2014
M.S. Computer Science, Stanford University, 2009
B.S. Computer Science, Stanford University, 2009
Sergey Levine will join Computer Science & Engineering in the spring as an assistant professor. He comes from UC Berkeley where he was a postdoctoral researcher focusing on machine learning, robotics and optical control.
Sergey uses deep learning to create neural network controllers for animated characters and robots. He is developing algorithms to allow robots and simulated characters to autonomously learn new behaviors and mimic human flexibility. Applications of his work include robotic manipulation, educational games, and character animation.
He has been awarded graduate fellowships from NVIDIA and the National Science Foundation, and received the Best Robotic Manipulation Award at IEEE for his work on learning controllers for complex manipulation tasks.