Ruikang "Ricky" Wang
Professor, Bioengineering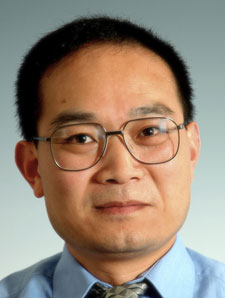 Ph.D. Optical Engineering, Glasgow University 1995
M.Sc. Manufacturing Engineering, Tianjin University 1990
B.Eng. Manufacturing Engineering, Tianjin University 1988
Ruikang "Ricky" Wang joins Bioengineering in the fall of 2010 from the Oregon Health and Science University in Portland, where he was a professor and director of the Biophotonics and Imaging Laboratory.
Dr. Wang's research examines the behavior and properties of light and the interaction of light with biological tissues as a means to measure/image the properties of tissue, both morphological, functional and molecular. These techniques can inform the diagnosis and therapeutic treatment of abnormal states of tissue produced, for example, by cancer and neurological diseases.
Dr. Wang has served as a session chair and program organizer for various conferences in biomedical optics, for example, Photonics West (San Jose and San Francisco), OSA Topical Meetings in Biomedical Optics (Miami), and Physics in Biology and Medicine (Wuhan, China). He is a frequent research grant reviewer/panelist for the National Institutes of Health (NIH), the Engineering and Physical Science Research Council (EPSRC, UK), the Biotechnology and Biological Science Research Council (BBSRC, UK), and several other research granting agencies worldwide.