Engineering Hiring Expo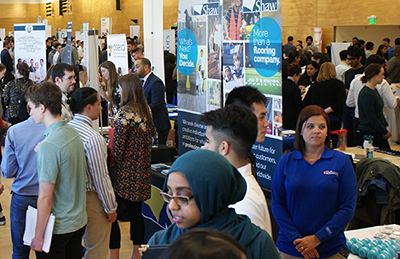 The CC@E hosted its second annual Engineering Hiring Expo (EHE) in October 2018. Held in proximity to the Business Career Fair, the EHE provides an opportunity for students to secure a position early in the fall recruiting schedule.
For more information about the EHE, please contact engrocr@uw.edu or call 206-221-8423.
A sample of employers attending
Accenture
adidas
Adobe
AECOM
Alaska Airlines
Analog Devices
ARUP
AT&T
Atkinson Construction
Aurora Innovation
BlackRock
BNSF Railway
Boeing
Cascade Data Labs
CenturyLink
Crane Aerospace & Electronics
Cypress Semiconductor
Daimler Trucks North America
Eaton Corporation
Exotic Metals Forming Company
Facebook
Fives DyAG Corporation
Genie, a Terex Brand
Gore & Associates, Inc.
Graham Contracting Ltd.
Harder Mechanical
Hexcel
HNTB
Holland & Hart
Honeywell
Instructure
Intellectual Ventures
Jacobs
Katerra
Kimley-Horn
Lease Crutcher Lewis
Lehigh Hanson
Manson Construction Co.
McKinstry
Nalco Water / Ecolab
Niagara Bottling, LLC
nLight
Nintendo of America
Nordstrom
Novinium
Novo Nordisk
PACCAR Technical Center
Panopto
Phillips
Phoenix Contact
Riley Group, Inc.
Seattle City Light
Skydio, Inc.
Sonos
SpaceX
Spectranetix
Systima Technologies
T-Mobile
TE Connectivity
Terracon Consultants, Inc.
Tesla
UiPath