Aerospace & Engineering Research Building (AERB)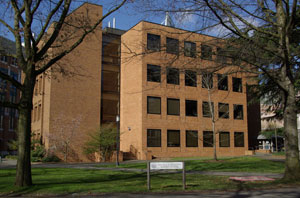 Location: See map.
Departments: Aeronautics & Astronautics, Mechanical Engineering, Industrial & Systems Engineering
The Aerospace Engineering Research Building was completed in 1969 from a design by Young, Richardson & Carleton. The $1.5 million building was funded from a grant by NASA for an aerospace and energetics research program. Made of concrete and brick veneer, the structure contained laboratories and test chambers. The Seattle Chapter of the American Institute of Architects presented the 48,000-square-foot design with two awards. A later 10,900-square-foot addition was designed by TRA and constructed for $1.7 million. The addition was built on the east side of the older building.