Healthy people, healthy planet
Learn how the UW Engineering community is transforming research into actions that improve and save lives across the country — and around the world.
Healthier communities make healthier people. Through Population Health, the University of Washington is addressing the interconnected factors that influence how long and how well we live, from climate change and poverty to systemic inequities and health care.
Population health is a broad concept encompassing not only the elimination of diseases and injuries, but also the intersecting and overlapping factors that influence health. Students, faculty and staff across the College of Engineering have been working to transform research into concrete actions that improve and save lives across the country — and around the world. We highlight some of their current activities here.
Join us in our commitment to engineering for the public good.

Shutterstock
A new approach to eliminating air pollution disparities
While air quality has improved over the past 50 years thanks in part to the Clean Air Act, people of color at every income level in the United States are still exposed to higher-than-average levels of air pollution.
Recently a research team led by Julian Marshall, a professor of civil and environmental engineering, compared two approaches that mirror main aspects of the Clean Air Act and a less used community-specific approach. The researchers used national emissions data to model each strategy: targeting specific emissions sources across the U.S., requiring regions to adhere to specific concentration standards or reducing emissions in specific communities.
While the first two approaches — based on the Clean Air Act — didn't get rid of disparities, the third — focused on emissions in specific locations — eliminated pollution disparities and reduced pollution exposure overall.
"Current regulations have improved average air pollution levels, but they have not addressed structural inequalities and often have ignored the voices and lived experiences of people in overburdened communities, including their requests to focus greater attention on sources impacting their communities," Marshall says. "Because of redlining and other racist urban planning from many decades ago, many pollution sources are more likely to be located in Black and brown communities. If we wish to address current inequalities, we need an approach that reflects and acknowledges this historical context."

Mark Stone/University of Washington
Destroying 'forever chemicals'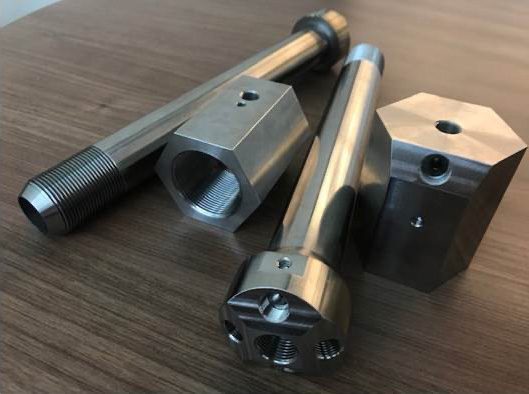 Two reactors before they are assembled. Courtesy of Igor Novosselov.
"Forever chemicals," named for their ability to persist in water and soil, are a class of molecules that are ever-present in our daily lives, including food packaging and household cleaning products. Because these chemicals don't break down, they end up in our water and food, and they can lead to health effects, such as cancer or decreased fertility.
The U.S. Environmental Protection Agency recently proposed to give two of the most common forever chemicals, known as PFOA and PFOS, a "superfund" designation, which would make it easier for the EPA to track them and plan cleanup measures.
Cleanups would obviously be more effective if the forever chemicals could be destroyed in the process, and many researchers have been studying how to break them down. A UW team led by Igor Novosselov, a research associate professor of mechanical engineering, has recently developed a new way to destroy both PFOA and PFOS. The researchers created a reactor that can completely break down hard-to-destroy chemicals using "supercritical water," which is formed at high temperature and pressure. This technology could help treat industrial waste, destroy concentrated forever chemicals that already exist in the environment and deal with old stocks, such as the forever chemicals in fire-fighting foam.
Learn more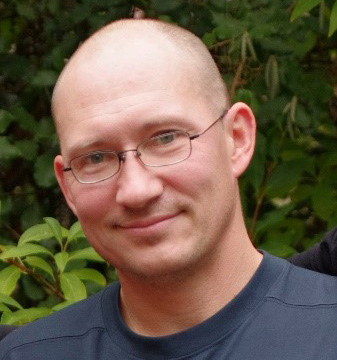 Igor Novosselov answers questions about this innovative research.

Dennis Wise/University of Washington
Using modeling to improve health-care systems and policies
"I believe in evidence-based guidance to health policymaking and using some of these more advanced analytical tools that come from engineering," says Shan Liu, an associate professor of industrial and systems engineering. Liu uses mathematical modeling to design and evaluate health-care interventions to improve patient care, enable better care delivery and inform policy decisions about disease management and prevention.
During the COVID-19 pandemic, Liu led a team that used local data to develop a model and generate policy recommendations to help lower COVID-19 infections in King County. Currently, thanks to Population Health funding, she is partnering with the UW Department of Surgery to assess trauma center locations and services in Washington state and will use optimization models to suggest improvements to systems statewide. Liu is also actively working on a project at Seattle Children's Hospital that utilizes simulation to address pediatric mental health needs.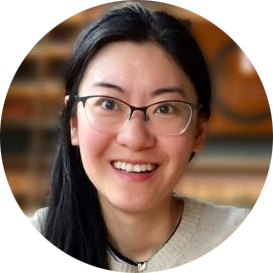 "Technology can be great but if you don't do the implementation or process or adoption correctly, it can have a disastrous effect. If the policy isn't there, it doesn't matter how good the technology is."
At the global health level, Liu is applying optimization methods to determine the best locations for point of care machines that do pediatric HIV viral load and drug resistance testing in Kenya. "I've always had a strong interest in the intersection between technology and policy," she says. "I feel like technology can be great but if you don't do the implementation or process or adoption correctly, it can have a disastrous effect. If the policy isn't there, it doesn't matter how good the technology is."

UW alum and volunteer Daniel Lumley tests the prototype. Kiyomi Taguchi/UW News
Finding — and keeping — the perfect fit for a prosthetic leg
The muscles and tissues in arms and legs change throughout the day. They warm up, cool off, stiffen, swell or constrict based on things like activity level, environment and age.
But a prosthetic leg doesn't change. People who rely on them must make manual adjustments throughout the day — usually by adding or removing padding within the socket of the prosthesis. This can be a cumbersome process in public, or when wearing certain clothing. Skipping adjustments can lead to pain or limit mobility.
Bioengineering Professor Joan Sanders and her team are creating a new type of prosthetic leg: one that automatically adjusts its fit throughout the day. Her group designs, builds and tests prosthetics for people with below-the-knee amputations. Their latest prototype alters its fit without the need for adjustments to padding or user action. It detects in real time how well the prosthesis socket and amputation site are fitting and responds by automatically changing the size of the socket.
Test results with volunteers are so promising that the researchers hope to eliminate the need to add or remove padding throughout the day. "When I'm wearing this prototype, I don't have to think about my prosthesis. The fit is always perfect," says Daniel Lumley, a UW alum and volunteer who has helped to test the prototype. Through user trials with volunteers like Lumley, Sanders' team is collecting more data on the device's performance and is working to make the prototype's motors smaller and lighter.
Better understanding emergency room patients' social needs
Although most Americans visit hospital emergency departments to address acute illness and injury, doctors are finding that social needs place many patients at higher risk of getting sick and requiring emergency care. To better serve patients and possibly prevent future hospital visits, doctors need a way to assess incoming patients to establish a wider context behind their visit.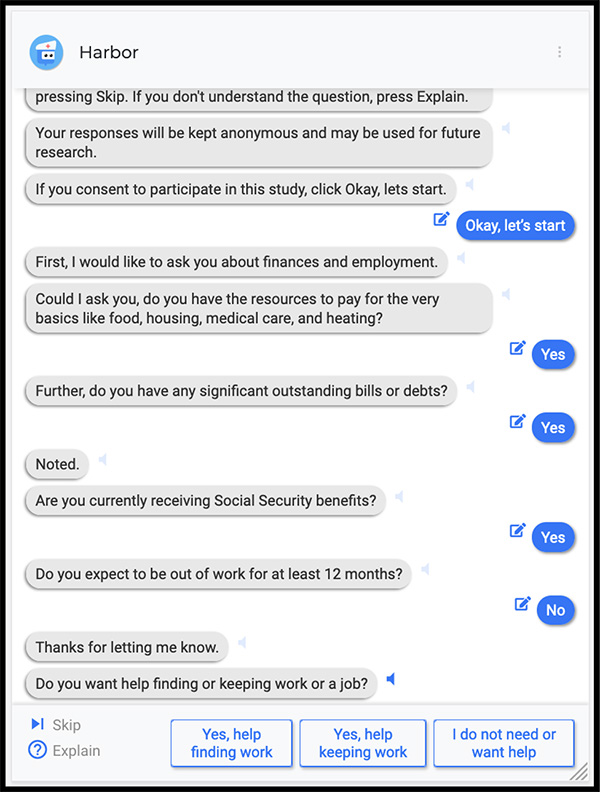 Screenshot of HarborBot. Courtesy of Gary Hsieh
This prompted a UW-led research team to develop a chatbot. "A few years ago there was a huge buzz around chatbots, and then people started realizing that maybe they aren't meant for everything," says Human Centered Design & Engineering Associate Professor Gary Hsieh. "We have been trying to figure out opportunities where having a chatbot would actually be meaningful and make sense."
It turns out that emergency departments are one such place. HarborBot — named after the Seattle and Los Angeles hospitals where it was tested — is displayed on a tablet given to patients upon arrival. It takes patients through a social needs survey developed by the Los Angeles County Health Agency, posing questions about access to housing, food, medical care and physical safety. Medical staff are then able to consider the patients' responses as part of their care.
Looking ahead, the team plans to design a survey system that could tailor the experience to each user.
"Ultimately we want to connect people entering emergency departments as smoothly as possible with the resources they need," says Hsieh.
Engineering for the public good
The College of Engineering is committed to engineering for the public good. We are creating a healthier and more just world through our work.