From campus to career
Chelsea Yates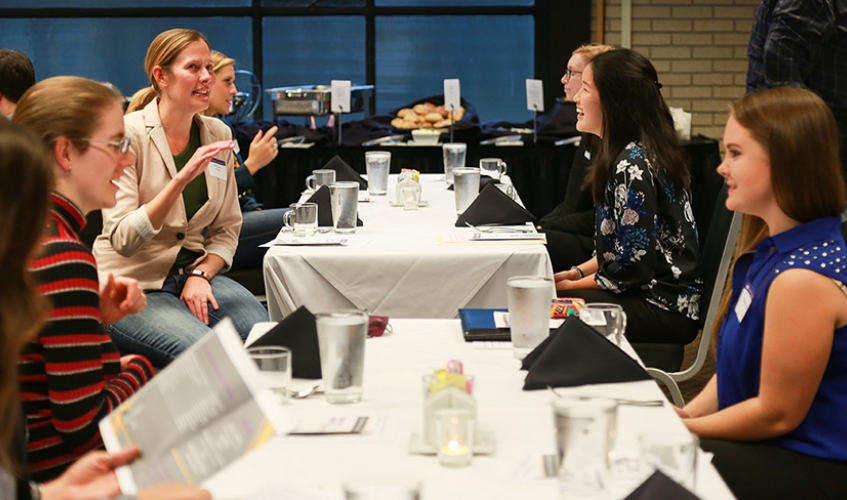 "Senior year can be such a stressful time with finishing classes while looking for jobs," remembers Kelly Hoang, '18. "It can seem overwhelming, which was why I was so grateful for my mentor. She helped reassure me that I could do it all, and with her support, I did."
Now an associate engineer at T-Mobile, Hoang was one of 13 students who took part in the Industrial & Systems Engineering (ISE) department's inaugural industry mentorship program last year. Designed to provide undergraduates with guidance on how to transition from student life to the working world, the ISE Mentoring Program matches students with volunteer industry mentors based on interests and experiences. Mentors give advice stemming from lessons they've learned while searching for jobs, navigating the workplace and developing their careers.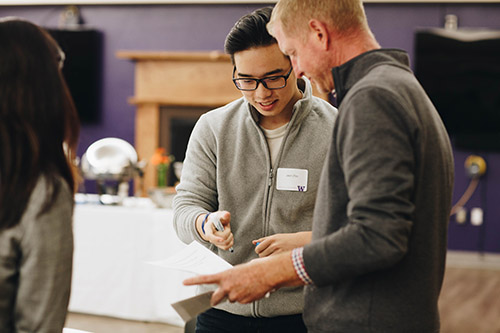 The year-long program developed as a collaborative effort between ISE, the department's Executive Advisory Board and the UW and Puget Sound chapters of the Institute of Industrial & System Engineers (IISE).
According to Hoang, ISE's undergraduate student body was thrilled when the program began.
"I constantly heard other students express interest in professional mentorship opportunities, specifically focused in industrial engineering," she says.
Making connections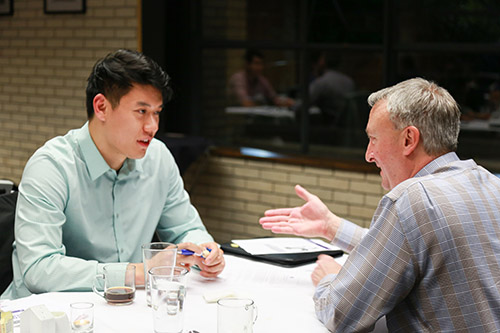 A small but growing field, industrial engineering brings together engineering and business. Industrial engineers design and implement systems to improve quality and productivity in a variety of working environments and sectors, including technology, health care, manufacturing, retail, transportation and logistics.
It's an area of engineering that is flexible and broad-reaching; many ISE graduates are hired as project managers and move into supervisory or management roles where they continue to draw on their technical backgrounds.
However, engineering positions that may be a good fit for an ISE student's skillset aren't always posted with an "industrial engineer" job title, so it's important for students to understand how to explore career options and market their skills. This is where professional mentors can offer a great deal of support and guidance. Mentors help their mentees with everything from job searching and professional networking to resume reviewing and interview preparation.
Students apply for the ISE Mentoring Program in autumn quarter. Seniors are prioritized but all undergraduates are eligible to participate. After completing a questionnaire, they are paired with mentors from Seattle-area companies such as Accenture, Amazon, AT&T, The Boeing Company, Hanson Professional Services, Kocer Consulting and Seattle Cancer Care Alliance.
The department hosts a kick-off event in the fall at which mentees and mentors meet. The pairs agree to a monthly check-in schedule thereafter. ISE hosts two additional events in winter and spring quarters.
Meaningful mentoring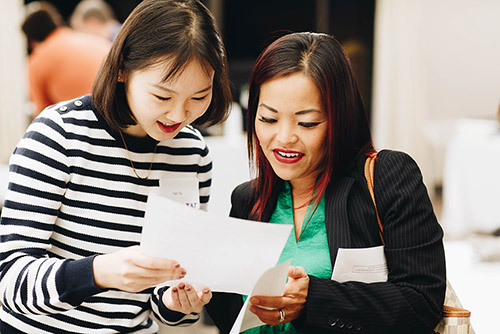 Hoang's mentor, Tiff Cremer, a senior innovation and design engineer at Amazon, had recently moved to Seattle and learned about the ISE Mentoring Program through the local IISE chapter.
"It's a fantastic networking opportunity for everyone involved," she says. "In addition to meeting soon-to-be professionals, I've been able to get more connected in the local Seattle ISE community and meet other industry professionals outside of my company."
Although Hoang graduated last year, she and Cremer still keep in touch regularly. This year both are serving as mentors.
ISE advisory board member Lauren Schroedter, a project manager at Hanson Professional Services, has also served as a mentor since the program's inception.
"I had a lot of great mentors, both formal and informal, throughout my education and career, and I like having the opportunity to give back," she says. "I've also met some really great students and have been able to learn from them about current technology and trends in industrial engineering."
Though only in its second year, the program is quickly expanding and has almost doubled in size — with aspirations for even more next year.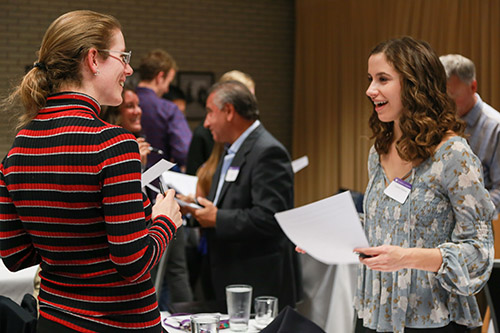 "The program gives industry professionals a framework through which to share our experiences with the next generation of industrial engineers," says Cremer. "It's helped me see myself in a different light and appreciate that I have expertise to pass along to others."
***
If you would like to help guide ISE students during the key transition from college to work, create a profile in the ISE Alumni & Friends Directory and indicate your interest in being a mentor.
Originally published January 22, 2019