Erkan Istanbulluoglu
Assistant Professor, Civil & Environmental Engineering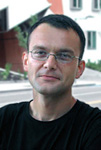 Ph.D., Civil and Environmental Engineering, Utah State University
M.S., Agricultural Engineering, Uludag University, Turkey
B.S., Agricultural Engineering, Uludag University, Turkey
Dr. Istanbulluoglu joined the department of Civil & Environmental Engineering from University of Nebraska where he was an Assistant Professor of Natural Resources and Biological Systems Engineering. He previously worked as a Postdoctoral Associate and a Research Affiliate at the Massachusetts Institute of Technology.
His research is highly interdisciplinary and aims to understand the role of climate on ecohydrological and geomorphological response of landscapes, sediment transport, and water balance of large basins. He uses empirical field observations, satellite-derived data, and numerical models to examine the response of the landscape system to natural and anthropogenic disturbances.
Dr. Istanbulluoglu's awards include a NSF award for collaborative research On Topographic Imprint of Hillslope Aspect: Deciphering Aspect Controls on Vegetation and Landforms in Central New Mexico.