Jon Froehlich
Associate Professor, Paul G. Allen School of Computer Science & Engineering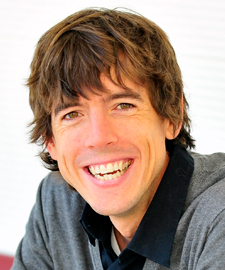 Ph.D. Computer Science & Engineering, University of Washington, Seattle, 2011
M.S. Computer Science & Engineering, University of Washington, Seattle, 2006
M.S. Information and Computer Science, University of California, Irvine, 2004
B.S. Computer Engineering, Iowa State University, 2001
Jon Froehlich joins the Allen School this fall as an associate professor, returning to the UW where he received his Ph.D. after teaching computer science and information studies at the University of Maryland.
Jon's research focuses on human-computer interaction with an emphasis on interactive technologies for accessibility, environmental sustainability and personalized health and wellness. He developed MakerWear, a modular toolkit designed for children to create interactive wearables and develop their computational thinking; and the NSF-funded BodyVis project, which uses on-body sensors and e-textile visualizations to help children learn about their bodies and healthy behavior.
He has published 44 papers, including 20 conference papers with 10 paper awards at CHI, Ubicomp and ASSETS. He received the Alfred P. Sloan Fellowship in 2017 and an NSF CAREER Award for his work on computational design for children. His research on assistive technology and STEM learning has received over $3 million in funding from government and industry partners.