Nothing Toulouse: A Summer Studying Aviation in France
Submitted by
Anonymous
on Tue, 09/12/2017 - 12:29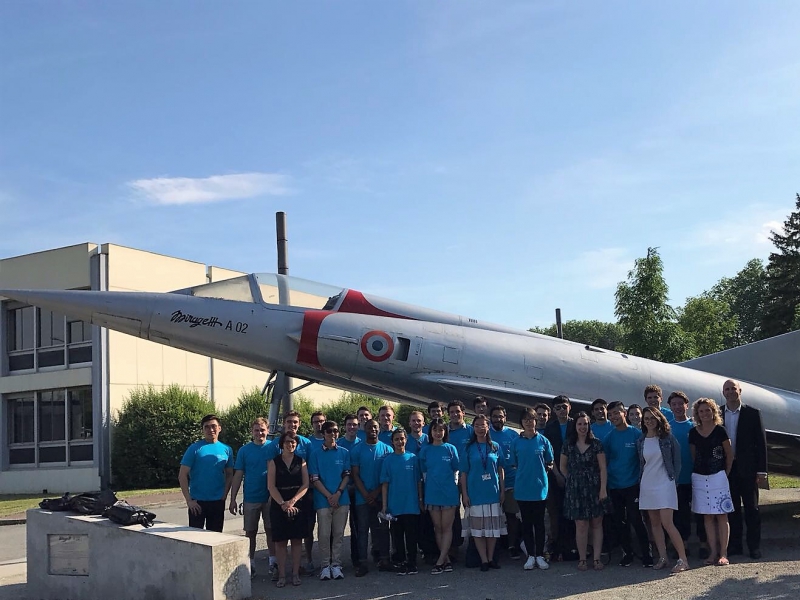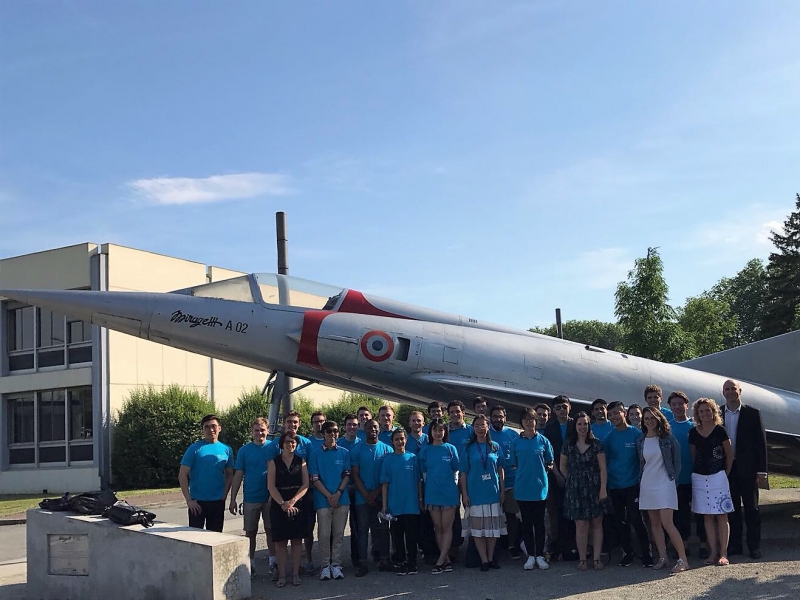 The students and teachers of GEA Summer Aviation in front of a Mirage III fighter jet (casual)  at ISAE in Toulouse, France
Well the jury has spoken and the verdict is that seeing a Frenchman on a bicycle with an armful of baguettes actually is not that weird to see in France… you'd be surprised how many times I saw that this summer. Between my six weeks of living and studying in Toulouse as well as traveling around the country, for the first time in my life I was able to fully immerse myself in a foreign culture. This wasn't a two-week vacation with hotel stays and restaurants every night, it was dorms and public transport and French grocery shopping. That meant breaking some stereotypes (while humorously confirming some others), but it also meant leaving behind the comfort and ease of home to be really and truly challenged.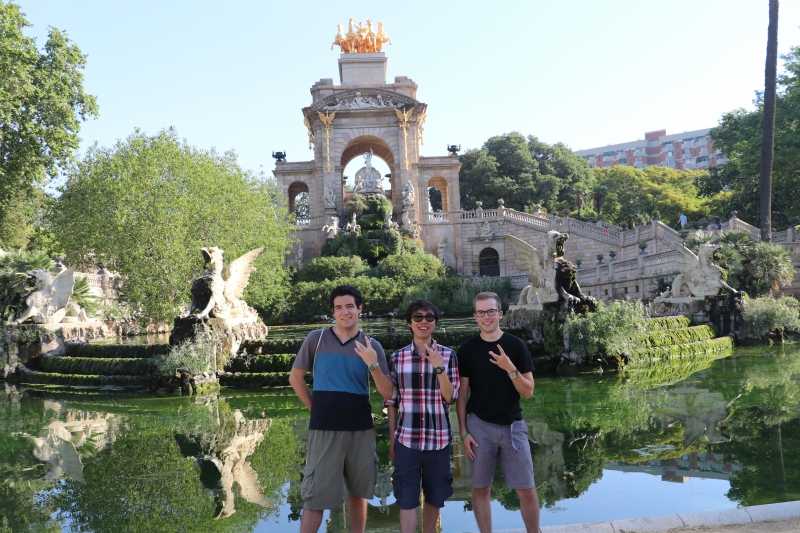 Dawg Pack on the move... Three of us from UW showing our Husky pride on a spontaneous weekend trip to Barcelona
In the weeks leading up to my departure for the GEA Summer Aviation Program I was concerned that I was making a mistake – I was seeing all of my friends arrange impressive internships and reliable jobs while I was about to take a risk by venturing into the unknown. I didn't speak French and I had never lived away from home, but I also recognized that college isn't a job training program but an opportunity to develop skills and collect experiences that make me a more diverse and capable individual. It seemed as if the best way to achieve this was to go all-in and study abroad. Almost two months later when I returned home, I just laughed at myself for ever being worried. What I was able to learn and experience was so magnificent, I simply cannot imagine doing anything else with my summer.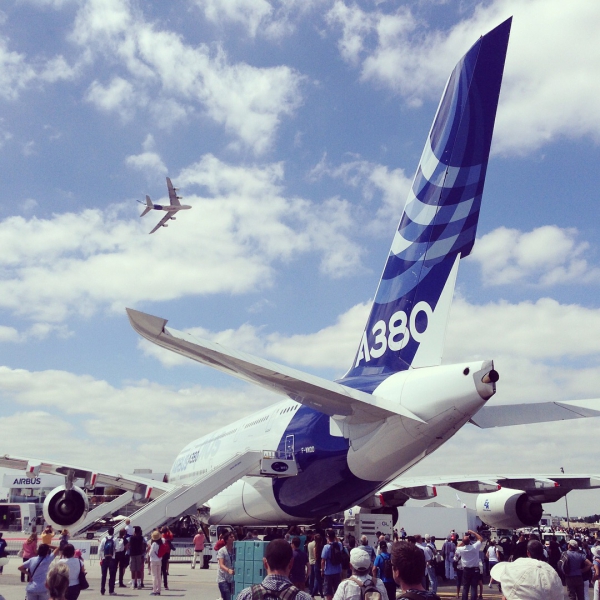 From the Paris International Airshow: an Airbus A380 performing jumbo jet aerobatics overtop of... another Airbus A380
When it was all said and done I traveled to seven different cities with the program (including gallivanting around a castle for a day), plus another five cities independently; I met 22 brilliantly intelligent, remarkably kind, and certifiably crazy engineering students from across the United States, all with different backgrounds and upbringings; I learned about a whole host of topics pertaining to aviation – from safety to economics to fluid mechanics and propulsion; and I went on tours of six different aviation companies, as well as the freaking International Paris Airshow! It was such a diverse set of learning experiences, and it served as a perfect counterpoint to what is taught in the classroom at home. At home the focus is on developing an in-depth technical skillset, where the GEA Summer Aviation Program focused on breadth of education, offering new perspectives on both the players in the aviation industry, and how it functions in Europe and globally. It became evident that having the ability to not just simply be a good engineer, but to see the industry from the point of view of the global market is crucial.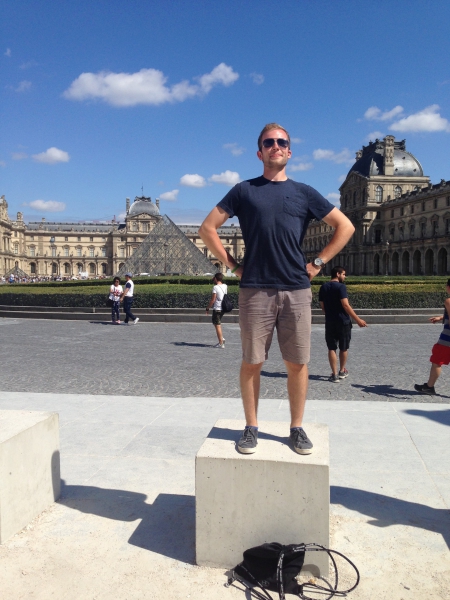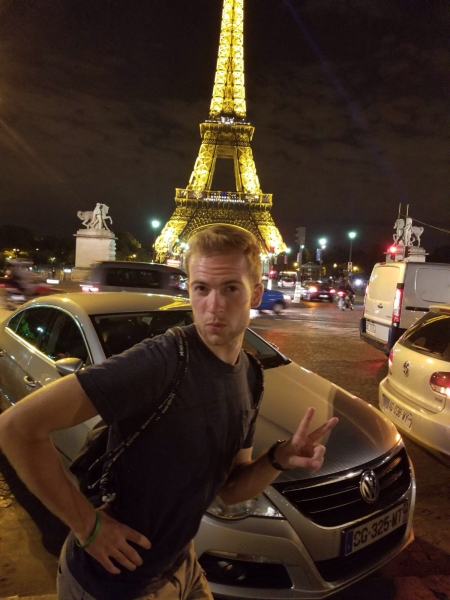 I really Louvred Paris. And I wore the Eiffel Tower as a hat. Gotta let loose sometimes, right?
Although there was a heavy emphasis on academics, not enough can be said about the value of living abroad. I became incredibly adept in navigating metro stations like I own the place, doing my best extrovert impression and making friends with 22 other people, sucking up my embarrassment when I try to speak French and people divert to English right away (they're always trying to be nice, but I always feel like a dolt), and becoming open to trying everything. It was all of the little things – the ones enjoyed with my new friends that would've been easy to avoid by clamming up and staying home – that made the summer so unique. There were big events and grandiose displays of wonder and awe, but what really had the largest impact on me were the little moments I wasn't expecting. Moments like the sunset over the Atlantic Ocean on the beaches of Biarritz, getting caught in a torrential downpour on the cobbled streets of Poitiers with arms full of groceries (yes, including baguettes and cheese), and enjoying a drink with friends new and old on the bank of the Garonne River in Toulouse. These moments cannot be anticipated or planned, but they are facilitated by pushing the envelope of comfort, pushing past the initial feelings of intimidation and reveling in the pride of doing something completely exceptional.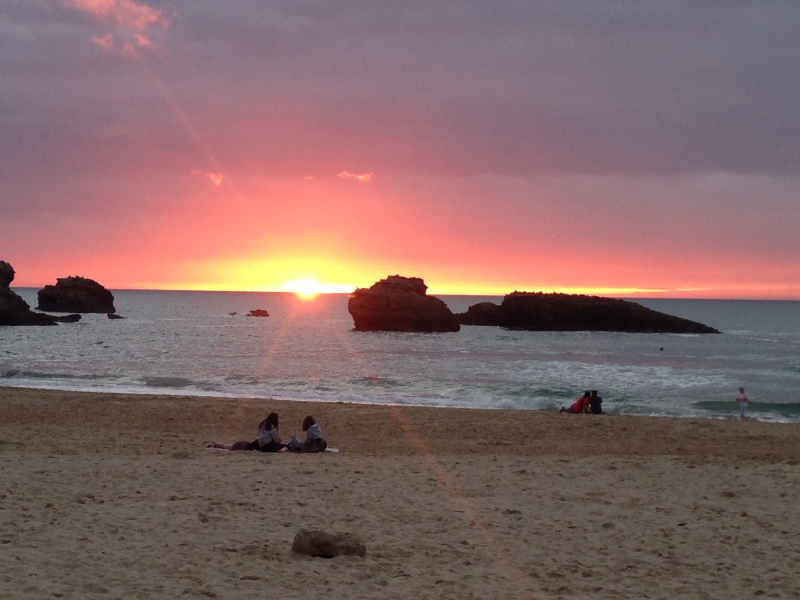 Stunning sunsets over the Atlantic Ocean in Biarritz. Not pictured: my excessive sunburns from a weekend on the beach
As I return home and reintegrate into daily life, I know that I hold memories of experiences which are inexplicable and unable to be replicated. It's difficult when people say "tell me about your trip!" because words just cannot convey what it meant to me. Personally, it was an incredibly rare and valuable experience and it taught me so much about handling stress, problem solving, relationship building, and socializing. Professionally, I can take my personal development and pour it into being a more unique and robust employee, as I have joined the ranks of the 3% or so of American engineering students who have studied abroad. It's an asset that not only stands out on a resume, but will pay dividends when I'm pushed out of my comfort zone in the workplace – I am now accustomed to developing social rapport while everything else around me is alien. I have more knowledge of the aviation industry abroad, and I have learned a little bit about what is necessary to make connections with people from backgrounds which differ from mine. This is a skill that – while being profoundly valuable in the workplace – has already manifested itself in my personal behavior, proving the personal benefit of a program like this. The way I developed over my six weeks in France is completely unique to any experience I've had elsewhere. So go grab your beret and grab your accordion and find out for yourself why studying abroad will expand your horizons in ways you never thought were possible!